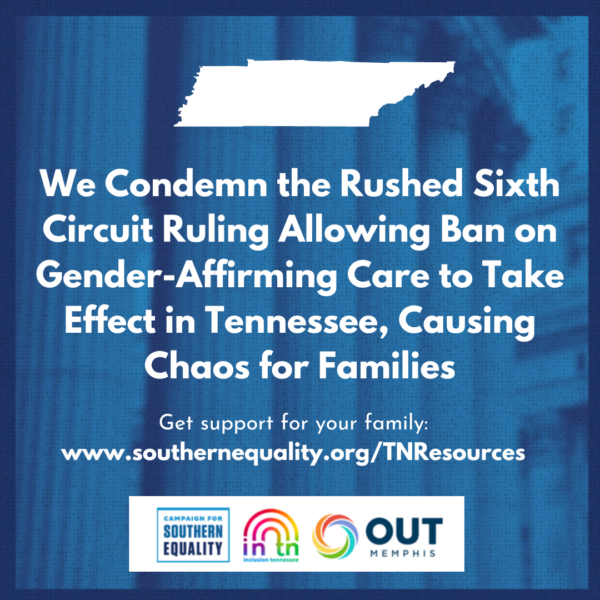 Resources are available for Tennessee families of trans youth navigating period of legal turmoil.
This morning the U.S. Court of Appeals for the Sixth Circuit issued a ruling that allows a ban on gender-affirming care in Tennessee to take effect. The opinion places a stay on a preliminary injunction from a district court that just last week blocked SB1 from taking effect. Across the nation, 6 district court judges have already found that these bans on gender-affirming care are likely unconstitutional, and a June ruling from Arkansas that followed a full trial found definitively that a similar ban is unconstitutional.   
The decision today is a preliminary one – the panel of judges indicated that a full ruling on the injunction would come before September 30. We are grateful for the leadership on this case, which was filed by the ACLU of Tennessee, the American Civil Liberties Union, Lambda Legal, and Akin Gump Strauss Hauer & Feld LLP. 
Rev. Jasmine Beach-Ferrara (she/her pronouns), Executive Director of the Campaign for Southern Equality, said today: 
"This whiplash of decisions makes clear  exactly why the government should not be inserting itself into private medical decisions that should be left to families and doctors. Now, Tennessee families of transgender youth are being forced into a period of unprecedented – and wholly unnecessary – legal chaos as they navigate how to ensure that their children can access the health care they need and deserve. We want families to know that, through the Southern Trans Youth Emergency Project, we are here to help families connect to care in states where it is legal, and provide emergency funding to help families. No one should have to leave their home state  for life-saving healthcare, but in this tumultuous period, CSE and our partners will be there to offer support every step of the way – and will keep fighting tooth and nail for full legal equality for transgender youth and the entire LGBTQ+ community." 
Phil Cobucci (he/they pronouns), Founder of inclusion tennessee, said: 
"This irresponsible ruling from the Sixth Circuit is a ruling layered with assumptions about transgender lives and gender-affirming care. We continue to affirm that this law is unconstitutional and will ultimately be overturned — and Tennessee families deserve a more through examination of this outrageous policy. SB 1 does not protect children, it only hurts our most vulnerable community members, causing only harm and pain. In the ruling itself, the judges emphasized that the findings were not final and that they were made under rushed circumstances, utilizing perceived facts from debates in states that have been hellbent on eradicating transgender people from our communities. Families and parents should have the ultimate decision of how to aid and support their children, with the support of their physicians and medical practitioners — not the government. All transgender people, no matter their age, should be able access the healthcare they deserve."
Molly Rose Quinn, (she/her pronouns), Executive Director of OUT Memphis, said today:
"This is state-sanctioned cruelty against Tennessee families, who are only seeking health care for their kids as best they can. They've faced unrelenting confusion and heartbreak this year because they're afraid the state will take away their ability to live free and happy lives in the Volunteer State. We are doubling down on navigation services and support for trans youth and their families. Don't give up. OUTMemphis is behind you in this fight, and we won't stop until Tennessee is a safe and affirming state."
The Southern Trans Youth Emergency Project, led in Tennessee by the Campaign for Southern Equality in partnership with inclusion tennessee and OUTMemphis, provides rapid response support to Southern families grappling with gender-affirming care bans. The project provides families in Tennessee (and 10 other Southern states) with patient navigation to out-of-state providers and emergency grants of $500. Tennessee families can request support at www.southernequality.org/TNResources.