NOTE: This blog post was a collaboration between Abby Bowen and Adam Polaski of the Campaign for Southern Equality. 
While bills aimed at restricting the rights of LGBTQ Southerners is progressing in several states – including Texas and Tennessee – and has been signed into law in Arkansas, this week brings bright spots for LGBTQ people in several other states: All of Kentucky's anti-LGBTQ laws have been stalled as their 2021 legislative session ended on March 30th. And legislators in North Carolina are working to advance LGBTQ rights protections with a slate of progressive laws introduced.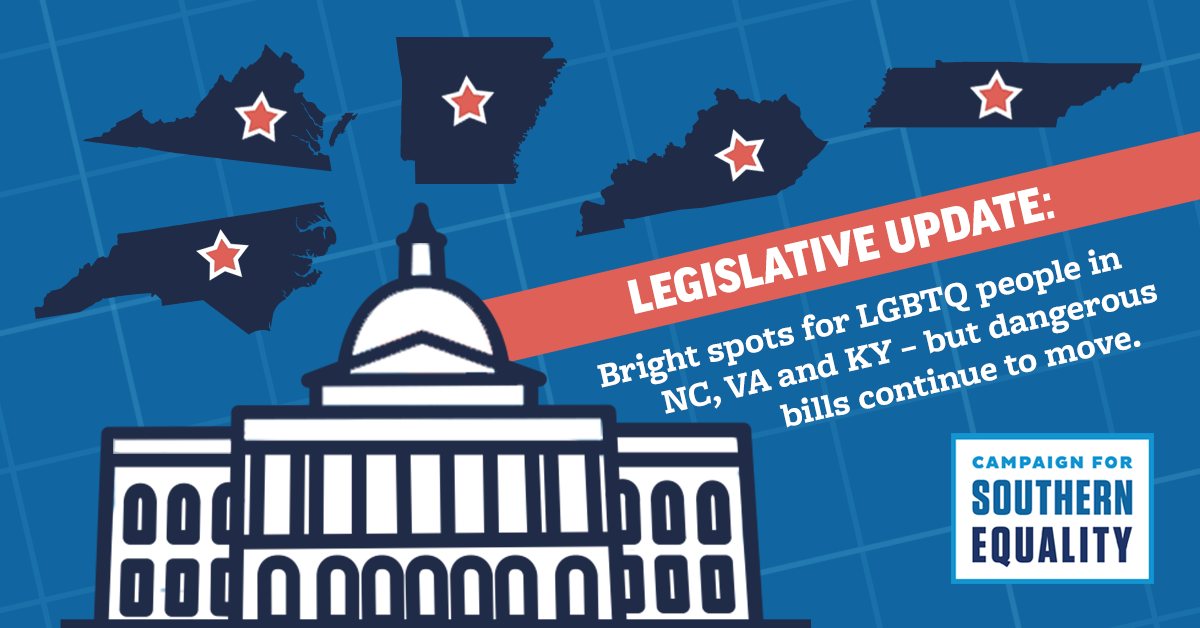 Here's a look at this week's developments:
North Carolina
Several out and allied legislators from the North Carolina General Assembly (NCGA) have worked together to introduce a package of pro-LGBTQ legislation. The package consists of four bills with versions in the House and Senate. HB449 and SB409 would "Prohibit Defense Based on Sex or Gender," meaning that an individual's (actual or perceived) sexual orientation or gender identity cannot be used as a legal defense for violent acts committed against them. The NCGA will also consider HB450 and SB396, which would offer "Equality for All." These move to include sexual orientation and gender identity as protected status and prohibit discrimination in housing, employment, public accommodations, credit and lending, insurance, education, and jury service.
Additionally, the legislative package proposes the Mental Health Protection Act with HB452 and SB392. This act would ban the harmful and debunked practice of conversion therapy on minors and adults with developmental or intellectual disabilities by designating conducting such practices as professional misconduct. Lastly, the NCGA hopes to put the shame of HB2 behind them by fully repealing the so-called "bathroom bill" with HB451 and SB438. To learn more about these bills and their sponsors, watch the press conference hosted on our Facebook page.
Allison Scott, Director of Impact & Innovation at the Campaign for Southern Equality, said on Tuesday: "It's been five years since North Carolina passed the extreme and reckless HB2, vilifying transgender people like myself and singling us out for discrimination, harassment, and trauma. Since then, we've seen thousands of residents open their eyes to the mistreatment that LGBTQ people endure and open their hearts and minds to solutions that will make life in North Carolina more equitable. This package of bills confronts the attempted erasure of LGBTQ minors, ensures everyone can live in public as their authentic self, and catches our laws up to where we really are as a state. It's time to turn the page on the relics of our past such as HB2 and HB142 and move toward a path that is  inclusive with an equitable future for our state."
Virginia
Governor Northam signed two progressive bills on March 31. SB1138 reduces the criminal penalty for knowingly engaging in behaviors that might result in the transmission of HIV and repeals the crime of donating blood or organs for those living with HIV, and HB2132 bans the "gay panic" defense. Both of these affirming laws go into effect on July 1st, 2021. 
Arkansas
The Arkansas legislature and governor are actively attacking the dignity of LGBTQ+ residents in the state. Governor Hutchinson signed SB289 last week. This act gives medical staff and institutions the right to discriminate in employment and treatment.
HB1570, bans gender-affirming care for minors, is currently sitting on Governor Hutchinson's desk. Advocates are pushing for the governor to veto this dangerous bill: The ACLU has several suggestions on how to contact the governor and urge him to veto: You can also contact Governor Hutchinson via Twitter, phone (501-682-2345), or email.
Arkansas' legislature is also moving an additional anti-transgender bill that would restrict students from participating in school athletics. SB354, which prohibits transgender girls from playing school sports, has already been signed into law, and now on April 5, the Senate will vote on SB450, an additional bill that would allow the government to punish schools that allow trans girls to play sports. 
Tennessee
Tennessee's state legislature has been unfortunately aggressive when it comes to pushing anti-LGBTQ bills this past week. HB1182 passed the House with a Republican majority on March 29th and would require businesses that allow people to use restrooms according to their gender identity to make that policy clear at the entrance of the building and bathrooms. The Senate version of this bill, SB1224, has been placed on the Senate Judiciary Committee calendar for April 6.
A bill criminalizing offering gender affirming care to minors, HB578, passed out of the Criminal Justice Committee March 24. Next, the bill will go to the House Health Committee on April 7. The legislature also has a House and Senate version of a bill requiring parents to be notified when school curriculum covering sexual orientation and gender identity is going to be covered. The bills would also give parents the opportunity to remove their children from the classroom rather than letting students learn about these facets of identity. The House version, HB529, passed the House Education and Instruction Committee on March 31. The Senate bill, SB1229, will be heard in the full chamber on April 5.
Lastly, the House and Senate are each considering bills that would bar transgender students from using multiple occupancy bathrooms and changing facilities in alignment with their gender identity. The Senate version of the bill SB1367, passed committee on March 24 and will be heard in the full chamber on April 5. The House bill, HB1233, will be heard in the House Finance, Ways, and Means Subcommittee on April 7th. 
Updates in Other Southern States:
KENTUCKY
Kentucky's legislative session ended March 30 with none of their anti-LGBTQ+ bills becoming law this session. Congrats to our friends at the Fairness Campaign for defending freedom and dignity for LGBTQ Kentuckians. 
FLORIDA
SB2012, a bill to exclude transgender girls from participating in sports, passed out of the state's Health Policy Committee on March 31. Next up is consideration in the Rules Committee.
TEXAS
SB29, the Senate version of a bill to exclude transgender girls from participating in sports, passed out of committee on March 30 and will next be heard by the full Senate. And HB4042, the House version of a bill to exclude transgender girls from participating in sports, was referred to public education committee on March 29. It will receive a hearing and vote there. 
Alabama
HB391, a bill to exclude transgender girls from participating in sports, passed the House on March 18 with a Republican majority vote and passed the Senate Education Committee on April 1. The next step is consideration by the full Senate.