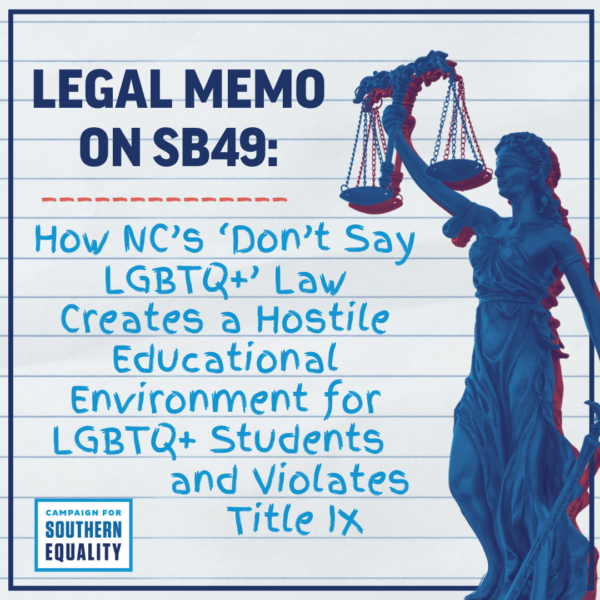 Advocates recommend that local Boards of Education in North Carolina postpone or suspend compliance with S.B. 49 until Title IX conflicts are resolved. 
This year students in North Carolina returned to schools for the first time following the passage of S.B. 49, NC's version of the so-called "Don't Say LGBTQ+" law. This law, passed in August following the NCGA's override of Governor Roy Cooper's veto, includes policies that censor LGBTQ-related content from school curriculum and require school personnel to "out" transgender students to parents, potentially before they are ready.
Functionally, North Carolina school boards must now consider how or even if they will enforce S.B. 49's anti-LGBTQ+ provisions. In recent weeks, the law has started to be enforced in school settings and considered by school boards – and there remains widespread confusion about what the law means and how schools should respond. In response, the Campaign for Southern Equality has published a new legal memorandum about S.B. 49. The memo highlights the many ways S.B. 49 creates a hostile educational environment for LGBTQ+ students. In doing so, S.B. 49 violates Title IX of the Education Amendments of 1972, a federal law that bars discrimination based on sexual orientation and gender identity in schools. Click here to view the memo. 
The memo, which has been shared with the General Counsel of the North Carolina Department of Public Instruction and local Boards of Education, explains how school districts cannot both follow S.B. 49 and remain in compliance with Title IX. As a result, the Campaign for Southern Equality recommends that compliance with S.B. 49 be postponed or suspended until the Department of Public Instruction has had a chance to address the Title IX issues prompted by S.B. 49. If necessary DPI should involve the U.S. Department of Education Office of Civil Rights to ensure Title IX compliance. 
The memo, prepared by Christopher A. Brook (he/him pronouns), of Patterson Harkavy, LLP, and Em Seawell (they/them pronouns), consulting attorney for the Campaign for Southern Equality, reads, in part:
"Provisions [of S.B. 49,] especially when taken together, imperil the well-being and lives of LGBTQ students. In so doing, they foster a hostile educational environment for LGBTQ students in violation of Title IX. … Schools cannot comply with Title IX while following the portions of S.B. 49 gratuitously harming LGBTQ students. The choice between Title IX and S.B. 49 is no choice at all; schools must follow Title IX."
Craig White (he/they pronouns), Supportive Schools Director at the Campaign for Southern Equality, said today:
"There is no question that S.B. 49 creates a hostile educational environment. The overall impact of the law is to single out LGBTQ+ students, students from LGBTQ+ families, and LGBTQ-affirming content for differential and discriminatory treatment.  Because federal law takes precedence over state law, and because the safety and well-being of students take precedence over all else, it is important for schools to remain on the side of non-discrimination until these issues can be resolved." 
Learn more about S.B. 49 at the Campaign for Southern Equality's S.B. 49 Resource Hub.