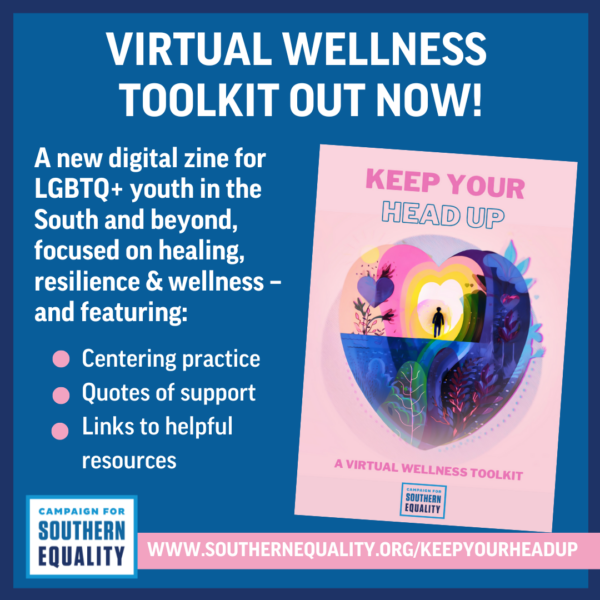 It's been an extraordinarily difficult year for LGBTQ+ youth – and that's why we are honored this week to publish a new offering to support the healing and resilience of young people in the South – "Keep Your Head Up: A Virtual Wellness Toolkit." 
As a part of our work to support transgender folks in the South, Campaign for Southern Equality has led wellness workshops in states where gender-affirming care for youth has been banned. These workshops create a space where trans people, their families, and allies can process emotions and heal together, while learning about resources and building community. The virtual wellness toolkit has this same intention – and can be accessed anytime, anywhere. 
Scroll through the toolkit, and you will find a variety of resources for personal wellness and community care. For those looking for ways to process the stress of living as a trans person in a hostile political climate, there are videos guiding you through exercises to relieve stress and ground you in your purpose, as well as a link to schedule an in-person wellness workshop for your community. 
For those looking for resources amid youth gender-affirming care bans and "Don't Say LGBTQ+" school policies, there are links to Campaign for Southern Equality programs that can help.
We hope you check out the toolkit, and share with your people! Be well 🩷