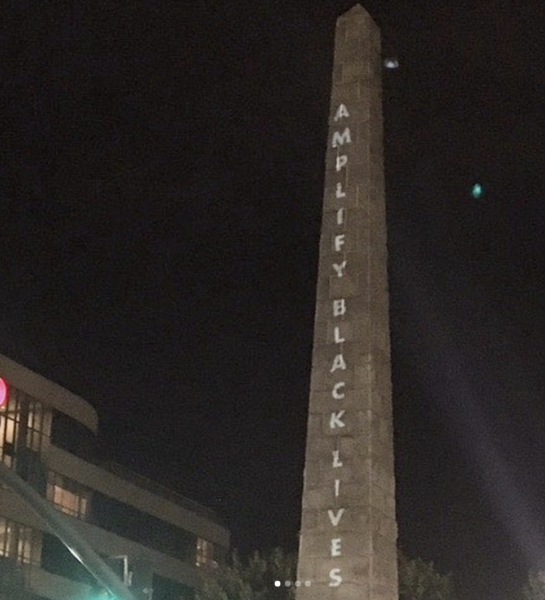 Since launching the Southern Studio Equality in May 2018, this project has been used by artists and activists alike to serve as a catalyst in achieving LGBTQ equality. The studio has been a space for artists to reflect, to inspire one another and ultimately to provide a space of resistance, resilience and community building. Most recently, local artists, Liz Williams and Al Murray designed projections placed around the city as a show of solidarity to the Black community while paying respect to those that have tragically lost their lives.
"We've been collaborating as part of Southern Equality Studios (SES) since January 2019. SES is a way for the Campaign for Southern Equality to bring artists and creatives into our organizing work – to make sense of and bring meaning to the moments we're living in. Artists can create and drive change," said Williams.
In this new project series, both Williams and Murray are able to combine both of their artistic abilities in a manner that highlights the ongoing fight for racial equality. The faces of Breonna Taylor, Tony McDade, Nina Pope and George Floyd were projected on the side of the Asheville Art Museum. Additionally, text quotes from renowned novelist, James Baldwin and activist Cece McDonald, along with the call to "Defend Black Lives" were cast on the side of the Vance Monument.
"My work has many digital, surreal elements that adds to my visual work, whether it's a portrait or video. This aesthetic reinforces the idea that art has a force that is outside of this physical world – and the same applies to the Black community's spirit, grief, rage, and fortitude throughout these centuries," said Murray.
"The first installation video I created is based off of photos of Breonna Taylor, Nina Pop, Tony McDade, and George Floyd. Across social media in late May and early June, we saw so many stark images of these four individuals posted – and I really wanted to bring light and soul to their memories with the use of animation and the symbolism of stars and roses," said Williams.
"We saw so many stark images of these four individuals posted – and I really wanted to bring light and soul to their memories with the use of animation and the symbolism of stars and roses." – Liz Williams
In addition to the art projection style honoring the Black lives, which had been lost, Williams  went on to commemorate a special piece to acknowledge the queer authors, activists and artists during the last week of Pride month. Those who were recognized were those who have held a mirror of accountability to the repeated systemic racist, transphobic, homophobic, and violent behavior against Black folks.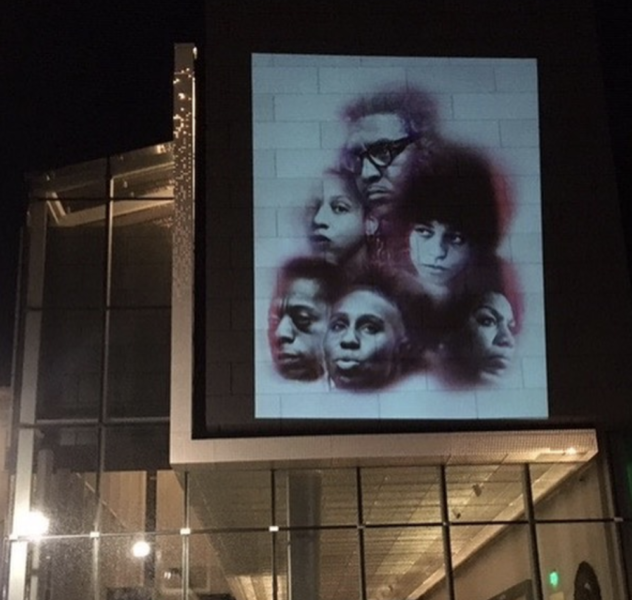 In the meantime, Murray and Williams have no intentions of slowing down when it comes to their artistry. As the fight for racial equality continues, both Murray and Williams understand the importance of playing a role in this moment (and historically).
"Black people and non-Black people of color are most likely to face lethal use of force by police. These communities are also, separately, most at-risk for COVID-19. We've seen how Black people and non-Black POC are having to take to the public square to defend their lives – during this time when being in close proximity with others poses a health risk," said Murray.
Murray went on to state that, "this is injustice compounding injustice. No one should have to put themselves in even greater danger in order to be heard. We want the realities of racial injustice and police brutality to be at the forefront of Asheville's consciousness, and this is one way to help."
As for next steps, they plan to show more of Liz's work in other parts of town, on other surfaces. The larger project overall is one that will move and morph, so they'll use spaces that suit the messages they're projecting. Though they aren't publicizing dates as to when they will be back with their projections, one thing is certain and it's that this will not be the last time the people of Asheville will have seen them.