On Friday, June 12, the Trump Administration's Department of Health and Human Services finalized a rule change to roll back protections for transgender people from the Affordable Care Act.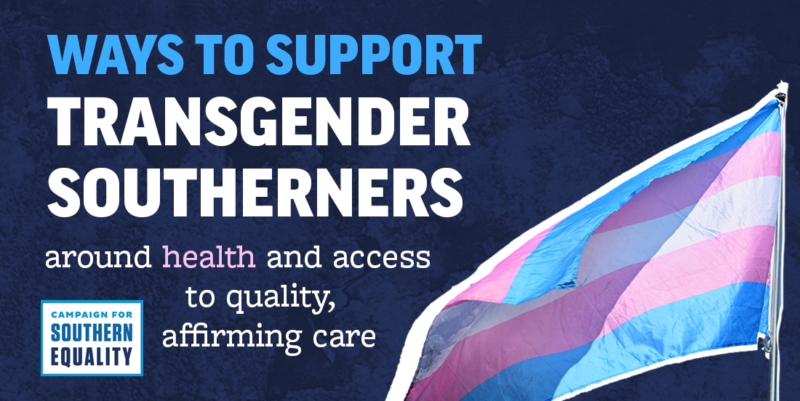 Making it harder to access healthcare would be shameful in any context – but it is especially reckless now, as the world continues to grapple with the public health emergency of the COVID-19 pandemic and has righteously deepened conversations and reflections around racial injustice, police brutality, and the movement for Black lives. The Campaign for Southern Equality condemns this action from the Trump administration, which once again underlines how the administration is systematically moving to dismantle protections for LGBTQ people as part of a broader insidious campaign to attack civil rights. 
We know you've seen the news, and we know that it sends a scary message. That's why we're sending love and solidarity to trans folks across the South and the country, with a particular message of support for Black trans people, who face additional health disparities and disproportionate violence. 
Here are some resources that can help you and the trans folks in your life:
Get the Facts:

This infuriating rollback will undoubtedly create barriers to care. Our 2019 Southern LGBTQ Health Survey which surveyed more than 5,600 people across the South showed alarming disparities for transgender people in access to care and mental health in particular.

Click here to read the Southern LGBTQ Health Survey Report.
Share Resources About Trans-Affirming Providers:

It's important to clarify that this rule change from the Trump Administration, as heinous as it is, does not categorically deny people access to care. Health care providers across the South have long been working to provide quality, affirming care – and our

Trans in the South Guide

functions as a directory to help trans Southerners navigate the search for a trans-friendly provider.

Click here to access the Trans in the South guide. 
Reach Out to Your Community:

The Campaign for Southern Equality's Community Health Program Director Ivy Hill wrote just last month in

Courier

about how trans Southerners are uniquely hurt by the pandemic. At the end of the piece, Ivy encouraged trans folks to reach out to each other, continue to build community, and share resources. "The healing that our community members offer to each other cannot be overstated. We are and always have been the solution we need," they wrote.

Read the full article here.
It's so critically important to continue pushing for health equity for LGBTQ people across the South, which includes training providers and working with health care clinics and institutions to adopt inclusive policies and practices. It's a big part of our work at the Campaign for Southern Equality, and we're more resolved than ever to increase Southern providers' capacity to make sure every person gets the health care they need and deserve.