What starts a movement is not just the leader but the first follower – and every follower thereafter. It is the people who show up in Love, who disrupt the ordinary and willingly get uncomfortable because it's worth it. When we find that power within ourselves, we shift the world around us. – The Bobs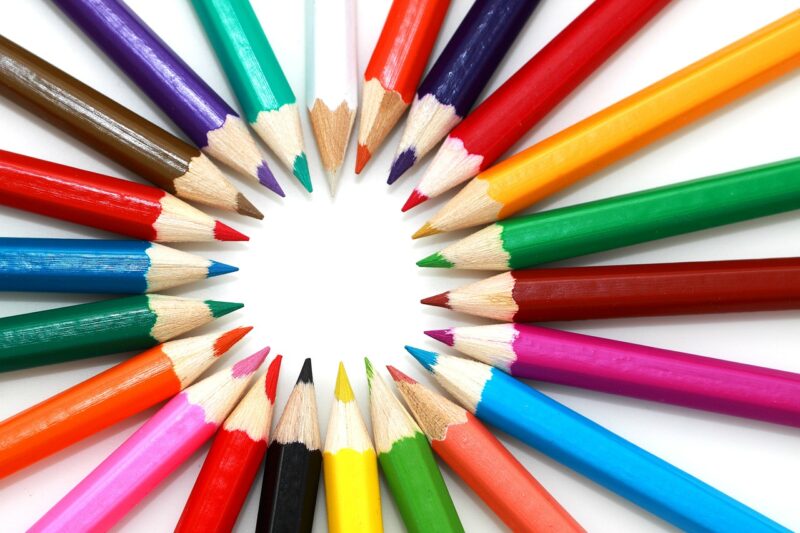 Back-to-school is often an anxious time of year for many students and parents, as well as teachers, but the 2023-2024 school year promises to be uniquely challenging. This year's wave of anti-trans legislation has made lots of news; the ACLU is tracking 492 anti-LGBTQ bills, nearly half of which are in the South, and a majority of which target young people. But we're only starting to hear the stories of students, parents, teachers, counselors, social workers, school nurses, coaches and administrators who are standing up to resist the draconian state laws and school board policies that have been sweeping the South and other red states. And there's a lot going on.
Working with the Supportive Schools team at the Campaign for Southern Equality, we have access to things that don't make the news, as well as stories and rumors. As with any underground resistance movement, it's sometimes hard to tell which are strategies that have been tried, which are emerging ideas, and which are urban legends. We have personal knowledge of some of the stories here, and where the actions have made the news, we have provided links for confirmation. In other situations, we're not revealing the locations in order not to put people at additional risk. And some of these stories are second- and third-hand, or something seen on social media. We've heard from many folks who are teachers, school administrators, or parents looking for ways they can resist anti-LGBTQ+ school policy – our job is to pass these stories along. 
Now that North Carolina has joined Florida and Alabama in passing broad anti-LGBTQ+ youth policy bills, known as the so-called "Don't Say LGBTQ+" policies, we're getting more questions than ever about how parents, teachers, and families can act. The stories below are just a few of the strategies that we've heard about or seen used in school districts nationwide, including in the South. 
An important flag about these resistance strategies: Not all of them may be the right fit for every situation or for every person at every time. When deciding actions to take, please consider the potential consequences that you or your colleagues may face, and know that there is never pressure for you and you alone to tackle the injustice of these laws. But if you're looking for some inspiration, here are a few ways that people are taking action:  
Youth leaders are rising up
This was shared with us by a North Carolina student, just one of the young people who are finding their voice and their power in this moment. "When my school district announced an anti-LGBT policy that would censor any LGBT-affirming content in many areas of school, from the curriculum to books in the library, I knew I had to resist the policy in any way I could. The purpose of a school board is to protect students, not hurt students in politically-charged attacks on who they are. I organized a rally – which drew quite a few people despite the heavy rain that day – and a petition that got thousands of signatures across the community and the world. Even though the policy passed, I am continuing my activism in college nationally in order to ensure that people all across the country won't be discriminated against in any way, and I have the intolerance and hatred of my local school board to thank for this new path."
Student walkouts
Students in Moore County, NC, organized a walk-out in protest against a school board policy that would require teachers and counselors to violate the privacy of transgender and non-binary students. They used the opportunity to speak out against the disinformation and bias behind the board's so-called 'Parent's Bill of Rights,' and to articulate their commitment to the privacy and safety that all students deserve. Students who participate in a walk-out are risking punishment, including detention, suspension, or worse, but in this case school administrators supported the students' first amendment right to have their voices heard.   
Speaking out publicly 
A large majority of people in the US support LGBTQ equality, but the voices of extreme anti-LGBTQ+ forces are so loud, that this support is sometimes not fully felt. This South Carolina parent, frustrated at how his state government and former church were promoting discrimination, published an open letter to the LGBTQ+ community, voicing his commitment to equality. His family found a new church that would welcome and affirm everyone in their family (they recommend this resource for the purpose). He has continued to be involved in supporting advocacy for students' civil rights, opposing hateful legislation at the state house, and organizing other parents. There is always room for more allies and impacted people to break the silence, speak out, and take action.
A similar message was shared with me by a public school superintendent. "The role of public education is to educate all students that walk through our school doors. As a result, schools must support all students in feeling safe at school. In my experience, there are many groups that are seeking to undermine the rights of many of our students, specifically those that identify as LGBTQ+. These groups are privately funded, well-organized, and they show up to engage in the public participation process. Unfortunately, many parents of LGBTQ+ students have reported that they don't feel safe coming to speak up on behalf of their children. Those parents need allies from the community to show up, to speak out, and to engage in public participation in support of fairness and protecting the rights of all students. We also need good people running for school boards, or else we'll see them be taken over by those divisive groups."
Stepping back as a way of stepping up
Sometimes, stepping back can be as powerful as speaking out. Many teachers, counselors, social workers and even principals are simply not complying with discriminatory policies. To start with, they are already exhausted and overworked, still dealing with the effects of school closures and learning loss due to the pandemic. On top of that, Republican legislatures have slashed education budgets and moved millions into voucher programs for private and religious schools. There are fewer and fewer people carrying more and more work. So, when the state legislature, the school board, or their own administrators are handing down anti-LGBTQ policies and practices, staff and faculty are simply "failing" to comply or participate. If they get challenged, they respond that they must complete their primary job responsibilities first – and policing and harassing LGBTQ+ students is not in their job description.
Considering professional codes of ethics
In Moore County, NC, school counselors and social workers opposed a school board policy that required them to violate the privacy of transgender and non-binary students. They notified school officials that their professional codes of ethics require them to protect student privacy, and to never create situations which would compromise a child's safety. One counselor published an opinion piece in the local newspaper, asking that counselors be allowed to do their jobs without the school board interfering. Some counselors and social workers notified the administration that they would refuse to comply, even if that meant losing their jobs. Even so, they note that the mere existence of the policy has made trans and non-binary students less likely to seek the support they need.
In another school district, the social workers were threatened with disciplinary action for organizing to oppose racist and anti-LGBTQ policies proposed by the school board. They pointed out that state law requires them to abide by the Social Work Code of Ethics. Section 6.04(d) of that Code states, "Social workers should act to prevent and eliminate domination of, exploitation of, and discrimination against any person, group, or class on the basis of race, ethnicity, national origin, color, sex, sexual orientation, gender identity or expression, age, marital status, political belief, religion, immigration status, or mental or physical ability." Therefore, they argued, they were only doing their job, as required by law, and the only social workers who could legitimately be disciplined were those who DIDN'T oppose the discriminatory policies.
Know Your IX
In schools across the South, teachers, counselors, and administrators are simply making the point, "Neither the state legislature or the school board has the authority to require me to violate Title IX." Title IX of the Education Amendments of 1972 protects students, staff, and faculty from discrimination on the basis of sex – and the federal government has interpreted "sex discrimination" to include discrimination based on gender identity and sexual orientation. A 2020 ruling from the U.S. Supreme Court found that anti-LGBTQ "sex discrimination" in the workforce is impermissible, and the Biden Administration has rightly applied that definition across all federal policy, including Title IX.  
School staffers citing Title IX places the administration in the position of having to prove that their policies don't violate Title IX.
You don't need to be an attorney or a Title IX expert to use this argument, you just need to look at what's functionally happening. Treating LGBTQ+ students more punitively than other students – that's discrimination. Unfairly advantaging straight and cisgender students – that's discrimination. A policy or practice that is gender-neutral on its face, but results in negative outcomes for LGBTQ+ students – that's discrimination. If the school is a 'hostile educational environment' for LGBTQ+ students – that's discrimination. If the administration disagrees with your assessment, ask for a formal legal opinion from the school's attorney, or ask the district's Title IX Coordinator for a formal, written assessment. 
Finding powerful allies
Parents and educators in Bucks County, PA, thought that censorship of LGBTQ-related books, and a policy requiring teachers to remove rainbow stickers and pride flags, were coming from conservative members of their local school board. It turned out that the policies were actually being written by political organizations associated with the Family Research Council, a national anti-LGBTQ organization identified as a hate group by the Southern Poverty Law Center. Families of LGBTQ+ students reached out to the ACLU of Pennsylvania, who conducted a five-month investigation that found "a toxic educational environment for LGBQ&T students that has been exacerbated by homophobic and transphobic actions and policies taken recently by the school board and upper-level administrators." The ACLU has filed a discrimination complaint against the district with the Office of Civil Rights at the Department of Education and the Civil Rights Division at the Department of Justice. 
"Can you put that in writing?"
This was shared by a parent in Union County, NC. "For months now we've been battling multiple bans our school board's policy committee is trying to pass, including flag bans, book bans, and classroom materials bans. The school board member who is driving the board's policy committee has mocked trans people's bodies in his social media feed and publicly lambasts "the trans agenda." In a board meeting earlier this year, he made a request to ban "orientation" and "gender identity" representations up to twelfth grade. The wording the board's lawyer ended up using in the proposed policies was more watered down and vague, but we assume it's designed to have the same effect. On May 2, the Union County Board of Education approved a measure which theoretically would ban the pride flag. However, I have called their bluff and asked for them to put it in writing that the pride flag is banned. The board has refused to answer whether or not this is the case. Even with significant media coverage from Charlotte TV stations about this situation, the board still refuses to provide answers. The only thing they've said is that it is up to the administrators to interpret the policy, but the administrators informed us that, no, the board has to interpret their own policies. They maintain a stubborn silence. So far, the Board of Education has not had the audacity to put it in writing that the flag is banned."
We've heard this 'put it in writing' strategy from counselors and social workers as well, particularly around 'mandatory disclosure' policies that would out queer and questioning students to their parents. These policies are often intentionally vague in their wording, in order to survive legal challenges. Instead of scrambling to figure out how to comply, counselors are instead asking their administration to document exactly what constitutes a disclosure that must be reported, and exactly how to communicate with parents, including what wording to use. It's a win-win strategy, because the counselors are not required to comply with any policy that isn't in writing, and if the administration does put it in writing, the counselors have the documentation they need for a Title IX discrimination complaint, because cisgender students don't receive the same treatment.
Hostile compliance
One of my students taught me the term "hostile compliance," a strategy of resisting unjust and ridiculous policies by scrupulously following the letter of the law. For example, after the so-called "Don't Say Gay" bill in Florida required K-8 teachers to remove any books with content related to gender identity or sexual orientation, some teachers did so. They removed all books that mentioned marriage or relationships, as well as any books that used he, she, or they pronouns. Heterosexuality is a sexual orientation, after all, and cisgender is a gender identity. (I heard one first grade class was left with just two books: one on volcanoes, and one on the water cycle.)
If it's banned – buy it and share it!
A conservative parent group warned a principal that they were coming to visit the school library, and attached a list of books that they found inappropriate. The principal, not being particularly brave, emailed the list to the school librarian with the directive, "These books should be off the shelves within the hour and out of the school by the end of the day." The librarian, fuming, pulled the books off the shelves and put them in a box in the hallway, labeled "Banned Books! Do not take, read, and share with other students." They were gone in ten minutes.
This was shared with us by a North Carolina parent: "Book banning is not a new form of censorship; however, in recent times book bans have come to attack LGBTQ+ characters, storylines, or even suggestions of the same. Stephen King, who has been a very outspoken ally to LGBTQ+ folks, took to Twitter in January 2023 stating, "If they ban a book in your school, haul your ass to the nearest bookstore or library ASAP and find out what they don't want you to read." This message is one that my family takes to heart. When a book ban becomes public, we go purchase the book, quite intentionally, to have in our home libraries. My father-in-love recently purchased Maus by Art Spiegelman for the holiday season after it was publicly removed from shelves. We see bans as a reason to learn, to support the censored, and to elevate the topics within. No one deserves to be silenced."
After all, book publishers care about three things: Books, sales, and most importantly, book sales. For decades publishers have asked authors to tone down queer and sexually explicit writing, because controversial content hurts book sales. Similarly, authors have been asked to tone down characters who are 'too Black' or 'too ethnic' and make them 'more relatable.' However, the wave of book bans has turned that dynamic on its head. We've actually seen sales shoot up as people buy banned books, whether to condemn them, to support them, or to see what all the fuss is about. Consequently, I hear from a friend in the publishing industry that some editors are now asking authors to spice up their stories, adding more queer characters and sexually explicit content in the hopes of getting a quality condemnation. BIPOC authors and characters are also in demand, and the more authentic, the better. 'Black girl magic' has at last become a recognized subgenre ofyoung adult literature. As Ursula K. LeGuin wrote, "To oppose something is inevitably to maintain it." And, apparently, to boost its sales.
Creative resistance
We've heard of several school districts that have banned displays of pride flags and stickers, and expanded their dress codes to ban clothing, slogans, buttons, and stickers that display LGBTQ+ pride. Most common seems to be a ban on the pride rainbow. (Perhaps these adults don't realize that trying to control the personal expression of young people has been a losing battle in every generation.) In one school, forbidden to wear rainbow pride t-shirts, students came to school wearing solid color t-shirts, and then would walk, stand or sit next to each other to create a collective Pride flag. In another school, when the rainbow was banned, students switched to displaying the pink, white and blue of the trans pride flag; when that too was banned, they picked up the colors of all the different LGBTQ+ pride flags, knowing the administration wouldn't know what was what. To make it harder, they mixed in the blue and yellow that symbolize support for Ukraine, as well as the colors of their favorite college sports teams, and some random color combinations, just for fun.
Do it yourself
Around the country, student theatrical productions have been canceled for including LGBTQ+ themes or characters. At Carroll High School in Indiana, administrators canceled the production of Marian, or The True Tale of Robin Hood, because the show included non-binary characters and a same-sex relationship. Students protested the censorship, but could not get the administration to change their decision. They then set up an online fundraising campaign, bringing in over $85,000, which let them find an alternative stage for the production and put up the show themselves. Over 1,500 people bought tickets, and the show went off without a hitch.
Just be yourself
The Movement Advancement Project conducts in-depth research on anti-LGBTQ legislation. In their report Under Fire, they conclude that "LGBTQ people are under siege from a targeted and coordinated campaign to undermine equality and ultimately erase them from public life." This isn't the first time that a society has tried to erase us, and now, as ever, the most common and most powerful form of resistance is when we live our lives as our authentic selves. When we express our gender, love who we love, and say what we have to say, we are resisting. When we stand up for our right to be who we are, we are resisting. There are tens of millions of us in the resistance already.
We've shared a few stories here, but we know there are many more. Ask around your schools and your town, to learn what's going on – and if you don't hear about anything, get something started, choosing the right level of risk for yourself and your community. We hope you'll let us know how it goes!