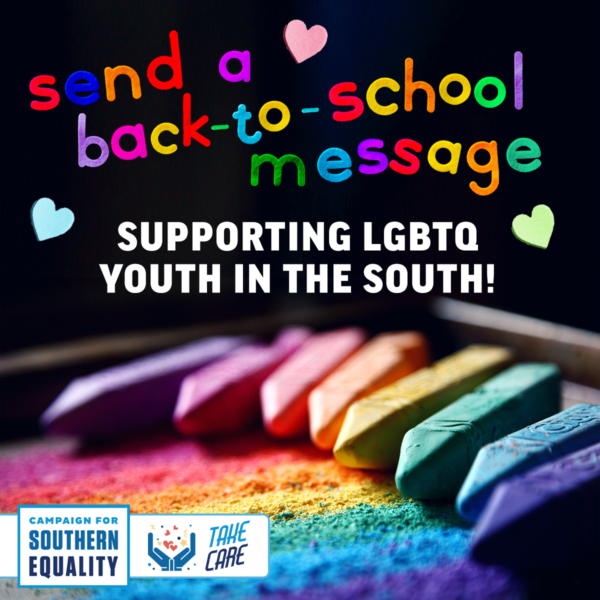 Even as more Americans than ever resoundingly support LGBTQ+ equality – and even as more young people than ever identify as a part of the LGBTQ+ community – we are living through a time of heightened attacks on our community. The 2022 legislative session was one marked by brutal political attacks from far-right extremists, with LGBTQ+ youth at the center of many attacks. 
That's why the Campaign for Southern Equality is kicking off a new Back to School project as part of our broader Meeting the Moment campaign. We're partnering with organizations across the South to envelope young people with love, solidarity and strength as they head back to school in the coming month. We'll provide Back-to-School care packages with school supplies, stress relief items, water bottles, and LGBTQ-affirming items, plus resources like our robust new "Know Your Rights" guide. 
And we need your help for one special part of this project: We want to print out hundreds of messages of support from people all over the country and include them in each care package so that LGBTQ+ youth really know that a community all across the country has their back and is sending them love. 
Can you join us in showing your support for LGBTQ+ young people across the South by sending a message of support and solidarity? Just share your message below, and we'll print it out as part of the care package.