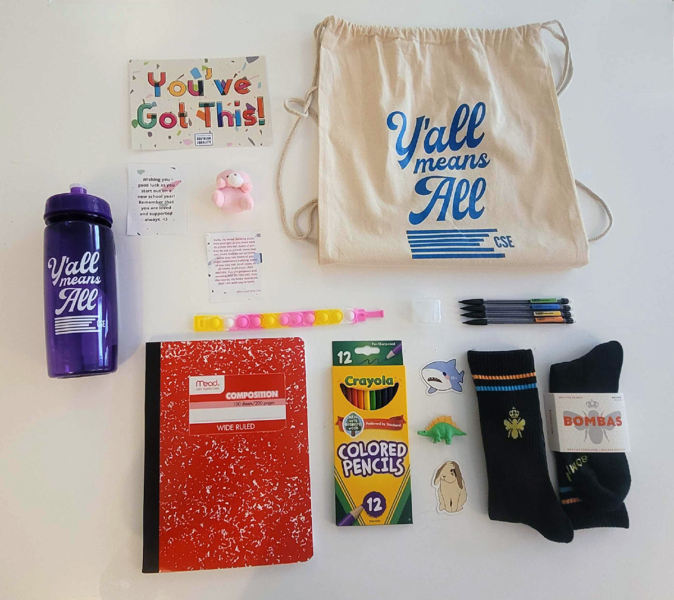 NOTE: This post was written by Lore Lane (they/them) of the Campaign for Southern Equality.
It's a fraught time to be an LGBTQ+ young person in the South – and this month, as many students head back to school, we're well aware that many are feeling the pressure and anxiety of showing up as their full and authentic selves at school. That's because in many states, discriminatory anti-LGBTQ laws took effect over the summer, such as so-called "Don't Say Gay/Trans" policies in Florida and Alabama, and exclusionary anti-trans sports policies in Kentucky, South Carolina, and Louisiana.
Our team at the Campaign for Southern Equality wants to make sure these students feel supported and affirmed during this challenging time – so we pulled together a "Back-to-School" Care Package for youth, partnering on distribution with direct service organizations across the South. The care packages include school supply essentials, our brand-new "Know Your Rights" guide, and messages of solidarity from the CSE community. More than 200 community members shared loving affirmations earlier this month, and we printed them out and tucked them into each care package so students know that there are folks out there who've got their back. Special thanks to our friends at The Ally Coalition and Bombas Socks for contributing some amazing socks to the care packages, too. 
We appreciate everyone who sent a message – and now, we'd love your help on assembling the rest of the packages. Can you join us with a donation of $100 to help sponsor these care packages? Just click here and make your donation. 
We're sending out 300 of these in the coming weeks, working in tandem with our amazing partners in Alabama (Magic City Acceptance Center, Prism United), North Carolina (Time Out Youth, LGBTQ Center of Durham, and YouthOUTRight), South Carolina (Uplift Outreach Center), and Tennessee (Oasis Center) to get them in the right hands.
You can help: Make a donation of $100, $50, or $5 to sponsor a care package for an LGBTQ young person heading into one of the most hostile political climates for LGBTQ youth in recent memory.