Today, October 8, the United States Supreme Court hears oral argument in three historic cases arguing that LGBTQ people should be protected from employment discrimination under Title VII of the Civil Rights Act of 1964, which prohibits discrimination based on sex. A ruling in the cases could ensure that nearly four million LGBTQ Southerners are protected from employment discrimination.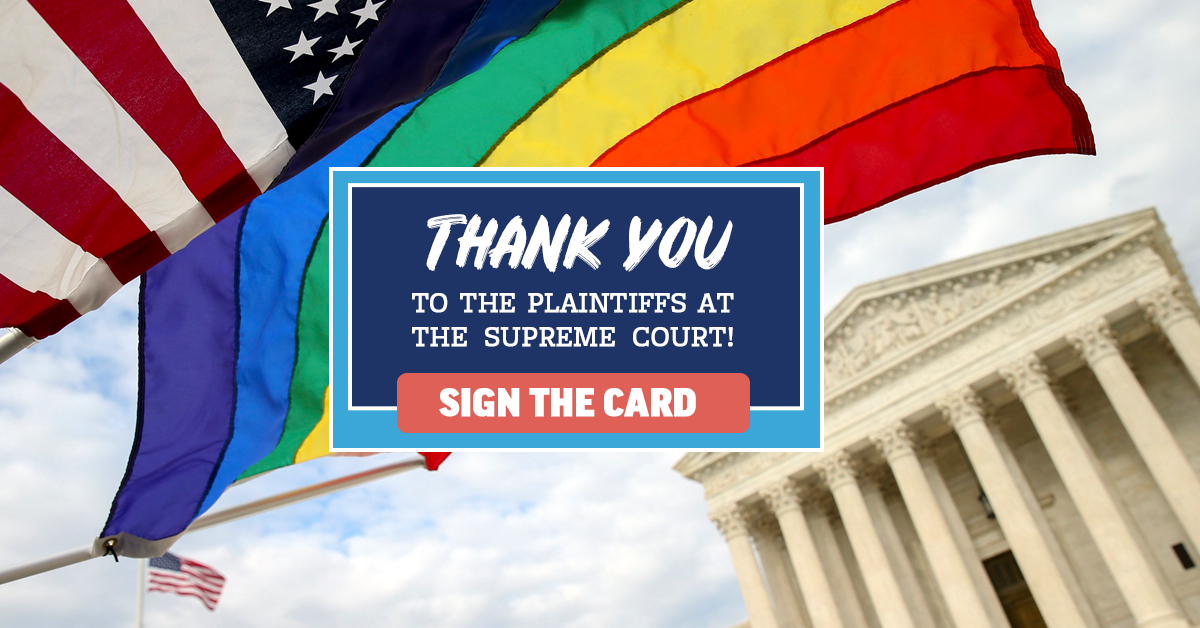 We want the plaintiffs in these cases – Aimee Stephens in Michigan, Don Zarda's sister Melissa in Missouri and former partner Bill Moore in Texas, and Gerald Bostock in Georgia – to know that people all across the South have their back. Join us in standing with these brave plaintiffs and their incredible legal teams as they prepare to walk into the Supreme Court chambers this morning. Sign our card thanking these plaintiffs and their legal teams:
Landmark Cases for LGBTQ Equality
These cases speak to experiences familiar to so many LGBTQ Americans. Studies show that one-quarter of LGBTQ employees nationwide have experienced workplace discrimination in the past five years, and nearly one-half have not shared their LGBTQ identity with their coworkers or employers. Transgender people are unemployed at three times higher than the national average. 
Rev. Jasmine Beach-Ferrara, Executive Director of the Campaign for Southern Equality, said:
"Nowhere in the country is the need for LGBTQ employment protections greater than in the South, where one-third of all LGBTQ Americans live. No Southern state has passed employment protections for LGBTQ people, despite the fact that a majority of Southerners – including a majority in every single state – support these laws. Instead, bills proposing these protections continue to stall out in Southern state legislatures due to the political powerlessness that LGBTQ people experience in our region. Federal protections are the most effective and efficient way to ensure employment protections for all LGBTQ Southerners. This is exactly why we require action from the U.S. Supreme Court." 
How CSE Has Taken Action
The Campaign for Southern Equality is one of the many organizations that signed a "friend-of-the-court" (amicus) brief to the U.S. Supreme Court in support of ending anti-LGBTQ discrimination in the workplace. We signed onto a groundbreaking brief from the Transgender Law Center and the Center for Constitutional Rights, alongside 43 other organizations that advocate on behalf of transgender people.  Read the full brief here.
CSE's Executive Director, Rev. Jasmine Beach-Ferrara, also signed onto a brief in her capacity as a faith leader. She joined more than 700 individual faith leaders, including at least one from every state, in making the case for LGBTQ-inclusive nondiscrimination protections from a faith perspective. Read the full brief here. 
A Big Step for Transgender Americans
One of the cases today is also historic because it marks the first time that the Supreme Court will hear a case directly focused on transgender rights; one of the cases was brought by plaintiff Aimee Stephens, a transgender woman in Michigan who was fired from her job at a funeral home after transitioning.
Allison Scott, Director of Policy & Programs at the Campaign for Southern Equality, explained the significance of this case:
"More than 500,000 transgender Americans live in Southern states, and for far too many of us, Aimee's story echoes our own experiences with employment discrimination. A ruling affirming that Title VII prohibits employment discrimination would be a long overdue step toward justice for LGBTQ people – and it would fuel the work ahead to build a South where LGBTQ people are truly equal in every area of life."
A ruling is expected from the Supreme Court in the spring of 2020.