Last week the Campaign for Southern Equality put out a call for messages of support for trans and non-binary students at North Buncombe High School in Buncombe County, NC. The day before, a small group of students had coordinated a protest that sent a negative message about transgender students and school guidelines on how to respect all students' gender identity.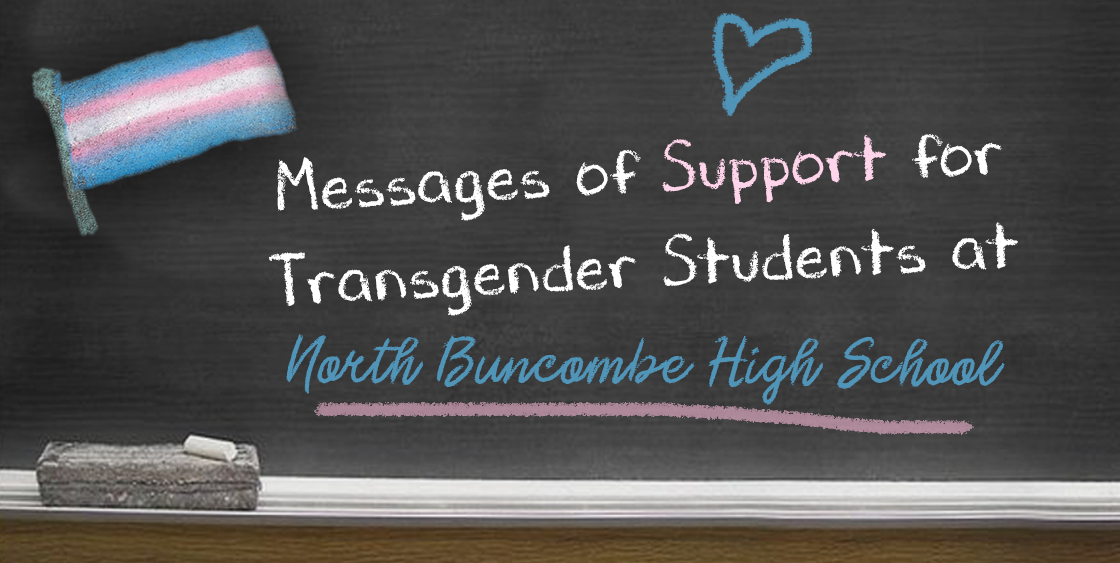 Within three days, we had received more than 200 messages of support from all over the country. Many of the messages came from current and former students of North Buncombe, staff from across the Buncombe County School System, parents, and local community members. But messages also came in from across the country, from people who'd grown up in the South and from others who just wanted students to know exactly the breadth and depth of support for them. 
These notes were heartfelt, short, long, funny, inspiring and moving. And they all came down to a simple message for trans and non-binary youth: You are beautiful, strong, and courageous and you have legions of supportive, loving people behind you. What you're experiencing now won't endure, it will change because together we'll make it change.
Thank you to everyone who took the time to send a message and we'd like to share a few of your responses here – because there are so many students, in so many schools across the South, that need and deserve these words of love, encouragement and support.
* * *
Hey y'all- I'm so happy you are here. I'm a queer from Hendersonville NC (I live in NY now) and I want you to know how many queer Appalachians and queer southerners are out here rooting for you. Our family is so vast. Cultivate joy everywhere you can, and fight. Fight hard. That sunrise over the mountain is for you. It's for you.
– Hendersonville, NC
Stay strong. This world is yours; you yourself are an entire world of possibilities and realities. Each one of you makes us all real. We need you. And we are here for you too. People just like you who are alive for you, who live because of you.
– Port Arthur, TX
You are all incredibly strong and incredibly brave. You are all bearing the brunt of decades of transphobia in an intensely politically charged era. You are carrying the torch of the trans community through a harsh passage of history, and I am certain that history will look back and thank all of you for bearing a burden you should've never been asked to carry.
– Asheville, NC
Massive love and respect for all trans and nonbinary students. I'm an out trans high school teacher in North Carolina, and I wanted to let you know that there are people out there who love and support you. Creating social change is slow, but we are all working to create a better, safer path for all trans siblings out there. Please look out for each other, help each other through the storm of ignorance. I wish I could offer you more than just words. Know that being out, being your beautiful selves, this is an inspiration to everyone.
– North Carolina
You are special and wonderful, and YOU MATTER. We are here for you in solidarity and support. NO HATE IN OUR HOLLER.
– Buncombe County, NC
The mom and teacher in me wants to hug you close and reassure you that there's more than ugliness in the world. The cranky old punk in me wants to remind you to fight to show the world who you are, and if you feel like you can't do it yourself, know that I'll fight for you. Take good care of yourself. You are loved and valued for exactly who you are.
– Asheville, NC
To my trans and non-binary little brothers and sisters, I love you all dearly. I didn't have a chance to come out in high school, nor college, and know the battles and the prejudices other students may have. But each and every one of you is brave beyond measure. You are each unique, beautiful, talented, and worthy of the utmost respect, and dignity. North Carolina is a challenge and as a fellow resident of the same state I am fighting alongside and for you each day. Keep shining, keep being you, and bloom. There are thousands in this state, and millions in this country that are fighting for you.
– Durham, NC
You are wonderful, incredible, and deserving of love, respect, and understanding. When one person is brave enough to express their authentic self in spite of their community's fear and misunderstanding, that inspires others who are just like you to think, "If this person can be themself, maybe I can be myself, too!" You have support from all over the world. Someday, in the future, being yourself will not just be accepted by everyone around you, it will be rejoiced. For now, I hope it helps even a little bit to know that I am rejoicing for you.
– Fayetteville, NC
I grew up in Raleigh, NC and graduated from high school in 2010, so I'm a bit older than you are now. I want to say that as another LGBTQ North Carolinian, I feel for what you are going through. High school is tough! However, remember that there are hundreds and thousands of other LGBTQ Southerners who support you, and allies everywhere, even in places you wouldn't expect them. Keep fighting the good fight. Rest assured that there are people who love you. Stick together and care for each other. Don't be afraid to demand access, resources, and to take up space! You deserve it! It's your right!
– Oxford, MS
We see you and we love you! We are so grateful for your presence in our community! You shine! Please feel our love and support wrapped around you daily wherever you are! And to Buncombe County Schools thank you for creating policies that affirm the worth and dignity of all students!
– Buncombe County, NC
I am SO HONORED to share this Earth with you! I admire your compassion and bravery.The world needs more like you!
– Duncan, SC
Thank you for showing up to school – if you are out or if you are not – even when it is hard. Thank you for paving the way for the next generation of trans and nonbinary kids (like my 1st grader) will have a safer place to be. <3 <3 <3
– Asheville, NC
There are mama bears of LGBTQ children all over the world who want you to know you are loved, you are precious and that we celebrate your authenticity. Never think you are alone. Find a PFLAG nearby and come and get loved on.
– Raleigh, NC
I'm trans, and I actually went to NBHS. It can be tough, there is no doubt it. Wherever you go, people will discount you. But at the end of the day, your opinion about yourself is the only one that truly matters. Period. Please, never give up on who you are. You may not know me, but I know you, because I was you just a few short years ago. And I can tell you that it does get better. I graduated. I transitioned. I found others who accept me for me. Get through school one day at a time, and never look back. I'm with you in spirit every step of the way.
– Buncombe County, NC
My dears, You are already further along the path to self knowledge than most adults in our society. I am proud of you for rejecting the binary and staying true to who you really are. It took me 3 decades to even recognize and begin to unlearn the toxicity of these social roles we're born into. Your existence is the spark, the hope, the pole star leading us into a better future. I hope that you love every part of yourself and know that someone somewhere, too, is also loving you. You are not merely a part of the Revolution. You ARE the Revolution. All my love.
– Riverside, CA
Supporting the rights of ALL students. Every day. Because everyone deserves a supportive learning environment. Period.
– Candler, NC
To the LGBTQ students who are enduring this you are so much more than the taunts thrown your way. You are loved by so many and all of us see you as beautiful gifts in a world that doesn't always recognize that beauty. We are here for you and will walk by your side every day in every way. You are strong and courageous and this will not endure, it will change and it will be because each of you are the makers of change that will bring it about. Thank you to the families, administration, and community for standing by these students. They need you to be strong and protect them when they need it the most.
– Asheville, NC
Sending love and support from Portland, Oregon. You are beautiful. You are everything. Take care of each other and your own hearts.
– Portland, OR
It's not always much solace to hear "You're on the right side of history"– I know, I've been told it before. But I want you to know that in your bones. Not only are you right, now, but the history books of the future will have no kind words for the folks who opposed your right to your gender.
– Barto, PA
All over the state and all over the country, we are stunned by your bravery and strength. We are awed by the love and support you have for each other, in the face of cruelty and in the face of everyday life. You shouldn't have to deal with any more difficulty than school usually is – homework and getting to class on time and getting in trouble for having your phone when you shouldn't. It's not fair that you have this extra work to do, this extra stress when being a high schooler is plenty stressful. So please. If you need to rest, rest. If you need help, hold out your hands, we are waiting for you. The world is dark and messy and people hurt each other, by accident and on purpose. But you bright and beautiful people are the future, the pinpricks of light that are changing the world for the better. We are waiting for you out here, and we love you already.
– Chapel Hill, NC
FREE MOM HUGS HERE!
– Arden, NC