NOTE: This blog post was a collaboration between Abby Bowen and Adam Polaski of the Campaign for Southern Equality.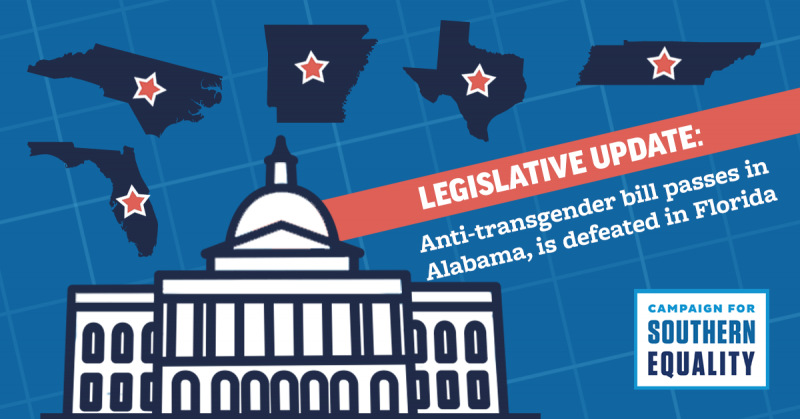 In the same week that Alabama's legislature passed a bill excluding transgender kids from sports, brave community members rallied in North Carolina to try to stop the state's version of this legislation. Similar sports bans are moving in several states. Community members and advocates recognize how meaningful playing sports can be to children and continue to fight this legislation as it progresses.
Alabama
Alabama's exclusionary sports bill targeting transgender youth, HB391, passed out of the House on March 18th and out of the Senate on April 15th. The bill was delivered to the governor, who signed it into law.
Adam Polaski of the Campaign for Southern Equality said in a statement to them.: "Governor Ivey should have followed the lead of four other Republican Governors and vetoed this anti-LGBTQ bill, and it's disappointing that she instead chose exclusion and discrimination. It's outrageous that following a year marked by isolation that has disproportionately impacted school children, elected officials in so many states, including Alabama, are using their time and platforms to bully trans children. Transgender young people should have the same opportunities to thrive as any other young person – and being able to thrive means feeling accepted, understood, and included, whether in the classroom or in the doctor's office or on the athletics field. … We want to send a message of love and hope to transgender youth in Alabama and other states advancing dangerous bills: There are so many people who support you and care about you, and together, we can build a better world."
Arkansas
Arkansas' legislative session has been especially hateful and dangerous to the trans community. In addition to the exclusionary sports bill already signed into law this session, SB354, the legislature is pushing yet another bill targeting youth athletics. The new bill, SB450 passed in the Senate on April 5th and in the House on April 21st. This bill would give the attorney general grounds to punish schools and employees who allow trans kids to play sports. The General Assembly further seeks to interfere in schools by making it so that school employees cannot be required to respect students' names and pronouns. The only function of HB1749 is to disrespect children. The bill passed in the House on April 8th and has a hearing in the Senate education committee on April 26th. In addition to considering and passing several bills impeding on the rights of trans and nonbinary people in the state, the General Assembly is working to pass a religious freedom bill, SJR14. This hypocritical resolution seeks to protect religious individuals from undue government interference in their lives. The resolution passed in the Senate chamber on April 22nd.
Tennessee
Tennessee is moving legislation that would require businesses that allow people to use restrooms according to their gender identity to make that policy clear at the entrance of the building and bathrooms. The House version, HB1182, passed the chamber on March 29th. The Senate version, SB1224, passed committee on April 20th and will be placed on the full Senate calendar.
A "bathroom bill" reducing restroom and changing facility access for children is also progressing through the legislature. This bill, HB1233, passed the House on April 19th and the Senate version, SB1367, passed on April 21st. The legislation has been placed on the Message Calendar for April 26th to settle final language.
Allison Scott, Director of Impact & Innovation at the Campaign for Southern Equality, said this week about SB1367: "Tennessee's legislature has been on overdrive trying to discriminate against LGBTQ people this session – but this bill really scrapes the bottom of the barrel, attempting to pit students against each other, single out transgender youth for mistreatment, and undermine schools trying their best to support trans students. It's mean-spirited, it's divisive, and it has no place in Tennessee or in any other state."
Texas
Two bills restricting access to gender affirming care are progressing in the Texas Senate. SB1646 would classify providing a child with gender affirming care as child abuse. This bill passed favorably out of committee on April 20th and will next go before the full chamber. The Senate is also taking steps to prohibit gender affirming care for minors by creating professional consequences and denying insurance coverage of gender affirming care with SB1311. The bill passed out of committee on April 19th and is also awaiting a hearing in the full chamber.
Louisiana
Louisiana's legislative session recently began this month. The Senate is considering a bill relating to social work, SB155, which would prohibit discrimination based on sexual orientation and/or gender identity in applications relating to licensing, certification, and registration. The bill passed out of committee on April 20th and goes before the full Senate on April 26th.
Florida
Florida's trans exclusionary sports bill, HB1475, was received in the Senate on April 20th after passing out of the House last week – but on April 21, the bill was pulled from the agenda, which Equality Florida said is "a move that will almost certainly kill this bigoted legislation. The bill sponsor issued a statement indicating that the clock is running out and the bill is unlikely to come back up this session."
North Carolina
Like Alabama and Florida, North Carolina has its own exclusionary sports bill. The community rallied on April 14th to voice their opposition to HB358. Doctors, parents, and children expressed their deep concern over the harm this legislation poses to transgender kids who just want to play sports with their friends.
Allison Scott of the Campaign for Southern Equality said the day before the hearing, "This bill is about more than depriving young people of the ability to play sports – it's about blocking already-vulnerable trans youth from making friends, learning teamwork, and accessing the social, physical, and emotional benefits of athletics. It's about the state attacking trans youth's basic autonomy, singling them out, and telling them they don't belong. I say this to trans youth: You belong everywhere, and we will never stop fighting until the laws in North Carolina make you feel welcome, included, and safe, no matter what."