NOTE: This blog post was a collaboration between Abby Bowen and Adam Polaski of the Campaign for Southern Equality. 
Many state legislatures in the South have adjourned as of late May – but the anti-LGBTQ bills kept up even through the end of the session, as lawmakers rammed through multiple bills that explicitly discriminate against LGBTQ and especially transgender young people. Most notably, Florida's Governor Ron DeSantis signed into law a bill prohibiting participation in athletics from transgender youth – on the first day of LGBTQ Pride Month, no less. A similar bill is on Gov. John Bel Edwards' desk in Louisiana. Here are other developments in state legislatures in the South this week: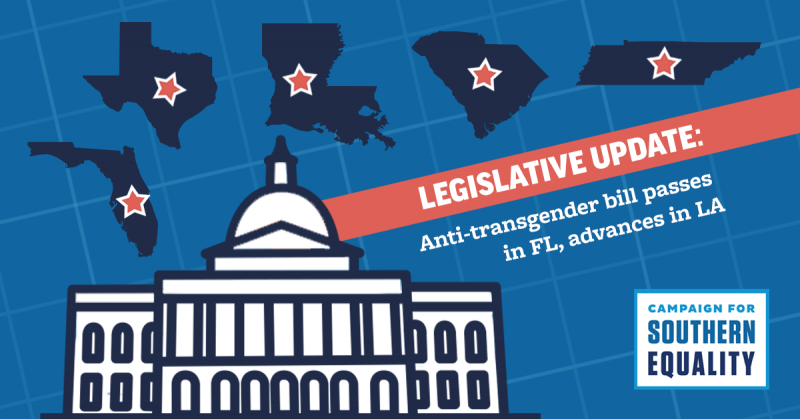 Florida
In an underhanded last ditch effort, lawmakers in Florida added language to SB1028, a bill originally about charter schools, to exclude trans girls from participating in athletics. The bill was signed by Gov. Ron DeSantis on June 1. 
Louisiana
SB155, a Louisiana bill which would prohibit discrimination based on sexual orientation or gender identity in social work applications relating to licensing, certification, and registration, has passed both chambers as of this week. The bill goes back to the Senate for agreement on final language.
Unfortunately, it is not all good news out of Louisiana. Their version of trans exclusionary legislation targeting girls in sports, SB156, has also passed out of both chambers as of May 27th. 
Texas
The final active bill discriminating against the transgender community in Texas, SB29, an exclusionary sports bill, was defeated at the end of the legislative session in Texas. Due to incredible efforts by the community and affirming legislators, the bill stalled out in the House. We will keep an eye on future attempts to pass this bill, as the Lt. Gov. Dan Patrick has already asked the governor to call a special June session to make room for several bills, including this one. 
South Carolina
Thanks to the incredible work of the community and the SC United for Justice & Equality Coalition that CSE is proud to be a part of, South Carolina's trans exclusionary sports bill, SB531, was unable to pass this session. Advocates showed up time and time again to oppose this legislation in both the House and Senate. Their tireless efforts resulted in this victory.
Alabama
Alabama's bill that would deny transgender and gender nonconforming minors access to gender affirming care (SB10 and HB1), was unable to pass out of the assembly before this year's session ended. This legislation would also have required school staff to disclose information relating to students' identities. We hope the legislature will stop pursuing this discriminatory agenda.
Tennessee
In late May, the governor of Tennessee signed a "bathroom bill" (HB1233 and SB1367) restricting access to multiple occupancy bathrooms for transgender and gender nonconforming individuals. The governor went on to sign more discriminatory legislation this week. One such bill, HB1182, requires businesses that allow people to use restrooms according to their gender identity to make that policy clear at the entrance of the building and bathrooms. This legislation adds extra hurdles for inclusive businesses. The governor signed it on May 17th. Lastly, SB126 was amended to restrict access to gender affirming care by limiting prescribers ability to prescribe hormone replacement therapy to minors and was signed by the governor on May 18th. This bill went into effect upon being signed into law, whereas the bills related to bathrooms both go into effect July 1, 2021.