NOTE: This blog post was a collaboration between Abby Bowen and Adam Polaski of the Campaign for Southern Equality. 
As governors in West Virginia, Arkansas, and Alabama, along with legislators in Florida and Louisiana insisted on legislating transgender children out of school sports, we had some bright spots in North Carolina and South Carolina, where anti-trans legislation was defeated or dealt a serious blow.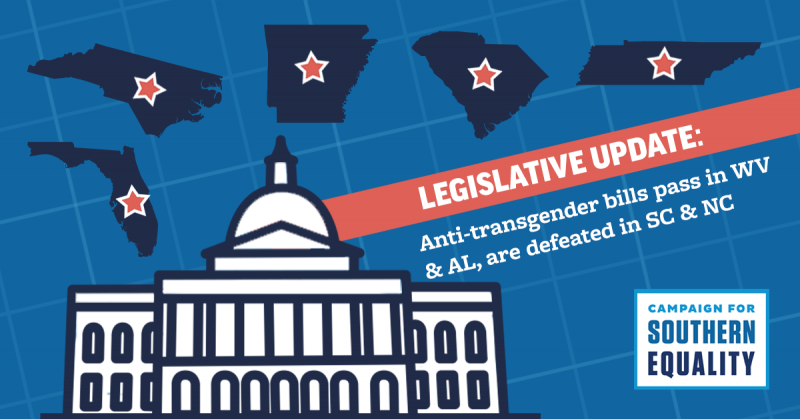 Here are other developments in state legislatures in the South this week:
South Carolina
Republican lawmakers in South Carolina have been pushing a trans exclusionary sports bill for months. The original House bill, HB3477, was tabled in committee back in March. Bill supporters filed a near duplicate version of the bill, HB4153, which was killed in committee on April 27th. Celebration was short lived as the Senate version of this bill, SB531, has now been scheduled for a Senate education subcommittee hearing on May 6th at 9:00 am. To take action against this legislation visit South Carolina United for Justice & Equality. 
Ivy Hill, a leader in the SC United campaign, said last week: "We are relieved and grateful that, once again, lawmakers have rejected their colleagues' blatant attempts to discriminate against transgender student athletes. Today's vote sends the message that H.4153 – just like its predecessor, H.3477 – and any other bill that discriminates against transgender people has no place in South Carolina."
Alabama
Last week, Alabama Governor Kay Ivey signed HB391, the state's trans exclusionary sports bill, into law. While similar to bills in many other states that prohibit transgender girls from playing sports, Alabama's bill is unique in that it does not allow girls to play sports designated for boys if the school has a team for girls. This effectively excludes all trans and nonbinary children from playing sports.
North Carolina
Lawmakers in North Carolina announced that they would not be moving toward passage of HB358, the anti-transgender bill that would restrict students from participating in school sports. This is a major step forward for trans folks in North Carolina and a signal of how far the state has come since 2016, when NC lawmakers rammed through passage of the notorious HB2. Read more on this development.
West Virginia
West Virginia is a recent southern state to sign a trans exclusionary sports bill into law. The governor signed HB3293 on April 28th.
Florida
Florida legislators recently snuck language into SB1028 that would exclude trans kids from participating in school athletics. The bill is headed to the governor's desk. 
Arkansas
This week Arkansas passed SB450, its second bill ensuring that trans girls cannot play sports. The governor signed the bill on April 29th. The governor currently has SJR14, an alleged religious freedom bill, on his desk.
Louisiana
Louisiana's exclusionary athletics bill, HB542, has a House committee hearing on May 4th. Another bill targeting gender affirming healthcare, HB575, also has a House committee hearing May 4th. Additionally, the Senate bill relating to social work, SB155, which would prohibit discrimination based on sexual orientation and/or gender identity in applications relating to licensing, certification, and registration, passed out of the Senate on April 26th.
Tennessee
HB1182 and SB1224, the House and Senate versions of a bill requiring businesses that allow people to use restrooms according to their gender identity to make that policy clear at the entrance of the building and bathrooms, has passed both chambers as of April 29th. Once the chambers agree to final language and enroll the legislation, it will move to the governor's desk. 
Texas
Texas HB1424, a bill which would allow healthcare workers to refuse to participate in medical procedures passed out of committee on April 26th. It next goes to the full House chamber. The Texas House will also be considering SB1646, a Senate bill that would classify providing a child with gender affirming care as child abuse, after it passed out of the Senate on April 27th.