EDITORS' NOTE: This post is a collaboration between Abby Bowen and Adam Polaski from the Campaign for Southern Equality.
As we approach the end of June, regular legislative sessions have come to an end across the Southeast – a welcome relief for LGBTQ Southerners, who faced a barrage of unprecedented challenges. This session the LGBTQ community endured attack after attack, especially transgender and nonbinary folks – in particularly trans youth – in the region.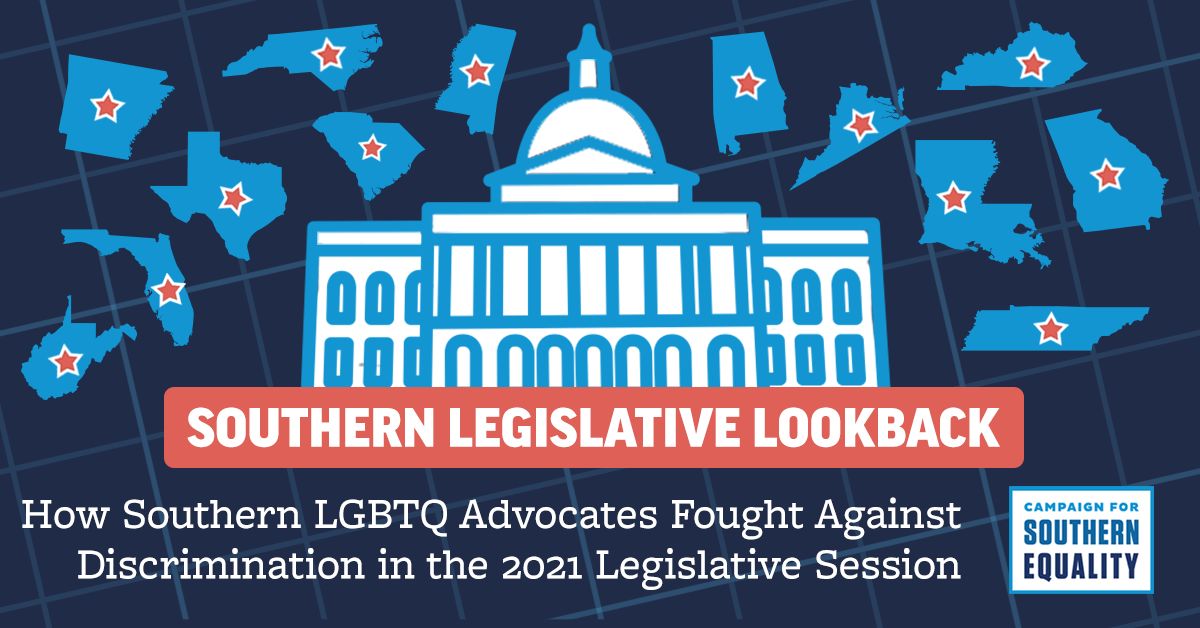 More than 86 bills were introduced that targeted the LGBTQ community across 13 Southern states. Of the 86 anti-LGBTQ+ bills introduced, 60 of them targeted the transgender and nonbinary community either by restricting their access to medical care, barring them from participating in sports, or limiting their access to bathrooms and changing facilities. The remaining anti-LGBTQ+ legislation fell into several categories, including broad "license to discriminate" provisions in medicine, education, and the ability to adopt or foster children.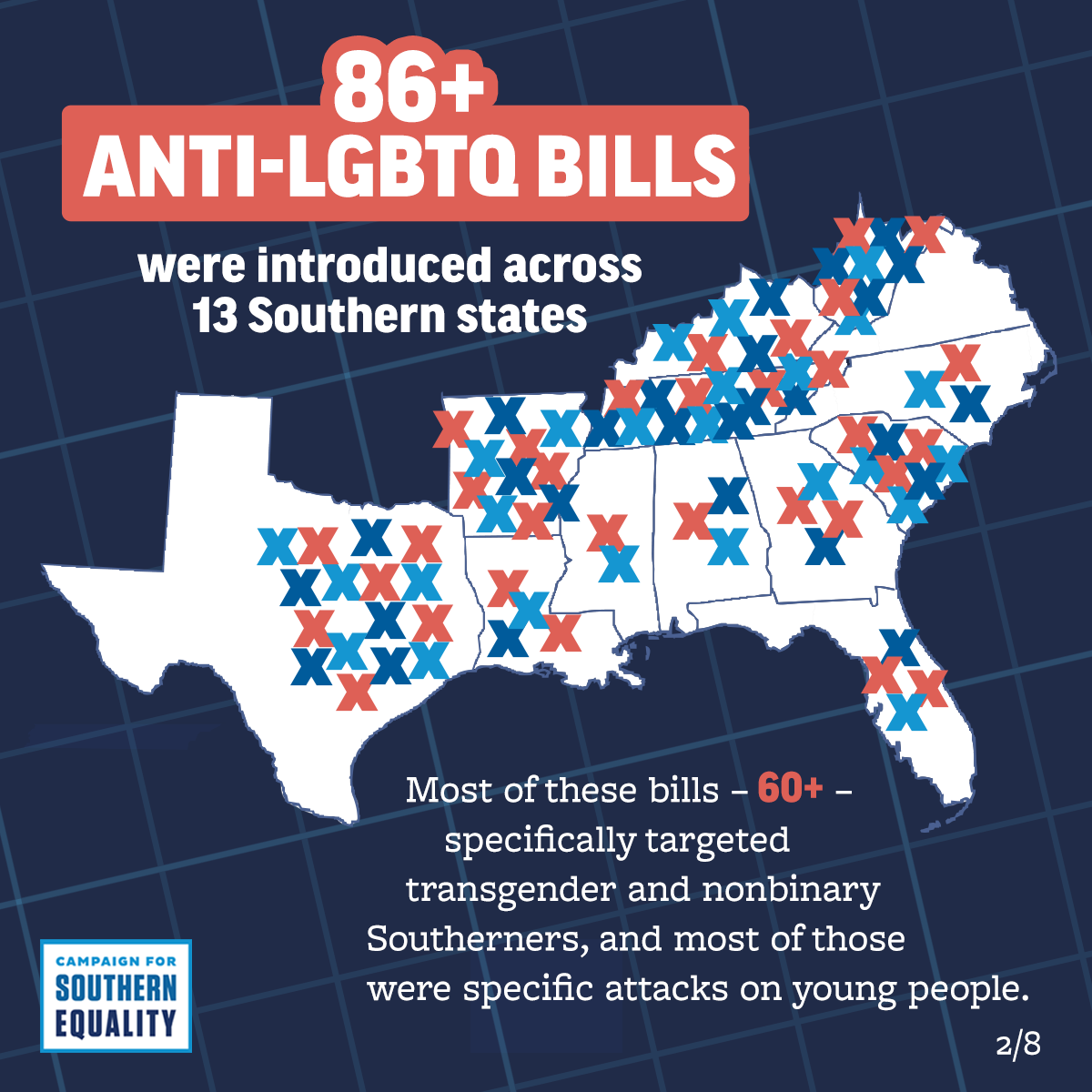 Even as we celebrate and honor advocates' incredible efforts to battle these bills across the region, we also join so many in anger, disappointment, and sadness at the large and discouraging number of bills that became law: As of June 22, 2021, 14 bills attacking the LGBTQ+ community have become law in 2021 – and even those that did not pass were harmful to LGBTQ people by their very introduction and discussion. Fourteen anti-LGBTQ laws in the South is 14 too many – but we are also grateful for the community's resilience and strategy in pushing back on such a significant onslaught and keeping the number of bills from rising even further.
Nationally, the Human Rights Campaign reports that 250+ anti-LGBTQ bills were introduced nationwide. At least 18 of these became law, making 2021 the worst year on record for anti-transgender bills becoming law. Here's a look at how anti-LGBTQ – and a few proactive pro-LGBTQ bright spots – showed up in Southern states in 2021:
Bills Interfering with Access to Medical Care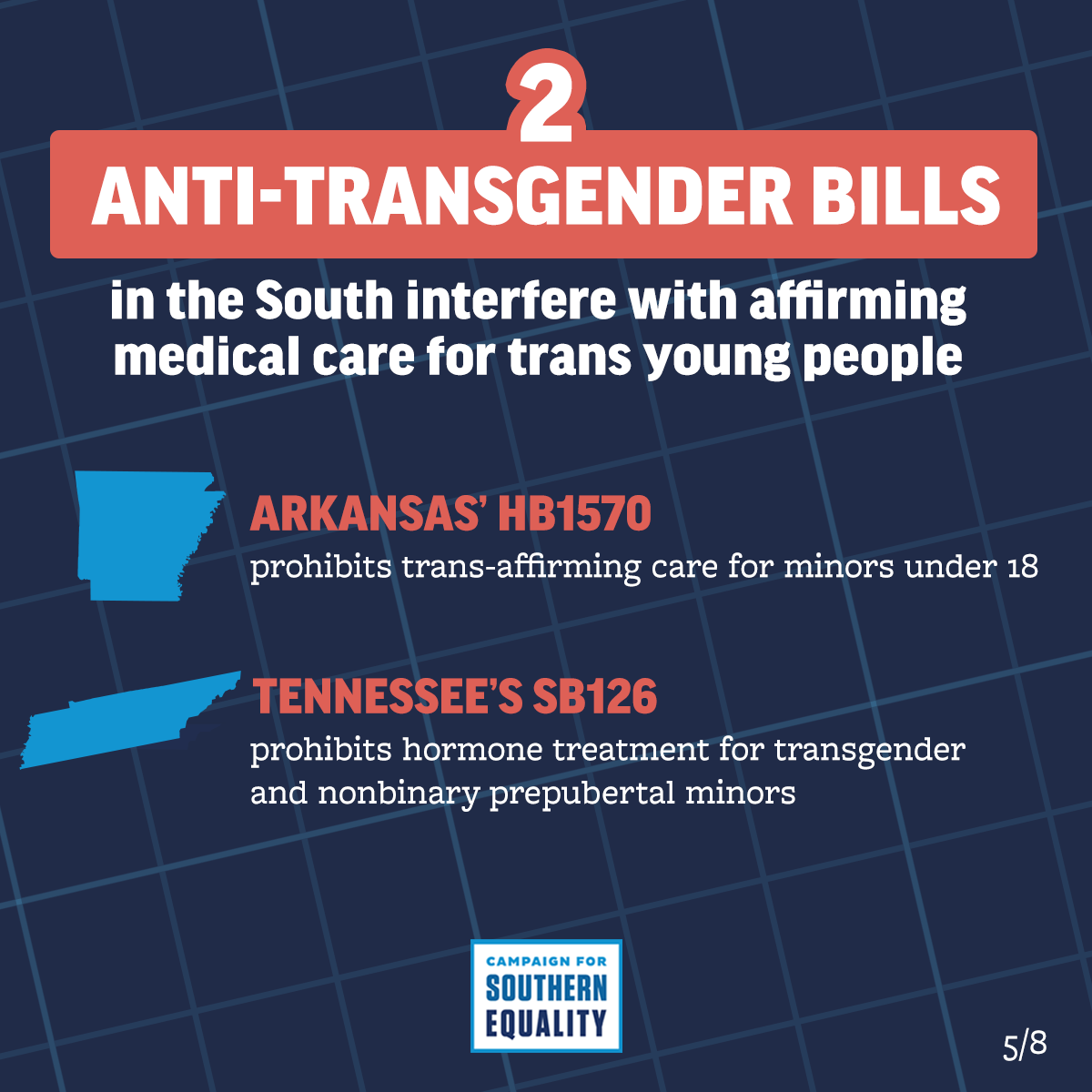 Perhaps most alarmingly, anti-LGBTQ legislators this session focused heavily on dangerous legislation concerning trans youth's access to affirming medical care. A new wave of legislation was proposed all across the country, with a disproportionate number advancing to committee and the full chamber in Southern states. Overall, there were more than 22 proposed bills designed to restrict access to gender affirming care across 12 Southern states.
Two bills that restrict access to trans-affirming care became law this session. In spite of the governor's principled veto, Arkansas HB1570 – which Gov. Asa Hutchinson called "over broad and extreme," is set to take effect at the end of July. This bill is a complete prohibition on trans-affirming care for minors under 18. The law classifies the offering of affirming care to minors as "unprofessional conduct" and prohibits insurance companies to cover the care. The ACLU filed suit on May 25, 2021 to stop this egregious, first-of-its-kind law from going into effect.
Tennessee's legislature passed SB126, which effectively prohibits hormone treatment for transgender and nonbinary prepubertal minors. The governor signed the bill into law on May 18, 2021, and it took effect immediately. 
In addition to HB1570, Arkansas also passed SB289, which grants medical providers a broad "license to discriminate" in care, allowing them to refuse to provide medical services due to their personal beliefs. The bill defines medical provider so broadly that it could include not only doctors and nurses but also intake employees, front-desk workers, and insurance company representatives. The bill also allows for medical practitioners and institutions to discriminate in hiring and employment decisions. This bill will also go into effect at the end of July 2021. The Campaign for Southern Equality is working with inTransitive to highlights stories of LGBTQ Arkansans who worry about discrimination under SB289. If you're an LGBTQ Arkansan with a chronic illness, please share your story with us here. 
There were at least 8 religious refusal bills proposed this session in Southern states.
Similarly horrible bills were proposed in most other states – and came close to becoming law in Alabama. Many of these bills were Frankenstein anti-LGBTQ bills, including provisions requiring teachers and administrators to "out" LGBTQ students and measures to criminalize and imprison trans-affirming medical providers.
Bills Excluding Transgender Students from Participating in School Athletics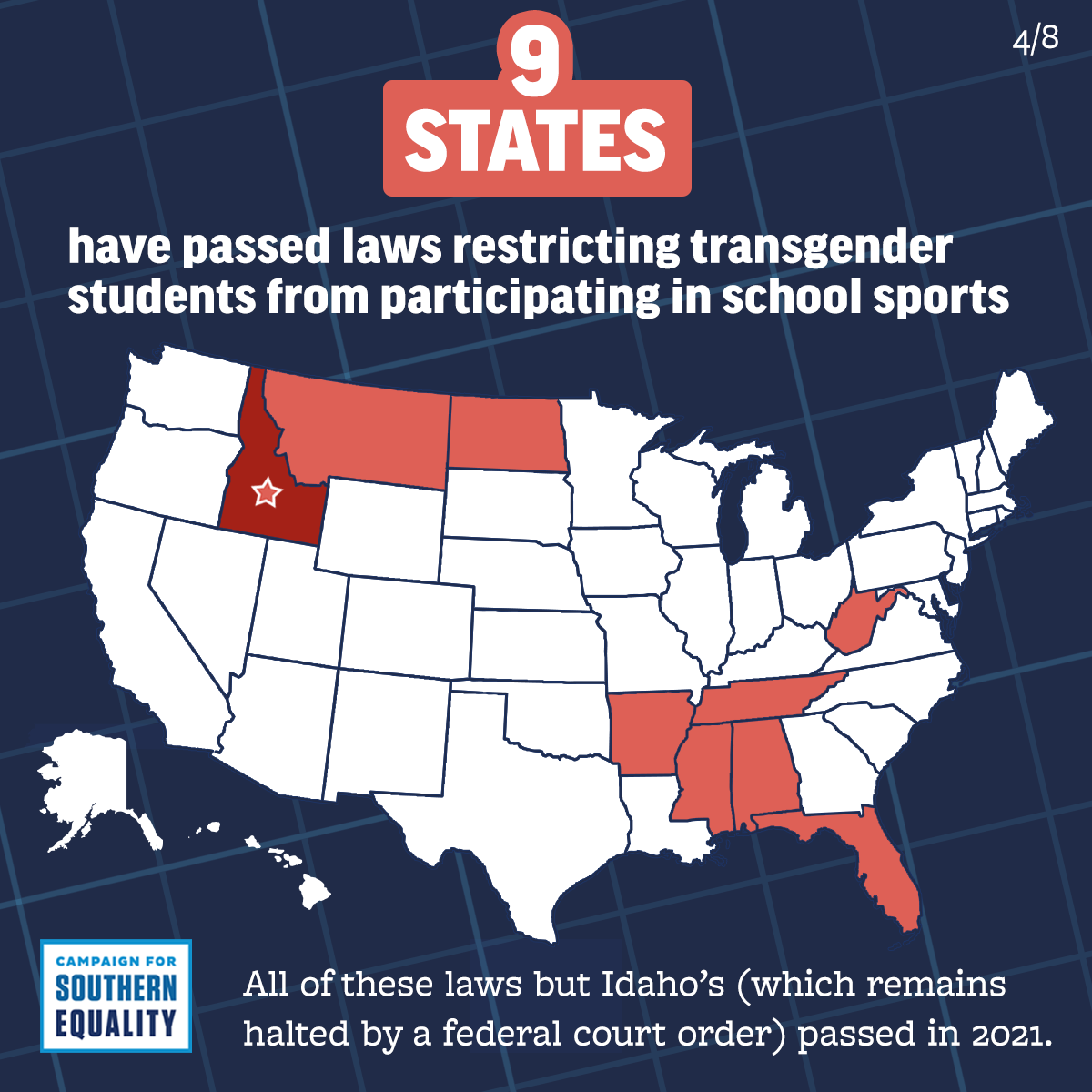 Legislators nationwide also worked aggressively to ban transgender kids from participating in school sports this session. This never-before-seen anti-transgender blitz made headlines and threw trans youth into a harsh spotlight. Many of the bills sailed through committees and full chambers, despite passionate and committed organizing from so many LGBTQ advocates nationwide.
In the South, at least 33 anti-trans sports bills were introduced in 12 states. Seven of these exclusionary sports bills became law, in six different states:
The bills have varied approaches to restrict or exclude youth from playing school sports. Some states – like Alabama, Arkansas, Mississippi, and West Virginia – are unclear about how exactly eligibility is determined, whereas Florida relies on an individual's original birth certificate. Tennessee also relies on original birth certificate designation, and if that is unavailable requires the student to offer "other evidence," though it is not clear what that evidence may be.
Several of these bills are being challenged in court now or will be challenged soon: The ACLU and Lambda Legal along with other advocates filed suit to stop West Virginia's bill on May 26, 2021. The ACLU of TN is seeking potential plaintiffs to battle Tennessee's law. And the Human Rights Campaign announced its intent to file suit against Florida's law this spring.
Advocates in other Southern states successfully fended off anti-trans sports bills – perhaps most notably in South Carolina, where the SC United for Justice & Equality coalition (which the Campaign for Southern Equality is proud to help lead) defeated anti-trans sports proposals six separate times, then celebrated the end of regular session with a Trans & Queer Field Day event. Learn more about Field Day here.
Nationwide, nine states now have passed laws prohibiting trans students from participating in school sports – in addition to these six states, similar laws exist in South Dakota and Montana (passed in 2021) and Idaho (currently enjoined by a federal court ruling, passed in 2020).
Anti-LGBTQ+ Bills Relating to Education and Training
Legislators pushed beyond school athletics and into the classroom as well.
Both Tennessee and Arkansas passed bills in 2021 that require schools to notify parents and guardians when lessons relating to sexual orientation and/or gender identity are going to be taught. Both laws allow for the parent or guardian to remove the child from the classroom to prevent them from learning about sexual orientation and gender identity. Tennessee SB1229 was signed into law and became effective upon signing on May 3rd, 2021. Arkansas SB389 will likely go into effect by July 29, 2021.
Several other attempts to deter education relating to queer identity were thankfully defeated this session: West Virginia's HB2157, which would have forbidden the teaching of sexuality in public schools, and Tennessee's HB372, which would have barred the government from requiring an employee to attend any training or education program that violates their beliefs.
Bills Restricting Restroom Access for Transgender People
2021 also marked a discouraging return of lawmakers introducing anti-transgender bills related to restroom access, which we have not seen in earnest since the passage of HB2 in North Carolina in 2016. Two of these bills passed in Tennessee:
TN HB1182/SB1224 requires businesses that allow transgender patrons to use the restroom in line with their gender identity (and do not restrict bathroom access to "biological sex") to post signs at the entrances of the building and bathrooms. This bill punishing establishments that do not discriminate against the trans and nonbinary community takes effect on July 1, 20201.
TN HB1233/SB1367 requires trans and nonbinary students to submit a written request for restroom accommodations to the principal. If the student is under 18, the student's parent or guardian must submit the request. This law also limits a "reasonable accommodation" to a single-occupancy bathroom or an employee bathroom and opens schools up to lawsuits if they allow trans or nonbinary students access to the restroom that aligns with their identity. The bill also goes into effect on July 1, 2021.
Arkansas proposed similar legislation as HB1882, that would have applied to all government buildings. Thankfully, this bill did not pass this session. 
Other Proposed Anti-LGBTQ Legislation
In addition to the types of bills discussed above, several other types of anti-LGBTQ bills were proposed this session.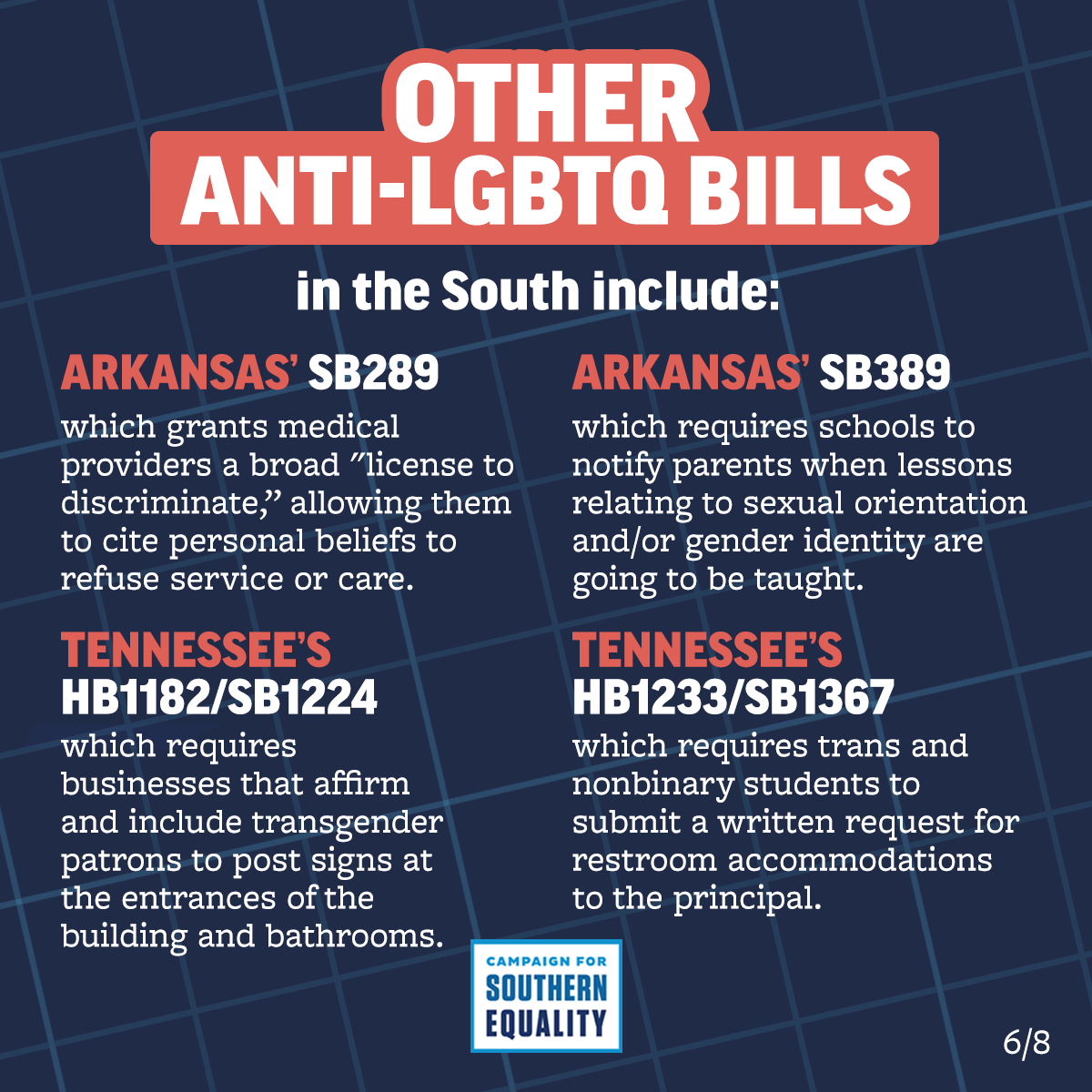 Tennessee pushed two other failed attempts to restrict dignity and equality for LGBTQ people – including through TN SB1208, which would have effectively prevented the state from passing or enforcing any laws respecting gender identity and/or sexual orientation. This bill was an odd twist on the so-called "Lemon test," asserting that respecting queer identity is a religious product of secular humanism thereby making any such laws allegedly unconstitutional. Tennessee also attempted to undermine same-sex couples' freedom to marry with SB562, which would have provided for the defense of any "local official or any political subdivision of the state" who refused to give same gender couples a marriage license. Lastly, Texas also tried and failed to pass a bill, SB1148, requiring biological sex as either male or female to be listed on birth certificates and would not allow for that marker to be changed.
Where Advocates Defeated Anti-LGBTQ Bills
Many Southern legislators made 2021 a devastating year for the queer community in general, and for trans and nonbinary people in particular. The good news, however, is that many anti-LGBTQ bills were defeated, thanks to the tenacity and courage of so many trans and queer organizers. Here are some bright spots to the 2021 legislative session:
Several Southern governors vetoed anti-LGBTQ bills – including Arkansas Gov. Asa Hutchinson (who vetoed the egregious anti-trans medical care ban, although the veto was over-ridden by the legislature) and Louisiana Gov. John Bel Edwards, who on June 22 vetoed SB156. Across the country, several Governors vetoed anti-LGBTQ bills repeatedly this year: The GOP governors of Arizona, South Dakota, and North Dakota also vetoed dangerous bills, as did the Democratic governor of Kansas. 
In North Carolina, five years after the heinous passage of HB2, Republican leadership in the legislature vowed to block three anti-LGBTQ bills from advancing. A hearing on an anti-trans sports bill was held, but advocates came out in droves, determined to block the bill from advancing. In the meantime, nine local communities across the state passed local ordinances protecting LGBTQ people from discrimination.
In Georgia, for the sixth year in a row, no anti-LGBTQ bills passed, despite threats of an anti-transgender student athletics bill. 
Kentucky lawmakers did not pass any of the 6 anti-LGTBQ bills introduced this session, and a bipartisan array of leaders came out more fervently than ever in support of a bill to protect minors from anti-LGBTQ "conversion therapy" practices. 
In South Carolina, advocates blocked a rash of anti-LGBTQ bills, including 6 different attempts to advance anti-transgender student sports bills and a bill that would have criminalized medical providers who offer trans-affirming care.
Texas did not pass any of its 16 anti-LGBTQ bills, though there remains concern over a potential special session to pursue a trans exclusionary sports bill
Advocates and community members in the Virginia legislature gave LGBTQ+ residents of the state reason to celebrate with the passage of two pro-LGBTQ bills: Virginia SB1138 decriminalizes or reduces the penalty associated with crimes related to living with HIV, while HB1232 removes the antiquated so-called "gay & trans panic" legal defense. Both bills take effect on July 1.
Several other states proposed and discussed pro-LGBTQ legislation, but the bills did not become law. Proactive legislation includes efforts to protect LGBTQ minors from "conversion therapy" and efforts to ban the "gay/trans panic" defense in court, as well as the passage of statewide LGBTQ-inclusive nondiscrimination protections.
The Campaign for Southern Equality wants to send a clear message to LGBTQ Southerners – especially trans and nonbinary youth who were in the crosshairs of so many elected officials this year: We see you. We support you. And we're standing with you and fighting alongside you in the efforts to defeat anti-LGBTQ discrimination. We know this was a challenging and grueling legislative session – but we also know that our community is courageous, strong, and resilient – and we will not stand by as lawmakers attempt to discriminate and demean. We'll keep showing up and keep fighting until every LGBTQ person in the South lives in a community where they can not only survive – but thrive.