In March 2021 Arkansas Governor Asa Hutchinson signed into law SB289, an anti-LGBTQ law that gives healthcare professionals "the right not to participate in a healthcare service that violates his, her, or its conscience." Effectively, this bill grants healthcare providers a broad license to discriminate in treatment. They can refuse to offer treatments and turn away patients.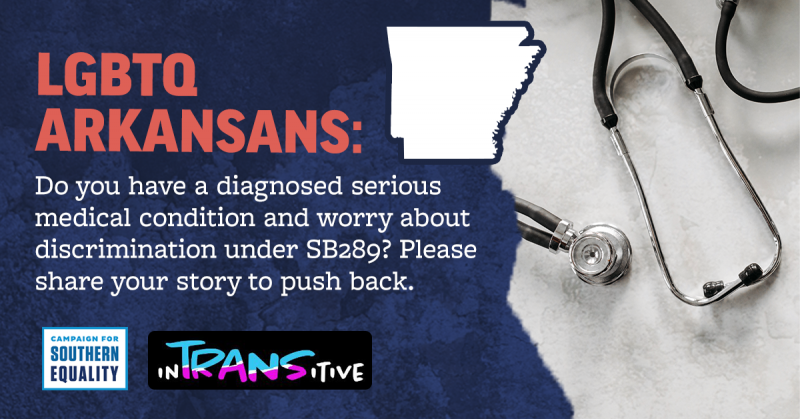 We are deeply concerned about how SB289 could harm the LGBTQ community in Arkansas, and we are exploring strategies to block the dangerous law.  The first step in that process is hearing stories from those most likely to be impacted. If you are an LGBTQ person in Arkansas with a serious medical condition and are concerned about facing mistreatment under SB289, please share your story with us here. The Campaign for Southern Equality is proud to partner with inTRANSitive on this effort. 
Share Your Story
If you are a member of the LGBTQ+ community with a chronic illness, or the parent or guardian of an LGBTQ+ child with a chronic illness living in Arkansas we would like for you to share your story and your concerns over how SB289  could affect your access to healthcare. We will keep the information you share confidential.