There is a crisis at the U.S.-Mexico border – a human rights crisis in which the most basic human rights, safety and dignity of children and families are being flagrantly violated.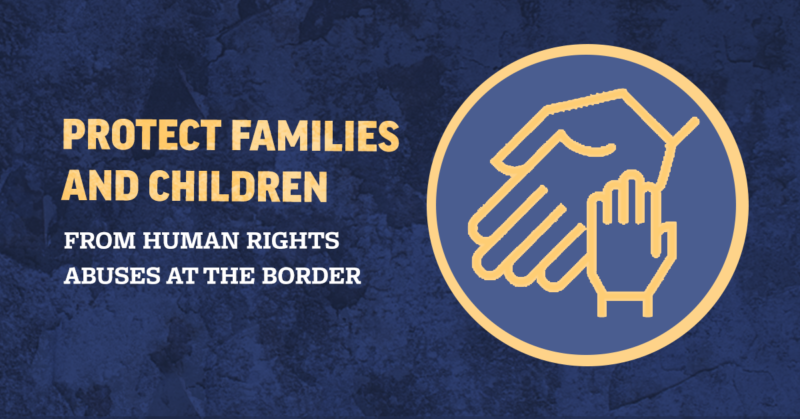 Children are being separated from their parents. People are being held in detention facilities with inhumane and life-threatening conditions. Families are being vilified and abused by the U.S. government. It shocks my conscience to hear reports like these coming from the border, and it breaks my heart to imagine the children and families enduring this treatment. We ask you to join us in standing with millions across the country who are saying "not in our name" and taking concrete action to resist this regime of cruel and racist policies.
I'm asking you to join us in supporting organizations on the frontlines of this crisis. 
Click here to make a donation that will be split evenly among a dozen organizations working to protect families and children at the border. The Campaign for Southern Equality will match every dollar you give up to $1,000. 
Donate to Frontline Organizers

Then, click here to encourage others to give on Twitter, and click here to do the same on Facebook.
CSE stands with the children and families being harmed by these detention camps and horrific abuse of human rights, and we support the organizations on the frontlines of responding to this crisis.
The donations will benefit these 12 organizations working along the border: Asylum Seeker Advocacy Project, Women's Refugee Commission, Kids in Need of Defense (KIND), American Civil Liberties Union (ACLU), La Union Del Pueblo Entero, Dream Big Nevada, RAICES, Human Rights First, Florence Immigrant and Refugee Rights Projects, Families Belong Together, Al Otro Lado, and Texas Civil Rights Project.
It's a scary time for immigrant communities in our country. The horrors at the border are happening as the White House threatens expansive ICE raids on families in major U.S. cities, including here in the South. And we're fighting back in North Carolina against HB370, the shameful bill that would require local sheriffs to essentially acts as deportation forces by cooperating with ICE officials.
We need to do all we can to stand up against this regime and to fight for human rights. Right now, one of the best ways to do that is with your donation through this ActBlue portal. The Campaign for Southern Equality will match every dollar up to $1,000.