Last week we had a successful first week of daily webinars through our new initiative, The Front Porch: Virtual Gatherings for the #LGBTQSouth. We hosted a support/networking group, a Queer Artist Meet-Up, a cooking class, an informational session about the COVID-19 Rapid Response Grants, and a workshop on healing and resilience strategies, and we appreciate folks showing up, engaging, and building community.
We're excited for another full slate of The Front Porch programming this week! See the full schedule below, and be sure to RSVP to receive dial-in information for the webinars, which will be hosted through Zoom. Please spread the word to anyone who may be interested in these events, and use this form to let us know other programming that you may be interested in from the CSE team.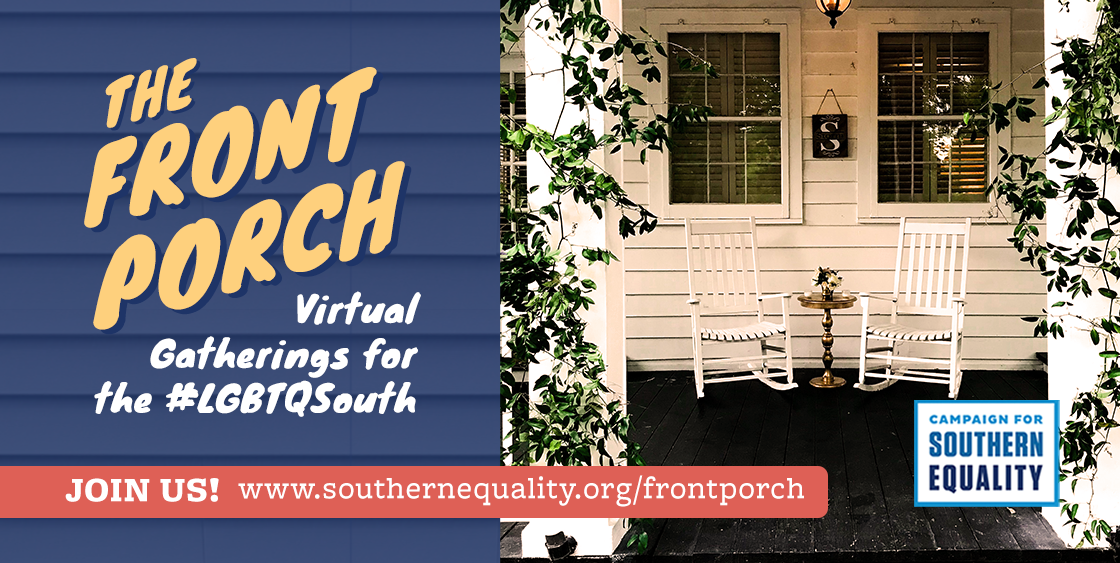 Information about each webinar from The Front Porch series – including dial-in registration information, is available at www.southernequality.org/events. All events are free and open to the public. 
Below is information about the second week of The Front Porch:
MONDAY – #LGBTQSouth Community Support Group

March 30 • 12:00-1:00pm ET
Gather with other LGBTQ Southerners for virtual time together without a formal agenda. As we all responsibly practice social distancing, it's more important than ever to seek out new ways to get connected, get to know each other, share how we're feeling during this challenging time, and build community together. Kick off your week with this lunchtime gathering – and this week, we'll talk a bit about how everyone is observing Transgender Day of Visibility (celebrated 3/31). This session is organized and hosted by CSE's Community Health Program Director Ivy Hill. 
Register for Zoom Dial-In RSVP on Facebook
TUESDAY – Southern Equality Studios' Queer Artist Meet-Up Goes Virtual 
March 31 • 4:00-5:30pm ET
If you're a queer artist in the South, join us for a skill-sharing workshop – this one focused on electro-etching with household objects! Learn how to etch metal using objects you have all around you. You can scale this concept in the future when you have access to more specific tools and spaces. This workshop will be facilitated by Al Murray, CSE's Director of Engagement and Organizational Development, and Liz Williams, CSE's Artist in Residence.
RSVP (Required) RSVP on Facebook
WEDNESDAY – Indigenous Wisdom from the Mountains
April 1 • 4:00-5:30pm ET
These are shifting times. COVID-19 continues to take and impact lives everyday. How are people who are Indigenous, rural, and Southern faring? CSE's Director of Healing and Resilience Holiday Simmons will moderate a panel featuring members of the Eastern Band of Cherokee Indians from the Qualla Boundary in Cherokee, North Carolina. The panelists will share their thoughts, experiences, and practices on social, emotional, and resource management during this Coronavirus global pandemic.
RSVP (Required) RSVP on Facebook
THURSDAY – Trans Health in the South: A Listening & Resource Sharing Session

April 2 • 5:30-6:30pm ET
Join Michael Hoeben, Trans/HIV Bridge & Retention Coordinator at Western NC Community Health Services, and CSE's Community Health Program Director Ivy Hill for a webinar on trans health, especially as it relates to COVID-19 and other consequences of the pandemic. Just a few days after Transgender Day of Visibility (which is Tuesday 3/31), Michael and Ivy will share updates from their work and leave plenty of time for questions. We're here to listen to trans and nonbinary folks from across the South about what you need, and what questions you may have – whether about COVID-19, sexual health, or any other concerns related to health and healthcare.
RSVP (Required) RSVP on Facebook
FRIDAY – Keeping Your Hair on Point in a Pandemic: At-Home Hair and Grooming Tips

April 3 • 2:00-3:30pm ET
Join professional stylist Crain Jackson for an at-home barbering/haircut demonstration and a Q&A session on personal grooming and aesthetics! Crain has experience barbering all hair types and is able to offer suggestions based on masc, femme and nonbinary presentations. They'll share tips for talking about everything from cleaning up your own neckline to DIY hair and skin care in this era of social distancing.
RSVP (Required) RSVP on Facebook
Stay up to date on all of the Campaign for Southern Equality's events, including virtual events that are a part of The Front Porch, at www.southernequality.org/frontporch.