The Front Porch: Virtual Gatherings for the #LGBTQSouth is a new initiative from the Campaign for Southern Equality to support LGBTQ Southerners through the unique challenges of the COVID-19 pandemic.
Virtual programming will include community support groups, skill-sharing and skill-building workshops, and presentations from practitioners in their fields. All members of the CSE community are invited to join. 
Information about each webinar from The Front Porch series – including RSVP and dial-in information, is available below, and at www.southernequality.org/events. All events are free and open to the public. 
Join us!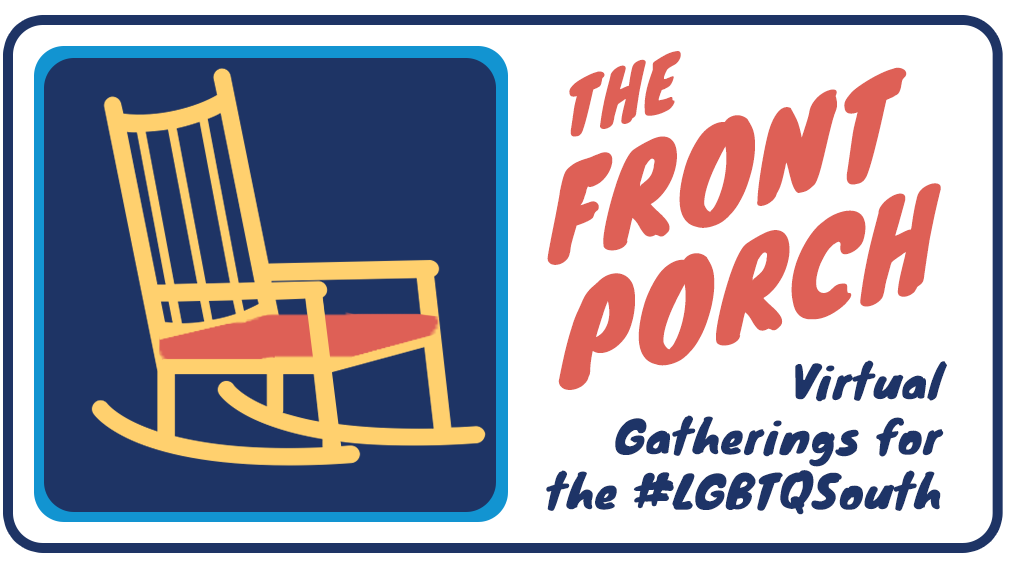 MONDAY – April 6 • 12:00-1:00pm ET

#LGBTQSouth Community Support Group
Gather with other LGBTQ Southerners for virtual time together without a formal agenda. As we all responsibly practice social distancing, it's more important than ever to seek out new ways to get connected, get to know each other, share how we're feeling during this challenging time, and build community together. Kick off your week with this lunchtime gathering. This session is organized and hosted by CSE's Community Health Program Director Ivy Hill. 
TUESDAY – April 7 • 4:00-5:30pm ET

Southern Equality Studios' Queer Artist Meet-Up Goes Virtual
If you're a queer artist or creative in the South, join us for weekly discussions and tutorials. Topics range from how social distancing affects your art to how to monetize your creative skills in this virtual landscape. Southern Equality Studios has worked throughout 2019 and 2020 to create a space for queer Southern artists to gather and connect. This space will be facilitated by Al Murray, CSE's Director of Engagement and Organizational Development, and Liz Williams, CSE's Artist in Residence.
FRIDAY – April 10 • 2:00-3:00pm ET

J. Chong Eats: A Cooking Show for These Times
Join professional chef J. Chong, a CSE board member, for an accessible and fun take on healthy eating and easy recipes you can make at home. J. will prepare a meal in real time, answer your questions, and teach you strategies for staying fed and healthy in this era of social distancing.
Have an Idea for Programming for The Front Porch?
We want to hear from you! Share your ideas for new virtual programming to support LGBTQ Southerners during the COVID-19 pandemic. Whether it's something you'd love to see or something you have to offer, share with us and the Campaign for Southern Equality will be in touch.
Previous Programming on The Front Porch