During a national wave of anti-LGBTQ attacks, reports surface that trans-affirming families in Texas are facing investigations of "child abuse due to dangerous new policy guidance from TX Attorney General.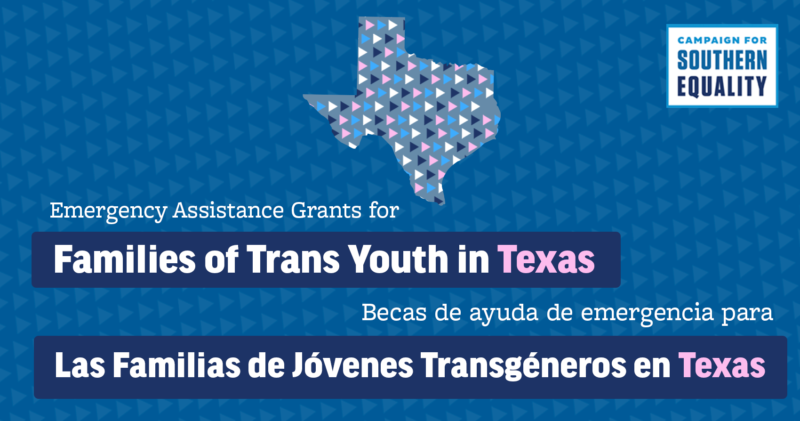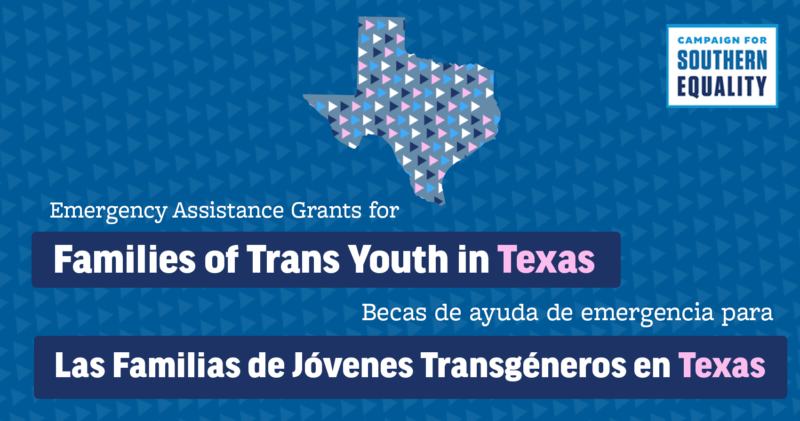 Update April 25, 2022 
Thank you for your interest in the Campaign for Southern Equality's Emergency Assistance Grants, and we are sending solidarity, love, and support during this challenging time. At this time, we have received the number of applications that we have funding to support, and the application is now closed.  To stay tuned about this grant program, please sign up for our email list in the footer of this website or by clicking here. Please note that our team is working remotely and will review submitted grant applications as soon as possible. As we process a backlog of applications, it may take a few weeks until we are able to respond to your request. In the meantime, we are sending our support. If you're looking to donate to support additional grants, please click here and donate to this Texas emergency fund. 
As families of transgender youth in Texas face alarming new threats of state interference, including seeing their love and affirmation for their children classified as "child abuse," the Campaign for Southern Equality (CSE) has launched a new rapid response grant round to quickly route funds to Texans impacted. The grant round of $20,0000 will be distributed through CSE's Southern Equality Fund. 
Transgender youth and their families in Texas have faced a years-long assault from state lawmakers, with the crisis escalating dramatically last week, when the Attorney General Ken Paxton issued a legal opinion deeming it "child abuse" to affirm, support, and provide best-practice medical care for transgender young people. Governor Greg Abbott subsequently directed the Department of Family & Protective Services to enforce the order. 
Trans youth and families of trans youth in Texas can now submit a short application for rapid response grants of $250, which can help cover the cost of legal services, emergency planning, mental health support, and more. Click here to view the application in English and click here to view the application in Spanish. 
Allison Scott, Director of Impact & Innovation at the Campaign for Southern Equality, said today: 
"As a parent, my heart goes out to the families whose lives are being upended by a disgusting and terrifying political attack from anti-LGBTQ decision-makers in Texas. As a transgender person, I know that affirming and understanding your transgender child is a tremendous and honorable act of love. And as a Southerner, I believe that we cannot stand by as our LGBTQ community faces these relentless attacks. This emergency grant round is one way we can provide assistance to families working overtime right now to navigate a scary and unsettling moment. We will disburse this first round and fundraise to support additional rounds of grants." 
The new grant round is a part of the Southern Equality Fund, launched 7 years ago to provide financial and logistical support to grassroots Southern organizers. Since March 2020 the Campaign for Southern Equality has pivoted grant-making efforts to provide Emergency Assistance to LGBTQ individuals and families grappling with the impacts of the COVID-19 pandemic. In the past two years we've opened up more than $475,000 in rapid response funding through our COVID-19 Rapid Response Grant Program.
If you don't live in Texas but want to support this emergency fund for Texas families, click here to make a donation and we'll route it to families who need support.