On Thursday, April 23, the Campaign for Southern Equality is proud to host a webinar, "Trans Health in the South: A Listening & Resource Sharing Session," the latest in our #LGBTQSouth virtual gathering series on The Front Porch. We'd love to see you there! Just use the form below to RSVP to receive the dial-in information.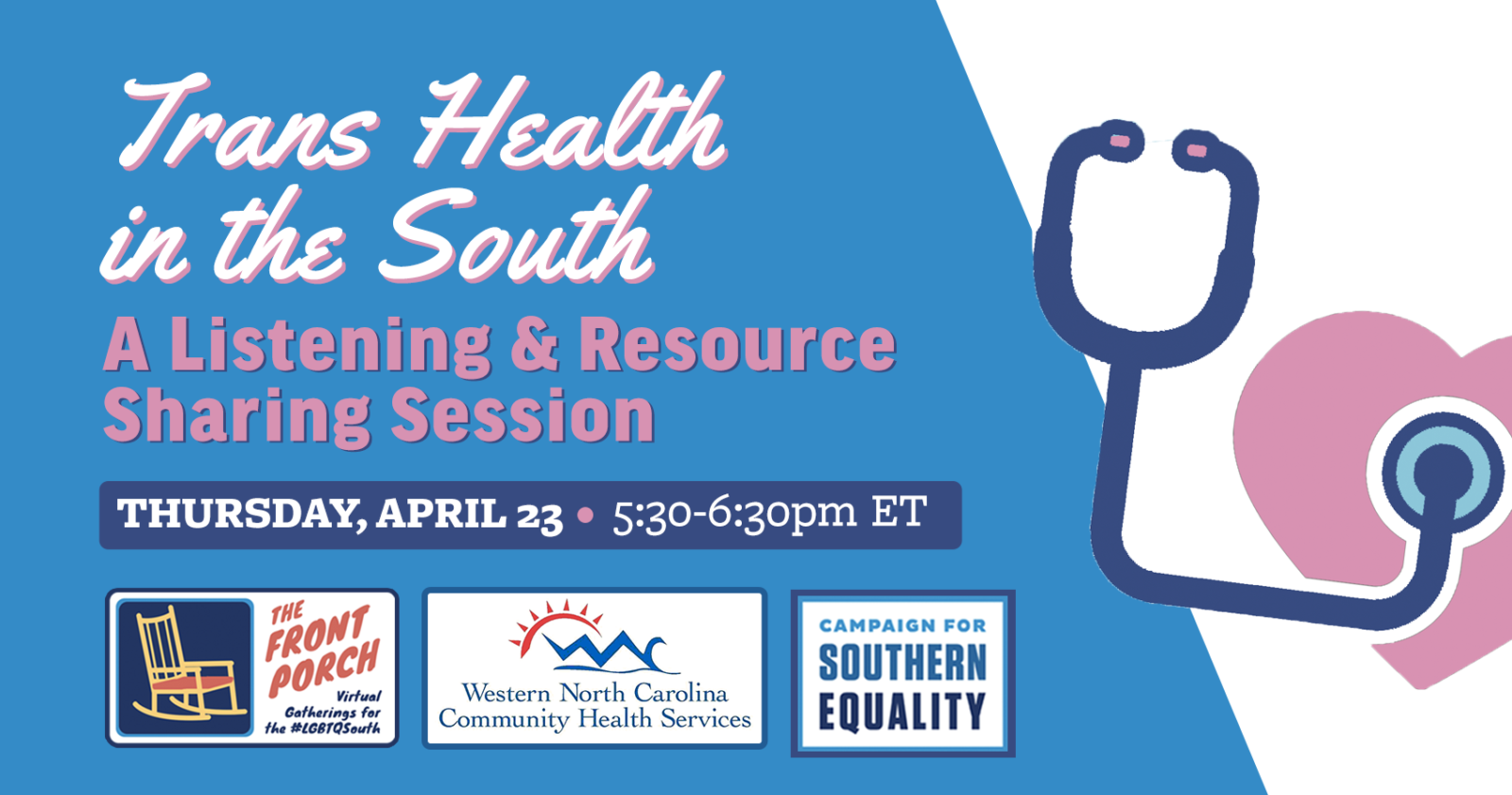 ABOUT THE WEBINAR:
Join Michael Hoeben, Trans/HIV Bridge & Retention Coordinator at Western NC Community Health Services, and CSE's Community Health Program Director Ivy Hill for a webinar on trans health, especially as it relates to COVID-19 and other consequences of the pandemic. Michael and Ivy will share updates from their work and leave plenty of time for questions. We're here to listen to trans and nonbinary folks from across the South about what you need, and what questions you may have – whether about COVID-19, sexual health, or any other concerns related to health and healthcare.
LOGISTICAL DETAILS:
Join us from 5:30-6:30pm ET on Thursday, April 23. To receive the dial-in information, submit the following form and a Campaign for Southern Equality staff member will be in touch with the link to the webinar and a password.
Tell Us You're Coming on Facebook
About The Front Porch
This event is part of "The Front Porch: Virtual Gatherings for the #LGBTQSouth," a new initiative from the Campaign for Southern Equality to support LGBTQ Southerners through the unique challenges of the COVID-19 pandemic. Virtual programming will include community support groups, skill-sharing and skill-building workshops, and presentations from practitioners in their fields. All members of the CSE community are invited to join. Information about each webinar from The Front Porch series – including dial-in information, is available at www.southernequality.org/frontporch.
RSVP for the Webinar!