Tonight, March 12, the Defense Department issued its updated policy concerning open service for transgender servicemembers and military recruits. The policy largely prohibits troops and recruits from transitioning, requiring most individuals to serve as the gender they were assigned at birth.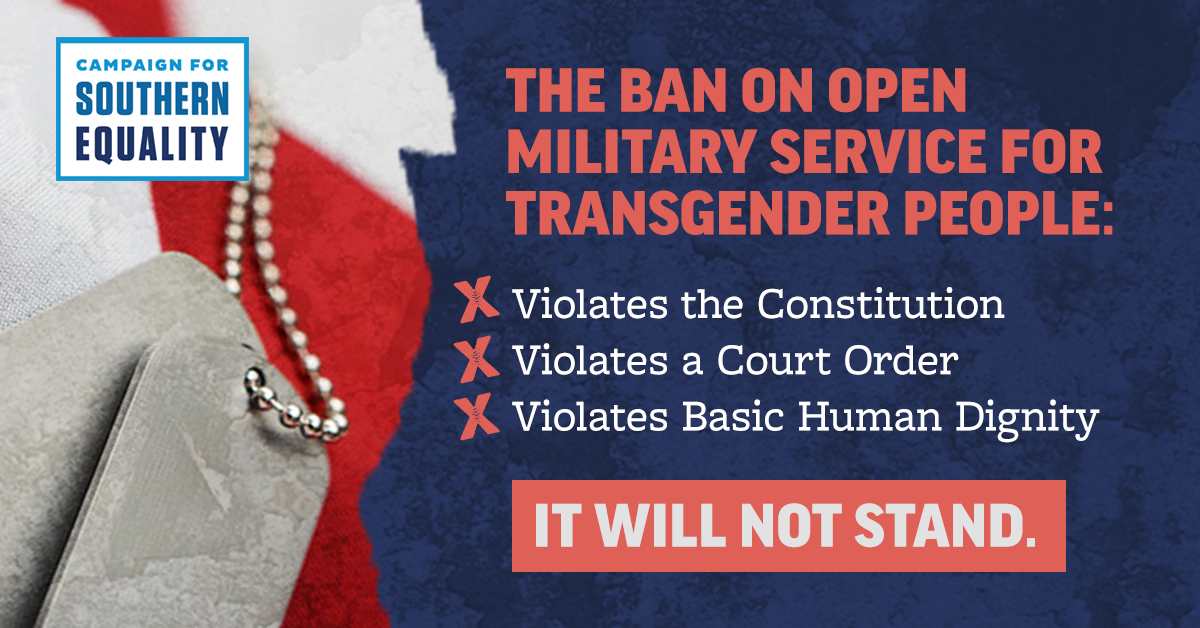 The order details that the policy must be implemented by April 12, 2019.
This latest development comes after the U.S. Supreme Court denied review in two legal cases that challenged the constitutionality of the proposed policy from 2017 barring open service for transgender Americans. By denying review, the Justices allowed the legal challenges to continue in the federal courts – but they also lifted critical injunctions blocking the ban from taking effect.
Significantly, an injunction blocking the military ban from taking effect is still in place – in the case of Doe v. Trump. This means that the Department of Defense is violating a court order by issuing these plans for implementation.
Beyond the fact that the Administration is violating the law is the reality that this is a cruel attack on transgender people – people who were told previously by the Pentagon that they could come out and live their lives fully. Putting this policy into effect essentially demands that transgender people return to "the closet" or renounce their gender identity. The policy could block most transgender servicemembers from enlisting in the United States military, and actively serving transgender people could face cruel, unnecessary discharges.
For more than a year, the proposed policy has been blocked in court and transgender Americans have been openly enlisting. Even before that, many transgender people actively serving in the military have come out as transgender.
The ban is cruel, reckless, and a violation of basic human dignity. It will not stand.
Read statements from our partners across the LGBTQ movement:
Jennifer Levi of GLAD:
Not only does the Trump-Pence transgender military ban violate the Constitution, but now the administration is also defying a court order. With brazen disregard for the judicial process, the Pentagon is prematurely and illegally rolling out a plan to implement the ban when a court injunction remains in place prohibiting them from doing so. In addition to being unlawful, moving forward with this ban is also deeply immoral and deeply insulting to the many transgender troops who are bravely serving their country. If permitted to go into effect, this ban will deprive our military of highly trained and skilled service members, weaken military readiness, and harm national security. Military leaders, medical experts, and the vast majority of the American public agree that our troops deserve gratitude and support, not a slap in the face based on bias and irrational fears."
Shannon Minter of NCLR:
"We will continue our fight in the courts until the ban is permanently blocked. We also strongly support the bipartisan efforts of Congressional leaders to pass urgently needed legislation to protect transgender troops. We urge everyone who cares about the integrity of our military and the wellbeing of our troops to contact your representatives and tell them to support this legislation."
Andy Blevins of OutServe-SLDN:
"By taking steps to implement its ban on open and authentic military service, the Trump-Pence Administration has definitively affirmed that when it comes to our national security, they hold unsubstantiated and discriminatory claims as more important than effectively and efficiently completing the mission. Our transgender siblings-in-arms and future warriors have proven time and again that they are committed, that they are ready, and that they are able to selflessly and effectively serve our nation. We will continue to fight until open and authentic military service is the law of the land – our service members deserve it and our country needs it."
Ashley Broadway-Mack of the American Military Partner Association (AMPA):
"This is the start of an incredibly dark chapter in our nation's history as the Trump-Pence Administration moves to implement an unconscionable ban on our brave transgender service members and qualified recruits who want to serve," said . "This horrific policy is even more cruel than 'Don't Ask, Don't Tell' because the Pentagon explicitly told these service members it was finally safe to come out — and now they are being targeted for discrimination. We emphatically condemn this unconscionable transgender military ban because it undermines military readiness, destroys unit cohesion, betrays our service members and is based on nothing more than blatant bigotry."
Blake Dremann of SPARTA:
"We stand firmly with our members and the thousands of transgender troops serving bravely across the globe. While the new policy may go into effect soon, it does not remove or lessen the contributions we continue to provide in the defense of our Nation. We look forward to a time when service members are judged solely on their capability to complete the mission. We will continue to work to make that a reality."