A wave of anti-LGBTQ legislation is moving across the Southeast – and it's been especially moving this month, with many bills advancing out of committee or full chambers. Some of these bills would be especially harmful for transgender and gender non-conforming youth. Several states are considering bills to exclude trans kids from playing on sports teams and in leagues that align with their gender identity, forcing children to choose to either play sports or be themselves, when they should be able to do both. Other dangerous bills would prohibit medical professionals from providing necessary care for trans youth.
Here's a look at some of the key developments this week in state legislatures: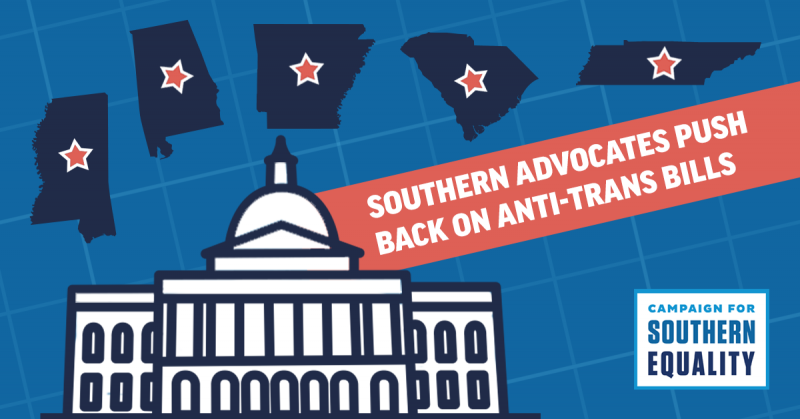 Tennessee
Tennessee House bill 578 would criminally punish doctors for allowing minors to medically transition. This bill is scheduled for a hearing in the House Criminal Justice Subcommittee on March 3rd. 
A transgender exclusionary athletic bill has passed committee in both the House and Senate in Tennessee. The full Senate is scheduled to hear bill 228 on March 1st, while a hearing date hasn't been set for House bill 3. Chase Strangio from the ACLU spoke at the Senate Education Committee hearing in opposition to SB228 and explained that he is currently pursuing lawsuits in other states over similar exclusionary bills due their violation of the Constitution and Title IX.
Alabama
In Alabama, the deceptively named "Vulnerable Child Compassion and Protection Act" also passed committees in both the House and Senate this week. This act would prohibit medical providers from providing necessary care to transgender youth, rather than trusting doctors to provide necessary and potentially life saving care to trans youth. Senate bill 10 and House bill 1 will both be considered by the full chambers in March. And the Alabama House will also hear its trans-exclusionary sports bill, HB391, in March. 
Mississippi
Mississippi's anti-transgender athletics bill, SB2536, passed the Senate and was transmitted to the House on Feb. 22. The bill would exclude trans and gender non-conforming athletes from participating in sports all the way from primary school through college. A committee assignment and hearing is still pending. 
There's more hopeful news when it comes to Mississippi's attempts to prohibit medical care for trans young people: The proposed bill went beyond most other states' in that it would have prohibited anyone under 21 years old from transitioning but the bill, SB2171, thankfully was defeated in committee. 
South Carolina
South Carolina's House Judiciary Committee is considering HB3477, the "Save Women's Sports Act," which excludes transgender people from participating in middle and high school sports. The Special Laws subcommittee met on Tuesday, February 23 to hear testimony from the public on the bill. Several community members offered testimony against the bill, including Dr. Elizabeth Mack. In her testimony, Dr. Mack stressed that these exclusionary bills are harmful to an already vulnerable population, and would require physical and chromosomal examination well beyond what is routine for a sports physical. She described the process as "an invasion of privacy and developmentally devastating." The subcommittee hearing ended without a vote on the bill. The Senate version of the legislation, SB531, has been referred to committee.
Kentucky
The House and Senate in Kentucky are considering their own versions of the so-called "Save Women's Sports Act," with SB106 and HB471. A bill banning medical transition for minors, HB336, has also been introduced in Kentucky's House. These bills are all awaiting committee hearings. 
There is also potential for progress in Kentucky. The Kentucky House has two bills filed, HB130 and HB116, which would include sexual orientation and gender identity under civil rights protections.
Arkansas
Arkansas Senate bill 289, "The Medical Ethics And Diversity Act," is a religious exemption bill that would grant medical professionals an anti-LGBTQ "license to discriminate" by refusing to provide medical care to LGBTQ people. The bill passed in the Senate and is under consideration in the House. 
Arkansas is considering additional legislation that would allow for discrimination under the guise of religious freedom with the "Arkansas Religious Freedom Amendment." The House and Senate each have a joint resolution, HJR1024 and SJR14, which would amend the state constitution to limit laws that might restrict religious exercise. These resolutions are currently in committee.
Virginia
The Virginia House and Senate are making adjustments to two bills that would expand dignity and respect for LGBTQ people. Senate bill 1138 would reduce the charges related to transmission of sexually infected diseases from a Class 6 felony to a Class 1 misdemeanor. And the House recently agreed to Senate amendments on bill 2132, which would forbid the use of the "gay panic" defense for homicides and assaults. Versions of both bills have passed both chambers, and the chambers are now working toward agreement on final versions of the bills.