State legislatures have been in session in most states for several weeks now, and in the next week, legislation seeking to discriminate against LGBTQ people is set to take center stage.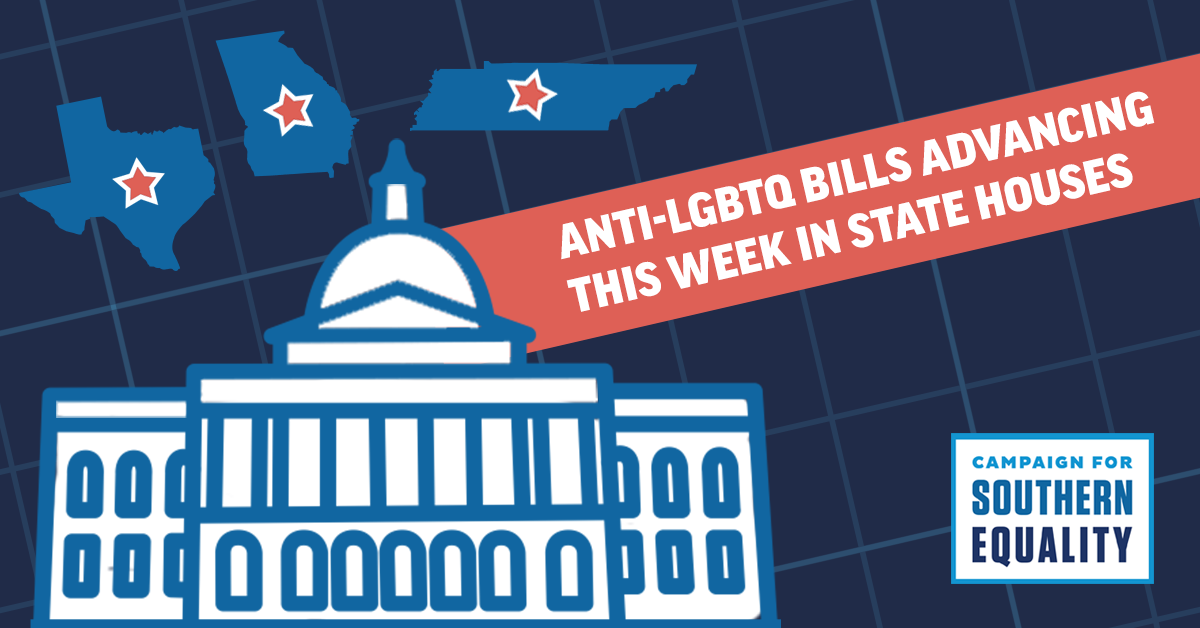 Discriminatory laws have been introduced, will face hearings, or are advancing in several Southern states, including Georgia, Florida, Tennessee, and Texas. We stand with state leaders on the ground across the South against any discriminatory legislation and continue our fight to ensure that every LGBTQ Southerner has lived and legal equality. That starts with defeating these discriminatory attacks.
Here's a look at some highlights from the past few days – and the coming week – of state legislative sessions:
Georgia:
This week a bill that would grant business owners and individuals a broad license to discriminate against LGBTQ people was introduced in Georgia. The legislation, SB 221, is scheduled for a hearing in the Senate Judiciary Committee for 10am on Monday, March 4.  In 2016 Republican Gov. Nathan Deal vetoed a similar bill, but with a new governor in office, advocates are concerned that this bill could move quickly. "It's shocking that anti-LGBT lawmakers have decided to go down this road again, considering the opportunity we have right now to grow our economy and reputation as a major sports destination," said Georgia Equality Jeff Graham in an email from Georgia Unites Against Discrimination. "We just successfully hosted the Super Bowl, and are in the running now to host the 2026 FIFA World Cup. But extremist lawmakers again seem prepared to risk all of this just to advance discrimination." Read more – and if you're from Georgia, take action by contacting your Senator here.
Tennessee:
A whole slate of anti-LGBTQ bills is moving in Tennessee, where statewide advocacy group the Tennessee Equality Project is working hard to combat the shameful bills. In the coming week, three anti-LGBTQ bills are scheduled for votes. One bill, HB563, amounts to a broad license to discriminate for business owners and will be heard in committee on Tuesday. A second bill, HB1152, which would grant child welfare service providers a broad license to discriminate, will also be heard on Tuesday. And a third bill (HB1151) that targets transgender students, aiming to restrict access to restrooms and locker rooms, will be heard Wednesday.  Read more.
Texas
On Thursday, February 28 the Senate State Affairs Committee in Texas approved SB15, a bill that would preempt or override existing nondiscrimination protections for LGBTQ people at the municipal level. In Texas six large cities (Austin, Dallas, El Paso, Fort Worth, Plano, and San Antonio) have local nondiscrimination ordinances on the books. But SB15 could override those protections. Originally, the bill included language exempting these nondiscrimination ordinances – but the legislation approved on Thursday removed that language, leaving the ordinances vulnerable. Read more.
Florida
Florida lawmakers this week discussed HB3, a new bill that is similar to the Texas legislation in that it would ban municipalities from passing ordinances that regulate businesses. While the bill sponsor insists that his target is not the high number of LGBTQ-inclusive nondiscrimination ordinances, Equality Florida knows that the impact of the bill could be extreme, overriding LGBTQ protections in at least 12 counties and 30 cities and towns. "HB 3 could threaten dozens of local human rights ordinances that currently protect 60 percent of Floridians from discrimination, ordinances that protect LGBTQ minors from so-called 'conversion therapy,' equal benefits ordinances and more," said Jon Harris Maurer of Equality Florida. Read more.
Other States
As Southerners in these states and others take action for LGBTQ dignity and equality, they can draw inspiration from positive development in several other states. Most notably, four major bills targeting transgender people in South Dakota have been defeated, thanks to a coordinated effort by state, local, and national advocates who made the case for full transgender dignity. Read more.
And in Maine, Massachusetts, and Utah, supporters of LGBTQ equality are working to advance legislation that would prohibit dangerous so-called "conversion therapy" practices for minors. Read more about the growing momentum to prohibit this harmful, fraudulent practice.