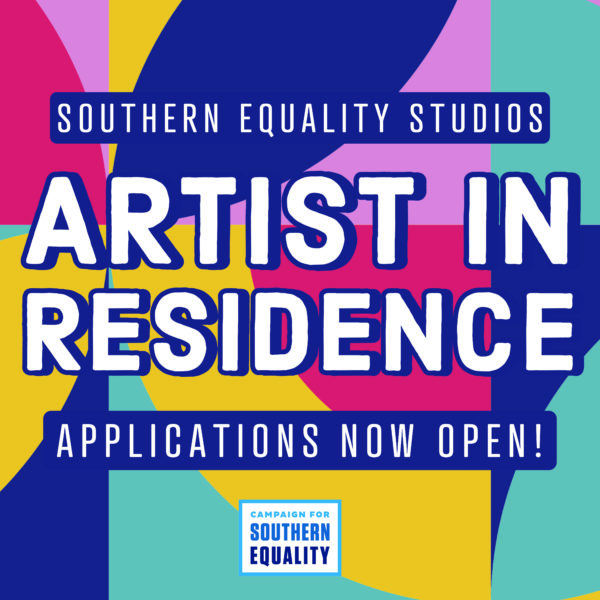 The Campaign for Southern Equality (CSE) is now accepting applications for the 2021-2022 Southern Equality Studios Artist in Residence program. Southern Equality Studios is a project of CSE that explores how the arts can be a catalyst and force in achieving lived and legal LGBTQ equality across the South. Applications are now open – just click here to submit yours by October 1, 2021.
Here are all of the details:
GOALS: The goals of this residency include: Increasing the visibility of LGBTQ artists and makers – especially artists of color – creating and improving access to funding & exhibition opportunities for artists, creating work which represents or otherwise amplifies the voices of LGBTQ people in the South.
STRUCTURE: The Artist in Residence may utilize this time to: Contribute graphics or creative content to visual representation of CSE and CSE programs (for example: work addressing anti-trans legislation), contribute to CSE Social Media presence, enrich their own artistic practice, participate in community engagement and collaborative projects. The Artist in Residence may participate in CSE staff activities and workshops that focus on Language Justice, Racial Equity and Healing and Resilience activities as they choose.
STIPEND: The Current 2021/2022 SES Residency begins in the Fall of 2021 and concludes in the Summer of 2022.  A total stipend of $6000 for 6 months will be paid to the Artist in residence $1000/month. This residency is supported by a $1500 honorarium from Black Mountain College Museum + Art Center and may involve a collaboration with the Museum.
LOCATION: The Campaign for Southern Equality is located in Asheville, NC. This residency will take place in Asheville and the resident artist will have access to CSE offices (in accordance with CSE guidelines).  Some components of the residency may take place remotely.
SUPPORT: The Artist in Residence will be supported by Southern Equality Studios Manager Liz Williams and Director of Relationships and Special Projects Al Murray.
APPLICATION: Visual artists of any media are encouraged to apply, especially those with experience in community based work. We are prioritizing equity, supporting NC-based artists, among other criteria in the selection and award process.
To apply please visit https://bit.ly/SES-Residency-2021 and submit your application before Friday, October 1st 11:59pm EST. If you have any additional questions or concerns, please contact Liz@SouthernEquality.org and Al@SouthernEquality.org
For more information on Southern Equality Studios, check out the program's Instagram @southernequalitystudios.