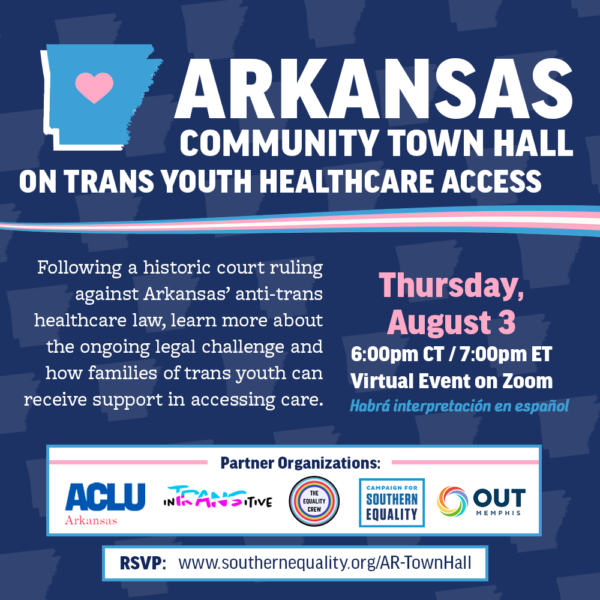 Following a recent court ruling blocking a ban on gender-affirming care for trans youth in Arkansas, community and advocacy organizations are coming together for this virtual event focused on helping families navigate the landscape of gender-affirming care while feeling supported and uplifted by their communities.
Please join us Thursday, August 3 from 6:00-7:00pm CT / 7:00-8:00pm ET for this special event. The event is being hosted by the ACLU of Arkansas, Intransitive, OUTMemphis, The Equality Crew, and the Campaign for Southern Equality.
Habrá interpretación en español
At the event, we will be discussing resources available, including patient navigation support, referrals to out-of-state gender-affirming care, and $500 emergency grants for families of transgender youth. Additionally, community partners will share about the resources available through their organizations. And there will be plenty of time for questions. By providing your e-mail address, you may receive occasional email updates from the ACLU of Arkansas, the ACLU, the Equality Crew, OUTMemphis, the Campaign for Southern Equality, and Intransitive. 
Need immediate support? If you need help finding out-of-state providers of gender-affirming care or funding for travel, mental health expenses, or whatever you need, please get in touch here.  
Submit Your RSVP