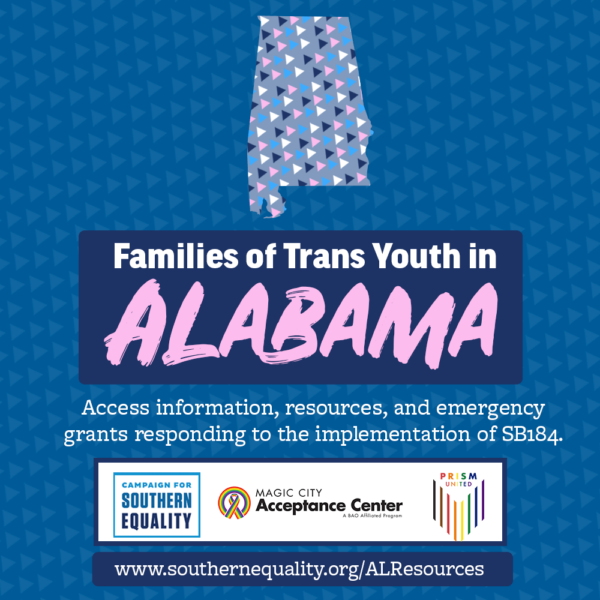 On Monday, August 21, the U.S. Court of Appeals for the Eleventh Circuit issued a ruling allowing the state of Alabama to enforce its law criminalizing providers of gender-affirming care. The decision allows SB184, passed in April 2022, to take effect, meaning that Alabama healthcare professionals will soon be banned from providing medically necessary healthcare for trans adolescents for the treatment of gender dysphoria, including hormone therapy and puberty blockers. All three judges on the panel that issued the ruling were appointed by President Trump.
In response, advocates have come together to launch resources to support families navigating this challenging period. Families of transgender youth in Alabama are now eligible to apply for support from the Southern Trans Youth Emergency Project (STYEP), a regional project of the Campaign for Southern Equality, led in partnership in Alabama with the Magic City Acceptance Center and Prism United. The project helps transgender youth whose access to gender-affirming care has been disrupted by government policies. Through STYEP, families can receive accurate information about SB184; patient navigation to identify out-of-state gender-affirming care providers; and emergency grants of $500 for immediate needs, including travel, medication, and other logistics. Families can request support at www.southernequality.org/ALResources.
Every district court judge that has ruled in a case challenging a ban on gender-affirming care has blocked the laws from taking effect, including in Alabama, Arkansas, Florida, Georgia, Indiana, Kentucky, and Tennessee; the only outlier in this string of victories is this ruling from the notoriously conservative 11th Circuit and a July decision from the 6th Circuit, which allowed bans in Tennessee and Kentucky to take effect. The 11th Circuit ruling could potentially impact similar bans on gender-affirming care in Florida and Georgia, which are both on hold by district court orders.
We are grateful for the leadership in the courts on this Alabama case from the Southern Poverty Law Center (SPLC), the National Center for Lesbian Rights (NCLR), GLBTQ Legal Advocates & Defenders (GLAD), and the Human Rights Campaign (HRC), who are joined in the litigation by co-counsel King & Spalding LLP and Lightfoot, Franklin & White LLC.
Corey Harvard (he/him pronouns), Executive Director of Prism United in Mobile, said:
"This decision is devastatingly malicious – these judges are knowingly harming young people across Alabama. It is a heart-breaking development and a blow to youth who simply want to live as their authentic selves. To every trans youth or parent of a trans youth, please know: we see you, we are here for you, and we are ready to fight this harmful, politically-motivated, anti-science decision until trans youth have access to the healthcare they deserve."
Allison Scott (she/her pronouns), Director of Impact & Innovation at the Campaign for Southern Equality, said:
"We are living through a period of unprecedented cruelty toward transgender people, and it should make every American ashamed that most of this cruelty is falling on the shoulders of children. This ruling from the 11th Circuit is the latest example of the exhausting whiplash that families are facing – taking every step to care for their children, then needing to repeatedly pivot to other options. We are honored to be able to help and heart-broken that the support is so necessary right now."
Those interested in requesting support from the Southern Trans Youth Emergency Project can visit https://southernequality.org/ALresources.