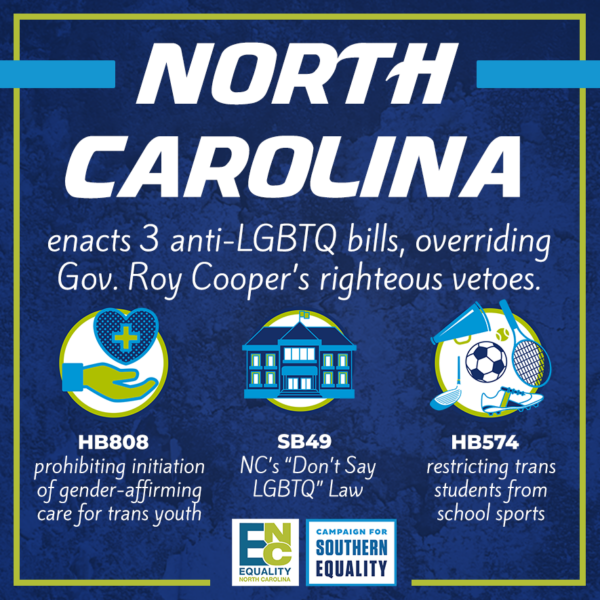 Today the North Carolina House and Senate voted to override Gov. Roy Cooper's veto of three anti-LGBTQ+ bills: HB808, which prohibits the initiation of all gender-affirming medical care for transgender people under the age of 18, including puberty blockers, gender-affirming hormone therapy, and surgery; HB574, which prohibits transgender girls and young women in grade school and higher education from participating in school sports; and SB49, a curriculum censorship bill that also requires school staff to "out" transgender students.
Allison Scott (she/her pronouns), Director of Impact & Innovation at the Campaign for Southern Equality, said today:
"We need to call this what it is: An all-out attack on queer and transgender youth in North Carolina. The NCGA is going out of its way to blatantly enact the far-Right's anti-LGBTQ wish list, causing harm and discrimination to young people in every area of life, from school to the doctor's office to the athletic fields. You would have thought that the NCGA would have learned its lesson from HB2 and the havoc it caused for our state and our communities."
"We know this is a very difficult time for transgender youth and their families, and for the LGBTQ+ community and our supporters across North Carolina. I also know that no law can stop the transgender community from charting our paths to thriving and living authentically – our community will make sure of that. Right now, help is available: Please reach out to our Southern Trans Youth Emergency Project to better understand your options and how you can continue to access gender-affirming care in neighboring states. We are sending solidarity and love during this relentless time."
Families of transgender youth in North Carolina are now eligible to request support from the Southern Trans Youth Emergency Project (STYEP), a regional project of the Campaign for Southern Equality, led in partnership in North Carolina with Equality NC. The project helps transgender youth whose access to gender-affirming care has been disrupted by government policies. Through STYEP, families can receive accurate information about SB14; patient navigation to identify out-of-state gender-affirming care providers; and emergency grants of $500 for immediate needs, including travel, medication, and other logistics. Families can request support at www.southernequality.org/NCResources.
Since launching the Southern Trans Youth Emergency Project in March 2023, the Campaign for Southern Equality has provided more than $250,000 in emergency funding to individuals, families, and organizations that work on behalf of transgender youth in the South. The project spans twelve states currently.
Leila Barazandeh (she/her pronouns), Operations Coordinator for the Campaign for Southern Equality, spoke today at a press conference in Raleigh prior to the NCGA taking up the veto override votes. She said:
"The Southern Trans Youth Emergency Project should not be necessary – because everyone should have access to the healthcare that they need and deserve without leaving their hometown. But let me be clear: As long as laws in North Carolina target transgender youth for discriminatory and unjust treatment, we will be there every single step of the way to offer support, resources, and care – and to fight for their equality and dignity, under the law and in every sphere of life."
On Monday, August 21, advocates will come together for a Community Town Hall to discuss the impact of HB808, HB574, and SB49. There, we will share resources that trans youth and their families can access, discuss how to prepare for the implementation of these cruel anti-LGBTQ+ laws, and answer questions. Press interested in attending for the on-the-record portion of the event should contact Adam Polaski at adam@southernequality.org. 
Learn more about anti-LGBTQ+ legislation being considered in North Carolina by visiting the website for NC is Ready.