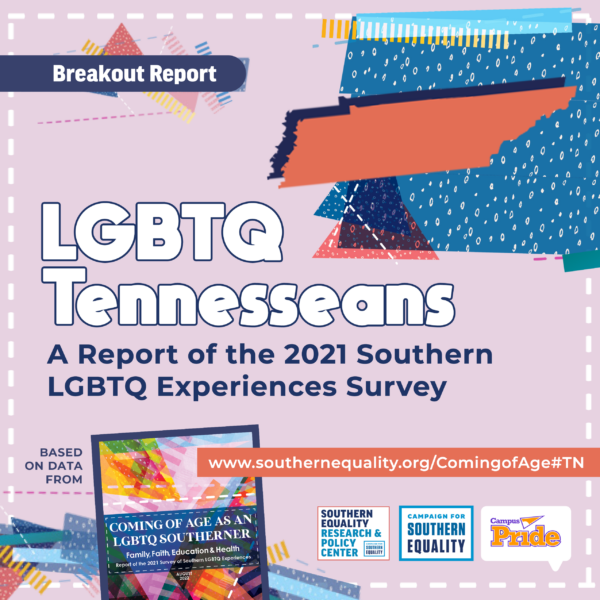 Today the Campaign for Southern Equality (CSE) and Campus Pride released a new report focused on the life, school, and health experiences of LGBTQ people in Tennessee. The report's release comes just a few days into the 2023 legislative session in the Tennessee legislature, where a series of anti-LGBTQ bills have been filed. 
This breakout is a supplement to Coming of Age as an LGBTQ Southerner: Family, Faith, Education & Health, and relies on data from the 2021 Survey of Southern LGBTQ Experiences, a survey of 4,186 LGBTQ people who live in the South – including 381 from Tennessee. The survey oversamples people in the 18-24 age range. The report was co-authored by Dr. Austin H. Johnson and Emma Chinn.
Read the Report
Key findings of the supplement – which you can read here – include discussion of:
TN's Anti-LGBTQ Political Climate

: 78% of respondents from Tennessee indicated that the state has a hostile political climate when it comes to LGBTQ issues, with 42.7% indicating that the political climate was somewhat hostile and 35.1% indicating that the political climate was extremely hostile.  

Gender-Affirming Health Care:

Approximately 84% of transgender respondents from Tennessee reported that, when they were under the age of 18, having access to gender-affirming care was important to their overall well-being. Yet, among respondents who reported currently using hormone replacement therapy (HRT), only 18% reported using HRT prior to the age of 18, and only 5% reported using hormone blockers prior to the age of 18.

Mental Health:

Most survey respondents (70%) rated their mental health as either "poor" or "fair," 58% of respondents reported experiencing suicidal thoughts within the past year, and 16% of respondents attempted suicide within the past year. 

Coming Out:

Nearly three-quarters (74%) of survey respondents reported that they first identified as a sexual identity other than straight or heterosexual when they were younger than 18. Nearly half (46%) reported that they first identified as transgender, nonbinary, or gender diverse when they were younger than 18.

Education:

More than three-quarters of survey respondents reported feeling unsafe due to their sexual orientation (77%) and more than half reported feeling unsafe due to their gender identity (61%). 67% of respondents rated their teachers, school administrators, and other school staff as "not at all supportive" to LGBTQ students. Only one survey respondent considered faculty and staff at their school to be "incredibly supportive" of LGBTQ students. 

Efforts to Change LGBTQ Identity:

Among the respondents from Tennessee, 42% said that they were pressured to undergo efforts to repress or change their sexual orientation or gender identity. 
Dr. Austin H. Johnson (he/him pronouns), Director of the Southern Equality Research & Policy Center (SERPC) at the Campaign for Southern Equality and Assistant Professor of Sociology at Kenyon College, said today:
"In recent years Tennessee has been one of the most notorious states when it comes to passing anti-LGBTQ+ legislation – and this year extreme forces are already zeroing in on the Volunteer State to push a wave of discriminatory proposals. The stories in this new breakout report capture the feelings and experiences of LGBTQ people in Tennessee, including the specific and alarming impacts of legislative attacks. This report should be a wake-up call to Tennessee lawmakers to stop attacking LGBTQ residents and start working to address the disparities they face each day."
Emma Chinn (she/her pronouns), co-author of the report and a Master of Public Policy Candidate at the Humphrey School of Public Affairs, said:
"As a proud Tennessean, LGBTQ community member, and student of public policy, I understand that my life experiences – from what I didn't learn about LGBTQ identity at my public high school, to the anxiety I feel when thinking about starting a family in Tennessee with my genderqueer partner – are deeply tied to the decisions of our elected officials. However, for a long time, there has been limited research connecting LGBTQ Tennesseans' experiences with state policy. This report takes a first step toward changing that." 
Advocates looking to get engaged in the legislative session in Tennessee should follow the Tennessee Equality Project, whose Executive Director Chris Sanders contributed an opening letter to this report.
Access this state spotlight supplement of Coming of Age as an LGBTQ Southerner – as well as the full report – at www.southernequality.org/ComingofAgeSurvey#TN.