This week the Campaign for Southern Equality team was in Columbia, SC, joining our amazing partners in the SC United for Justice & Equality coalition to push proactively for LGBTQ+ dignity and equality and to push back against an unprecedented wave of anti-LGBTQ+ attacks in South Carolina. Take a look at what we helped achieve this week:
Meeting with South Carolina Lawmakers
We kicked off the day with a coffee hour where community members had a chance to speak with a range of bipartisan lawmakers on LGBTQ-related issues. It was a good chance for legislators to hear from LGBTQ+ and allied South Carolinians about why we want them to reject discriminatory bills and support proactive, positive legislation.
Celebrating the Introduction of LGBTQ-inclusive Nondiscrimination Protections
Yesterday South Carolina Rep. Todd Rutherford, the House Democratic leader, announced the introduction of H.3738, a bill that would update South Carolina's nondiscrimination laws to provide critical protections for LGBTQ+ people and people of color in key areas of life, from employment to housing to public accommodations. 
South Carolina is one of 27 states without any state-level protections from discrimination based on sexual orientation and gender identity, despite supermajority support – 67% of residents say they support inclusive nondiscrimination laws. The bill would add sexual orientation and gender identity to the state's existing nondiscrimination policy.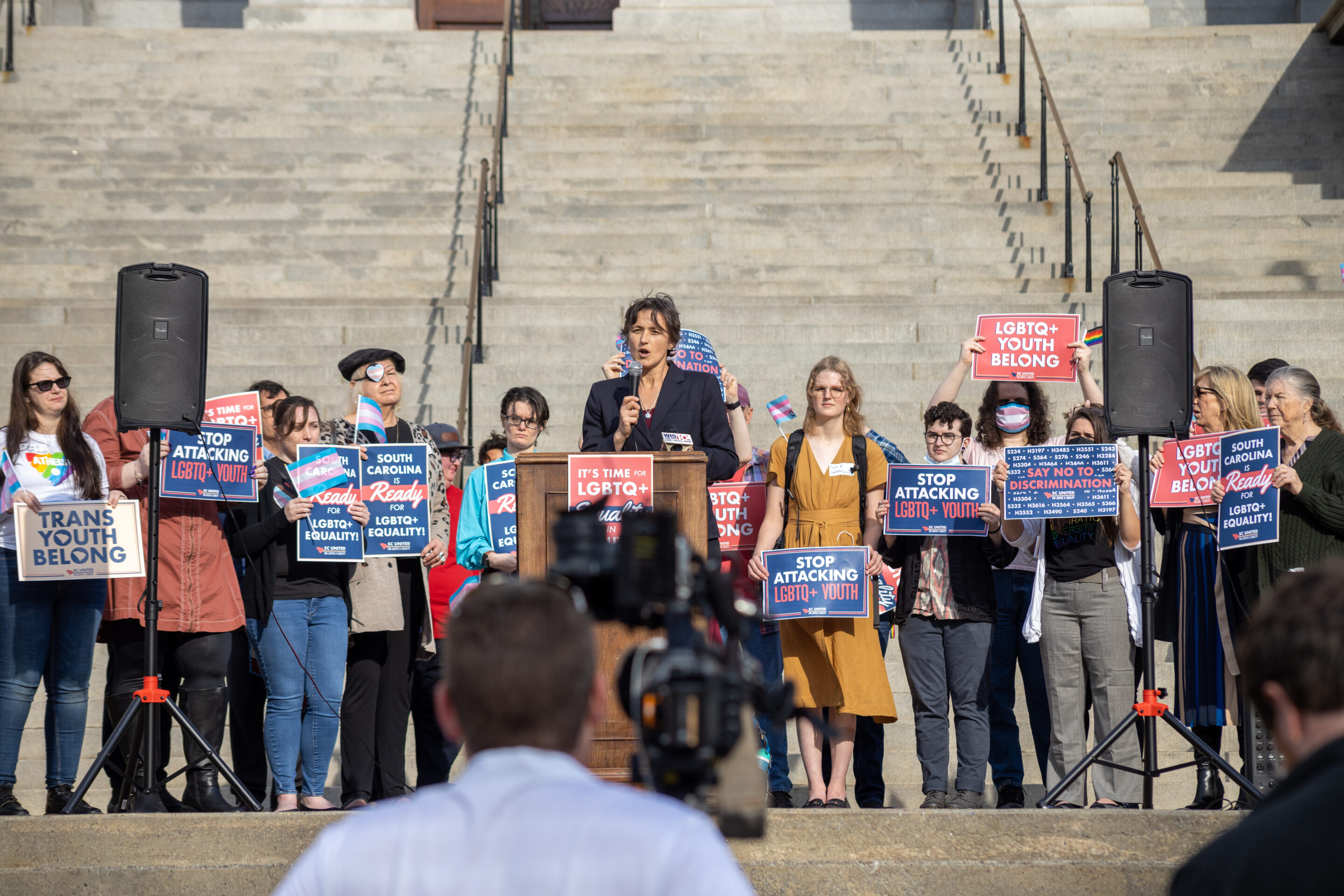 The bill also includes protections from discrimination based on natural hairstyle. These protections would mark a major step forward for Black and Brown South Carolinians who wear their hair naturally and have frequently been charged by employers with violating dress codes, excluded from public establishments, and fired from their jobs. 
Rep. Todd Rutherford (D-Richland) (he/him pronouns), said this week:
"I'm honored today to introduce H.3738, which would mark a critical leap forward when it comes to dignity and equality for LGBTQ+ people and people of color in South Carolina. No one should face discrimination because of who they are,  who they love, or how they wear their hair – but many South Carolinians remain vulnerable in key areas of life, including housing, public spaces, and health care. It's past time to fully prohibit discrimination based on sexual orientation, gender identity, and natural hairstyle."
Condemning a Wave of Anti-LGBTQ+ Attacks in SC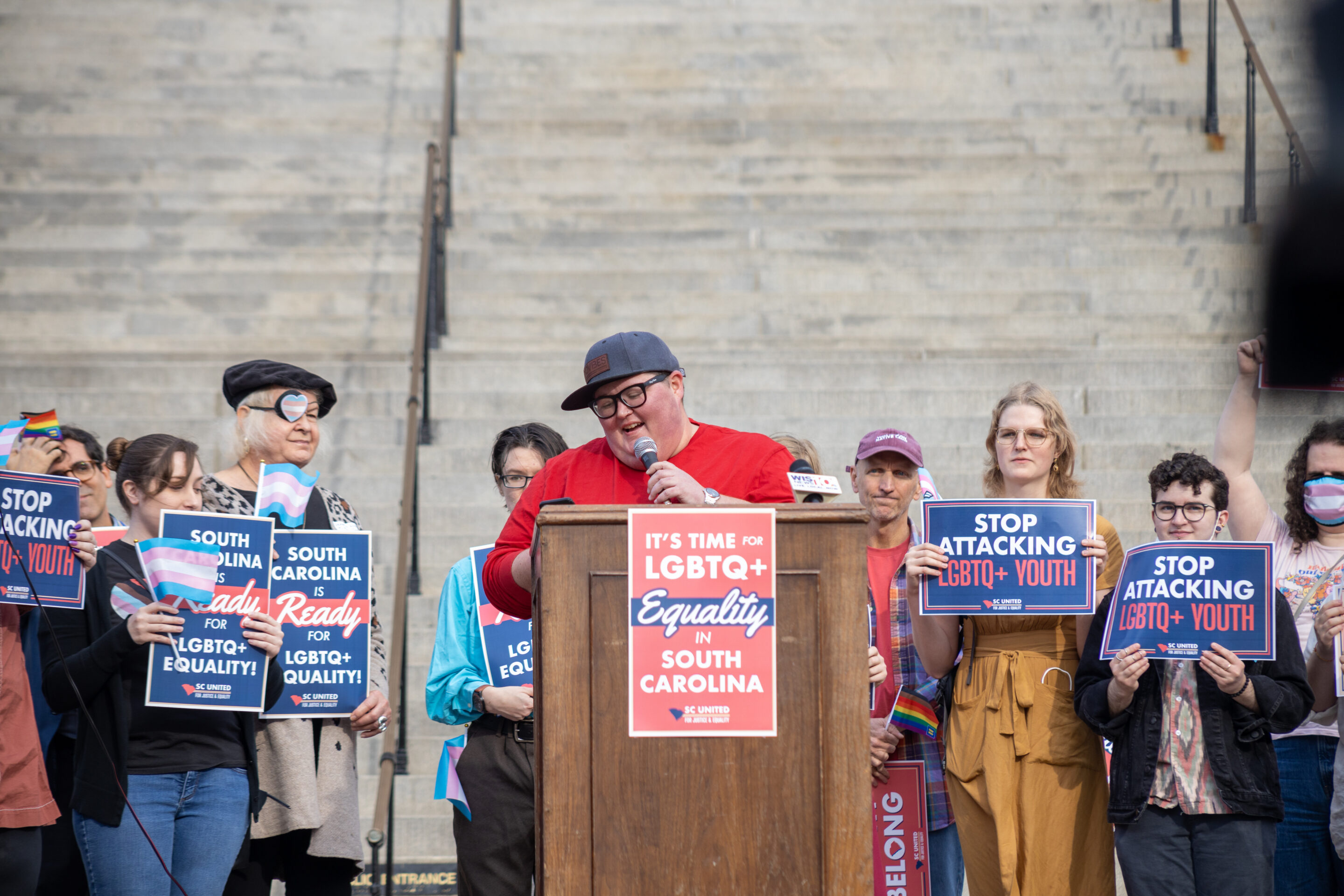 On the steps of the SC Statehouse, advocates also responded to a wave of anti-LGBTQ+ legislation filed at the start of the 2023 session. This year South Carolinians are facing one of the highest volumes of anti-LGBTQ+ legislation in the entire country, behind only Texas and Missouri, with at least 17 bills specifically targeting LGBTQ+ people for discrimination. Read about all of these bills here.
Ivy Hill (they/them pronouns), a leader in the SC United for Justice & Equality coalition who also serves as Executive Director of Gender Benders and Community Health Program Director of the Campaign for Southern Equality, said:
"LGBTQ+ South Carolinians are dealing with an unprecedented barrage of attacks in the legislature that aim to harm LGBTQ+ people in nearly every area of life, from education and health care to parenting decisions and marriage to businesses and public services. Together, they represent a brutal assault on our ability to fully participate in public life. We were honored to join with lawmakers this morning focused on doing the right thing by recognizing an actual problem and filing legislation to address it. Together, we can keep pushing forward and working to ensure that South Carolina is a state where everyone can thrive."
Watch video of Ivy's remarks:
And watch CSE Executive Director Rev. Jasmine Beach-Ferrara speak about the broader impacts of this legislation across the South:
Training Advocates on Sharing Their Story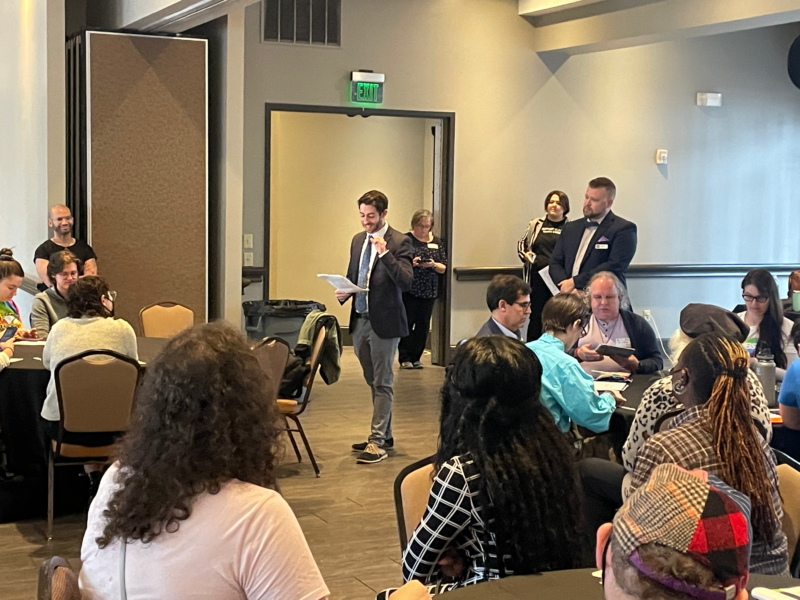 After the press conference we joined three dozen advocates and led a storytelling workshop where we spoke about the slate of discriminatory legislation, talked through messaging tips, and encouraged folks to develop their own stories, in anticipation of a busy session full of legislative hearings and more. 
There are so many anti-LGBTQ+ bills in South Carolina this year. Here's a high-level look at what's been filed:
News Coverage of the Day of Action
Get Engaged in the SC United for Justice & Equality Coalition
Want to get involved in the SC United for Justice & Equality coalition? Here are a few key links: