Across North Carolina, LGBTQ folks and allies have been organizing all year to support the passage of LGBTQ-inclusive nondiscrimination ordinances at the local level. And in three days we'll have our chance to make our voices heard in Buncombe County, NC.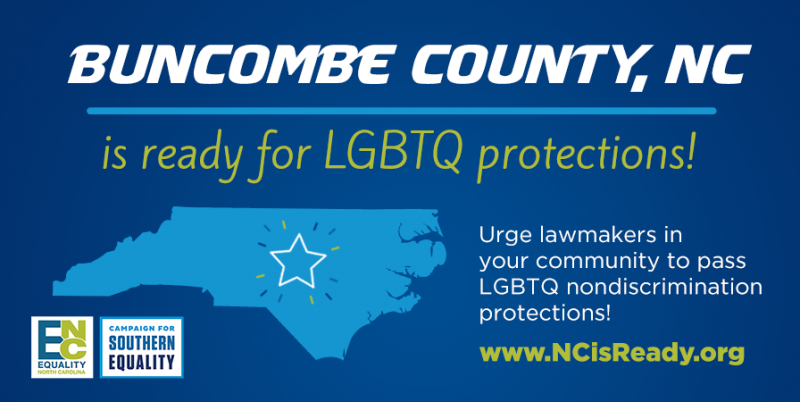 The Buncombe County Commission will begin discussion on an LGBTQ-inclusive nondiscrimination ordinance on Tuesday, March 16, from 5:00-8:00pm ET. It will be the first of several meetings – and the Commissioners will be listening to public comment on the ordinance.
We'd love to hear you speak out in support of the ordinance and urge the Commissioners to pass these critical protections from anti-LGBTQ discrimination. Will you register to give public comment? Here's how:
Click here

to view the Buncombe County Commission website, then click the blue "Register for Public Comment" button. Or,

visit this agenda for the March 16 meeting

and select "click here for details and instructions." 

Fill out the form with your name, email, phone number that you'll use to call in, city, and specify that you'd like to give comment on the LGBTQ-inclusive nondiscrimination ordinance proposal. Then press "OK."

You will be sent an email confirmation, and someone from the County will call with instructions on how to deliver the public comment on Tuesday.

In the meantime, prepare your comment! It should be 1-2 minutes long and be personal to your own experience. Why do you want to see Buncombe County enact LGBTQ nondiscrimination protections? How will these protections make you feel safer, more welcome, and more included in Buncombe County?
Not available to give public comment on Tuesday? That's OK. You can still send a message to the Buncombe County Commission and urge them to pass the ordinance. Click here to take action with our NC is Ready campaign, which we lead with Equality NC.
If you live in the Asheville, Black Mountain, Hendersonville, and Weaverville, go ahead and send your City Council members a message while you're at it, too!
Thanks for all that you're doing. Looking forward to hearing you speak out on Tuesday!