NOTE: This blog post was a collaboration between Abby Bowen and Adam Polaski of the Campaign for Southern Equality. 
This week legislatures in the Southeast have given LGBTQ+ residents cause for sadness, concern, and relief.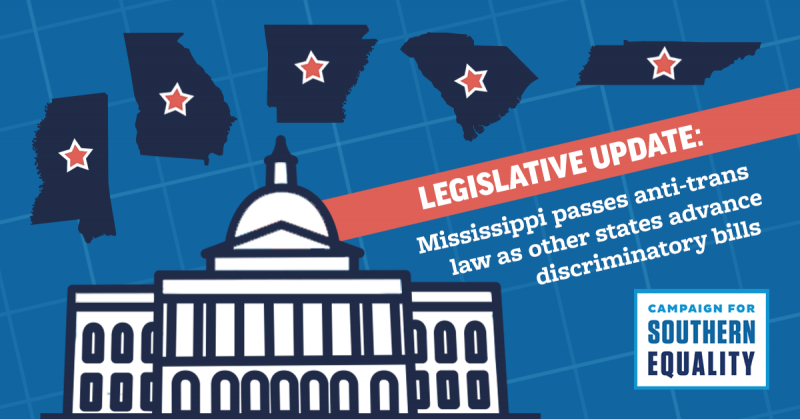 Most alarmingly, Mississippi's governor signed a bill into law this week that excludes transgender youth from participating in sports. Other states are considering similar exclusionary bills related to athletics, with several moving closer to passage. Other states have also proposed various methods to block trans kids' access to necessary and doctor-recommended medical care. Bills in Arkansas and Tennessee would label the provision of gender-affirming care to children professional misconduct, whereas South Carolina and Alabama would convict doctors of felonies simply for treating patients according to best medical practices. 
Thankfully, there is good news out of Georgia and Virginia. All of Georgia's bills discriminating against the transgender community have stalled out for this legislative session. Additionally, Virginia is making progress to protect the dignity of those living with HIV and to ban the "gay panic" defense in the state. We will continue monitoring legislation across the Southeast and doing everything in our power to protect the rights of the LGBTQ+ community.
Here's a look at this week's developments:
Mississippi
Mississippi's governor signed a bill prohibiting trans youth from participating in athletics on 3/11. The bill, SB2536, goes into effect on July 1. Almost immediately after a similar bill was signed into law in Idaho, it was challenged in a lawsuit and blocked by a federal judge. 
When the bill was signed, Ivy Hill, Community Health Program Director for the Campaign for Southern Equality, said: "Gov. Reeves' decision to sign this bill will undoubtedly harm transgender youth in Mississippi. Transgender young people deserve every opportunity that their non-transgender peers have – including a school environment where they're able to focus on their education, and where they can learn sportsmanship and leadership by being a part of a sports team. … Transgender students already face disproportionately high rates of bullying and rejection – not because there is something inherently dark about being trans, but partly because of exclusionary legislation like this. Gov. Reeves and Mississippi lawmakers are attacking trans young people with this state-sponsored bullying."
"We send a strong message to the many transgender youth who will feel the impacts of this bill," Ivy continued. "I say to them: Your identity is valid. There is nothing wrong with you. We see you. We'll never stop fighting alongside you."
Georgia
All of Georgia's discriminatory bills targeting the transgender community did not survive crossover day and therefore will not be passed this legislative session. This includes HB276, HB373, and SB266, which are all trans exclusionary bills relating to schools and sports. HB401, which would have criminalized treatments related to medical transition for minors, also missed the crossover day deadline. 
Additional good news out of Georgia revolved around the Senate passage of the state's HIV modernization bill, SB164, on 3/8. SB164 changes some harmful language, reduces the criminal penalty for knowingly engaging in behaviors that might result in the transmission of HIV, and decriminalizes blood and organ donations from those living with HIV. The HIV modernization bill is now in House committee.
South Carolina
South Carolina introduced a frightening bill, HB4047, deceptively called the "Vulnerable Child Compassion And Protection Act." This act would make performing medical transition for minors a felony, thereby denying children the appropriate care recommended by doctors. HB4047 would also force school staff to out students to their parents or guardians. The bill was introduced and referred to committee on 3/9.
Ivy Hill, who is also a leader of the SC United for Justice & Equality coalition, said of the bill: "My heart is heavy with the gravity of what this bill means for our transgender youth in South Carolina. This bill would be an absolute wrecking ball to every safe haven a transgender young person has. Under the proposal, youth could not confidentially turn to a supportive teacher or counselor to express feelings that they might be transgender. They would not be able to go to their medical provider to receive health care that could save their lives. Where are they supposed to go? To live their lives with dignity and confidence, trans kids would be put in the position of begging their doctors to risk prison time and urging their teachers to break the law. I am shocked by this bill's heartlessness and urge lawmakers to wake up to the damage it will cause if advanced."
Dr. Mike Guyton-Nunley, MD, a Board Certified Adolescent Medicine Specialist, Pediatrician, and Internist who serves transgender youth in Greenville, said upon the bill's filing: "I have cared for hundreds of adolescents and young adults who identify as trans, and I provide comprehensive medical care aimed at treatment of their gender dysphoria. As a physician, I took an oath to do no harm – but withholding medically necessary care from transgender patients would, without any doubt, cause significant short- and long-term harm. Enacting this disturbing anti-transgender legislation would prohibit me and other medical providers from doing our jobs, forcing us to violate existing standards of medical care for transgender patients, standards that are supported by leading medical authorities. A person's gender identity shouldn't limit their ability to seek care." 
Arkansas
Several dangerous bills are moving in Arkansas' legislative chambers. SB354, a bill that "To Create The Fairness In Women's Sports Act," which would exclude transgender younthkids from participating in sports, passed the Senate on 3/10 with a Republican majority. SB354 is now in committee in the House. Arkansas also has a bill aimed to prohibit medical transitions for minors. HB1570, a bill that designated "To Create The Arkansas Save Adolescents From Experimentation (SAFE) Act," would prohibit medical transition for minors by making "Any referral for or provision of gender transition procedures" to a minor "unprofessional conduct…subject to discipline." 
HB1570 would also prohibit the use of public funds and insurance coverage for medical transitions for minors. The bill passed in the House on 3/10 and is currently in committee in the Senate. 
Arkansas Senate Bill 289 would alleges "To Create The Medical Ethics And Diversity Act." What this bill would actually do is give medical staff and institutions the right to discriminate against the LGBTQ+ community in employment and patient care. SB289 passed the Senate chamber on 2/10, and passed the House committee on 3/11. The next step is a hearing and vote in the full House chamber. 
Tennessee
Tennessee's Criminal Justice Subcommittee moved their hearing on a bill banning medical transition for minors, HB578, from 3/10 to 3/17 at 9:00 am. The House version of Tennessee's sports bill effectively banning trans kids from participating in sports, HB3, passed committee on 2/24, and was assigned a full House hearing on 3/18. The Senate version of this bill, SB228, passed the Senate chamber on 3/1. 
Virginia
Virginia's House and Senate chambers have reached agreement on the final text of SB1138, which reduces the criminal penalty for knowingly engaging in behaviors that might result in the transmission of HIV and repeals the crime of donating blood or organs for those living with HIV, as well as HB2131, which bans the "gay panic" defense. Both chambers have agreed on the exact text and passed final versions of these bills on 3/9.