The copycat bill, which would preempt an existing trans-inclusive policy from the NC High School Athletic Association, is a stark outlier from North Carolina's year of progress on LGBTQ issues.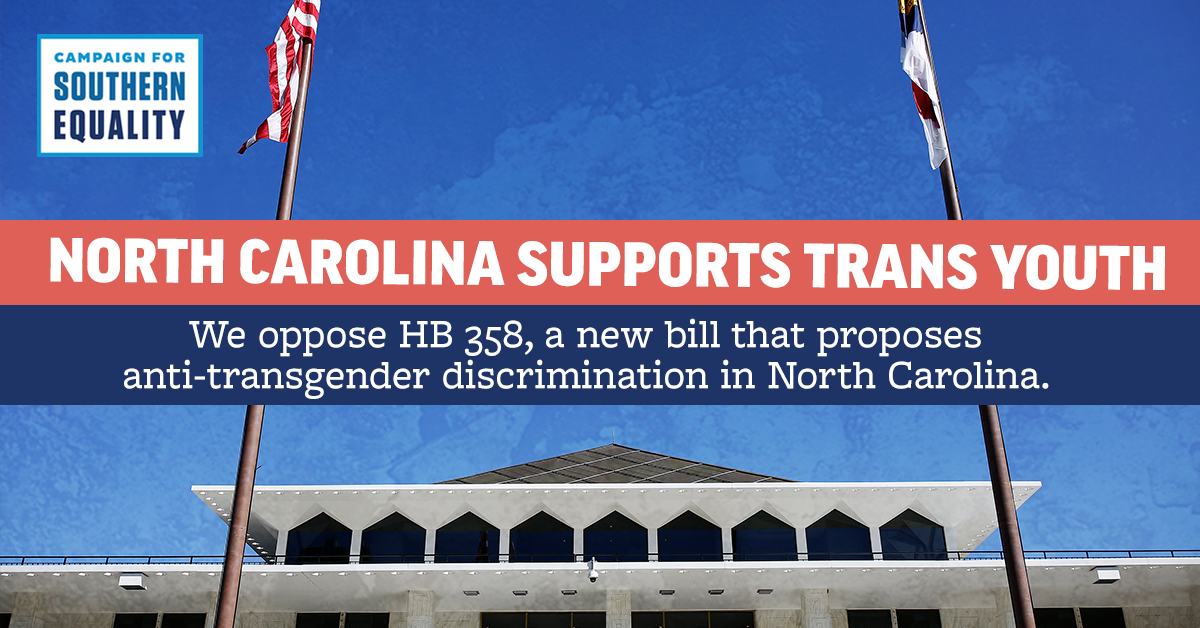 This week legislators in North Carolina introduced HB 358, a bill that would prohibit transgender youth from participating in student athletics. The bill directly undermines the existing policies of the North Carolina High School Athletic Association, which spent more than a year researching and developing a policy for allowing trans athletes to compete while maintaining a fair and level playing field.
The bill is similar to legislation filed in dozens of states, including Mississippi, where Gov. Tate Reeves signed this restriction into law earlier this month. The only other law like this – Idaho's, in 2020 – was quickly halted by a federal judge appointed by President Trump and remains enjoined as litigation proceeds. A similar bill was defeated in South Carolina last week, following vocal opposition from hundreds of South Carolinians, including the State Superintendent of Education, a Republican. 
HB 358 was filed the same week as the five-year anniversary of HB2, the extreme anti-LGBTQ law that barred transgender North Carolinians from using public restrooms and preempted local communities from enacting LGBTQ-inclusive nondiscrimination ordinances. 
Since then, North Carolina has advanced significantly on LGBTQ issues. In December, a key prong of HB2's replacement expired, and in recent weeks more than a half dozen cities, towns, and counties have passed inclusive nondiscrimination measures – including Winston-Salem last night. Earlier this month the NC Department of Public Instruction announced that it will update its student information system to better respect the privacy and dignity of transgender students. And last week U.S. Senator Thom Tillis from NC said in a committee hearing about the Equality Act that he is committed to working toward a future where LGBTQ people do not face discrimination because of who they are. 
Allison Scott, Director of Impact & Innovation at the Campaign for Southern Equality, said today:
"This anti-transgender bill is an outlier in North Carolina, and it doesn't reflect where we are as a state. We have come so far since the days of HB2, and we're better off for it: LGBTQ people feel safer, business leaders are becoming more comfortable investing here, and our communities are more inclusive and respectful. It pains me to see some lawmakers, egged on by extreme anti-transgender activists running a coordinated national attack on trans youth, trying to drag us back into an era of discrimination.""The truth is that transgender youth deserve the same access as any other student to the many benefits of participating in school sports, including the physical, social, and emotional impacts. To categorically deny transgender students the freedom to play alongside their peers is at odds with lawmakers' duties to care for and protect our youth. To all of the transgender youth feeling attacked by this bill and others like it nationwide, I want to be sure you understand that you are loved, you are seen, and we are fighting with you."
If passed, the bill would preempt reasonable regulations from the North Carolina High School Athletic Association that allow transgender youth to participate in school sports while maintaining a fair playing field for everyone.  
Craig White, Supportive Schools Coordinator at the Campaign for Southern Equality, said today:
"Lawmakers in Raleigh should stop manufacturing problems and trust the experts, including the North Carolina High School Athletic Association, which has a policy in place to protect transgender youth while ensuring a level playing field and a safe, friendly environment. The NCHSAA studied the issue for over a year, looking at policies in other states, talking with families, listening to medical professionals, and coordinating with the athletics programs of colleges and universities. This proposed bill is a slap in the face to all the North Carolinians who have actually done their homework on this issue. Let's get back to building a state where all people – including transgender youth – can thrive."