New round of grants promotes innovations in providing health care to better serve LGBTQ Southerners
The Campaign for Southern Equality (CSE) has awarded $30,000 in community grants focused on transforming the landscape of LGBTQ health equity in the South. Grants have been awarded to organizations in North Carolina, South Carolina, Virginia and Tennessee.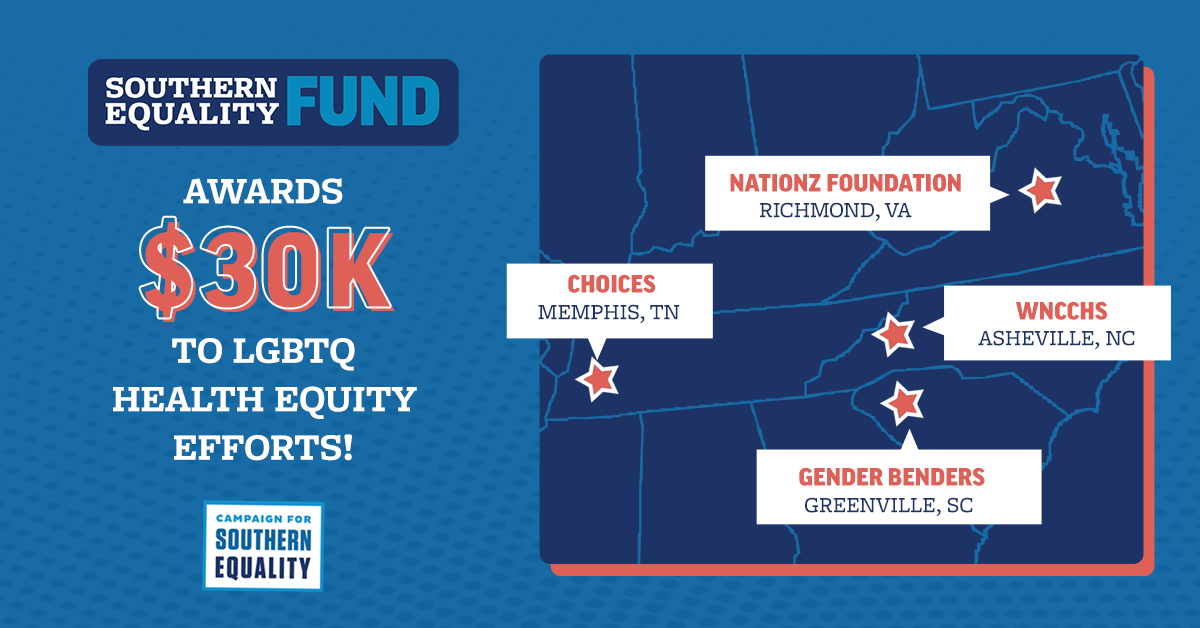 This infusion of funding to organizations on the leading edge of serving LGBTQ Southerners is designed to support new models in the South that increase access to care and ensure that people are treated with dignity and respect in health care settings. More than one third of all LGBTQ Americans live in the South, and LGBTQ Southerners experience disproportionate health disparities. The South is the epicenter of the modern HIV crisis in the United States, particularly for transgender women of color and black men who have sex with men. Transgender and nonbinary Southerners are frequently confronted with ignorance or discrimination while seeking care. And LGBTQ Southerners in rural areas sometimes must drive long distances to identify an affirming physician or mental health provider. 
Rev. Jasmine Beach-Ferrara, Executive Director of the Campaign for Southern Equality, said today: "Health care is a human right that is fundamental to being able to survive and thrive. We are honored to support these four incredible organizations, which are using innovation and grit to create new models to help Southern LGBTQ people access the care they need and deserve. This funding round is about reaching someone with the HIV test or life-saving information that they need right now, and it's also about creating models that can be replicated across the South in the longer-term. At the Campaign for Southern Equality, we are working each day to create a South where LGBTQ Southerners can get the care they need in their hometowns."
Below is information about the four recipients of this round of health-focused grants. You can also learn more and see photos by clicking here. 
Grant Amount:

$10,000

Location and Services:

Based in Asheville, NC, WNCCHS provides primary and HIV care to people across 18 Western NC counties.

Purpose of Grant:

This grant will promote WNCCHS' Transgender Health Program and their work to develop best practices, strategies and models for other Southern health centers striving to be more LGBTQ-inclusive. 

Quote from Scott Parker, Director of Development and Collaboration:

"WNCCHS is honored to receive this funding from the Campaign for Southern Equality to promote our Trans Health Program and our LGBTQ Health Initiative at our health center in Asheville. Working with CSE, we will be expanding our LGBTQ Health Initiative to other health centers across the deep south, offering best practices, replicable models, and support to staff and patients. We look forward to continuing our journey with CSE."
Grant Amount:

$10,000

Location:

Based in Greenville, SC, Gender Benders serves transgender and gender diverse Southerners through support, resources, and activism. 

Purpose of Grant:

This grant provided health, wellness, and resiliency services, including HIV testing and transgender health consultations, to more than 70 attendees of Camp Gender Bender, an annual summer covening of transgender Southerners.

Quote from Ivy Gibson-Hill, Executive Director:

"Gender Benders is so grateful for this support from Campaign for Southern Equality, which is allowing us to offer a much more robust health and wellness component to our programming at Camp GB this summer. With CSE's support, interested campers will be able to start Hormone Replacement Therapy, access free HIV testing, receive mental health support, receive one-on-one herbal medicine consultation to promote mental health and physical transition, and so much more. Knowing the barriers transgender Southerners face in accessing healthcare, we believe these services will be life-changing for many of our attendees, and none of it would be possible without the support of CSE." 
Grant Amount:

$5,000

Location:

Based in Richmond, VA, Nationz Foundation provides HIV education and prevention services to LGBTQ people in Central Virginia.

Purpose of Grant:

The grant will support staff positions focused on HIV testing and phlebotomy services and support AIM 2 INSPIRE, a project supporting LGBTQ people impacted by housing instability.

Quote from Zakia McKensey, Director:

"Nationz works with LGBTQIA+ communities, with a specific focus on transgender women of color, because these communities are disproportionately affected by HIV and STIs and face higher rates of discrimination and access to medical care. Our work to provide emergency housing, food from our Food Pantry, and direct linkage to care and treatment makes a big difference in our clients' lives, and we're grateful to expand and deepen those services with this grant from the Campaign for Southern Equality."
Grant Amount

:

$5,000

Location:

Based in Memphis, TN, providing reproductive health services, including transgender health care, in the mid-South.

Purpose of Grant:

CHOICES will provide free sexually transmitted infections (STI) testing to LGBTQ people in a pilot project with OUTMemphis; community members will also be provided with education and referrals to care. 

Quote from Kathryn M. Leopard, Assistant Director: 

"CHOICES currently provides healthcare to almost 200 transgender patients in the mid-south region. These patients come to CHOICES for hormone replacement therapy (HRT) and general sexual/reproductive wellness care. With funds from the Southern Equality Fund, CHOICES is excited to work with our local partner to provide free STI testing and linkage to care for LGBTQ persons in Memphis."
This funding round is part of CSE's Southern Equality Fund, through which CSE distributes 10% of its annual budget to support LGBTQ grassroots organizers and direct service providers who work with LGBTQ Southerners. Total grantmaking for 2019 will exceed $80,000. 
"It's out of the box for a non-profit to give out money," CSE's Beach-Ferrara said. "But that's exactly the point: We need new strategies for moving funding and resources to people and places on the front lines of transforming the South, especially those who face structural barriers to funding their work. We believe that moving money is a critical strategy in Southern organizing."
### 
Based in Asheville, NC, the Campaign for Southern Equality works for full LGBTQ equality across the South. Our work is rooted in commitments to equity in race, gender and class. http://www.southernequality.org/