In the summer of 2022 the Biden Administration's Department of Education sought public comment on FR Doc # 2022-13734,, which correctly interprets that Title IX of the Education Amendments of 1972 prohibits discrimination based on sex, which is inclusive of sexual orientation and gender identity.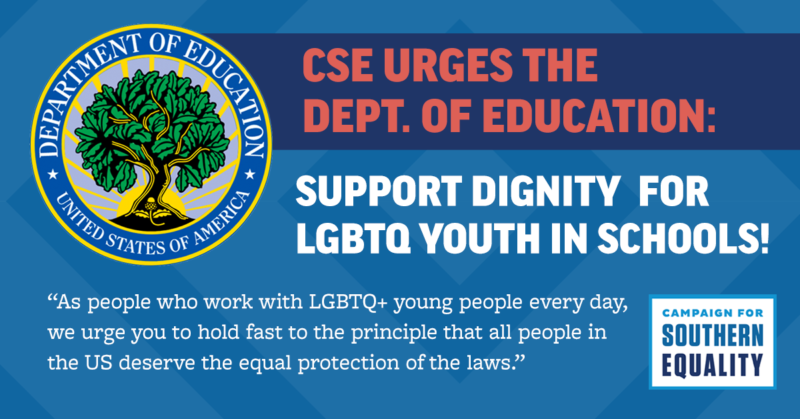 The Administration is currently hosting a public comment period, through September 12, where anyone can submit their views on a proposed Title IX rule change granting greater protections for LGBTQ+ young people. 
On August 23, 2022 the Campaign for Southern Equality's Supportive Schools Director Craig White submitted a comment urging the Department of Education to approve as written the proposed rule Nondiscrimination on the Basis of Sex in Education Programs or Activities Receiving Federal Financial Assistance.
His comment reads, in part: 
"There are LGBTQ children and youth in every community and every school in the South, and yet only a handful of school districts have passed proactive policies to protect and support LGBTQ+ students. Conversely, there are hundreds of districts where LGBTQ+ students have little or no support and protection, and in fact may be intentionally targeted for discrimination by faculty, administration, or school board members. The most fortunate of these students have supportive parents or caretakers, who find an advocacy organization like ours that will help them fight for their rights and safety at school."
"We know, however, that there are tens of thousands of students who do not receive the support they need. Because of the scale of the problem, we desperately need policy at the federal level that clearly and definitively protects all members of the school community from discrimination and harassment on the basis of sex, including gender identity and sexual orientation."
Read our full comment here (PDF). And click here to submit your own.