As students return to school and face hostile climate and newly-in-effect anti-LGBTQ laws, organizations provide legal resources, grant funding, and care packages to support LGBTQ+ young people.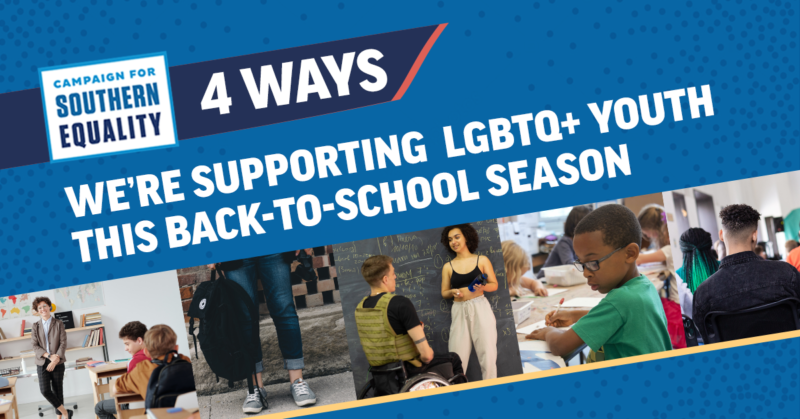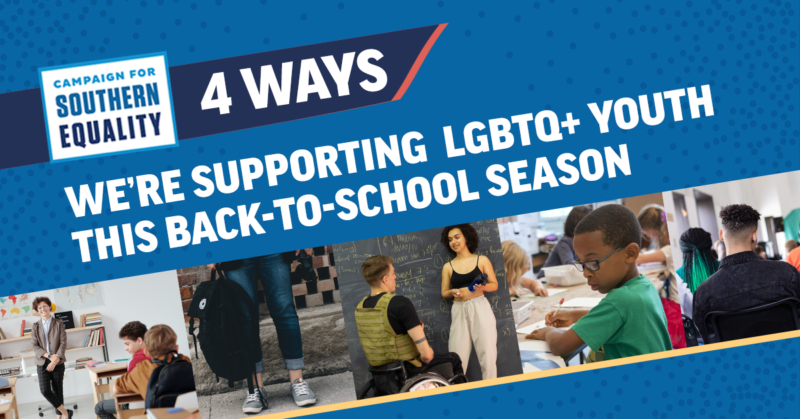 This week the Campaign for Southern Equality (CSE) announced a new slate of Back-to-School programs to support LGBTQ+ youth, many of whom live in states where discriminatory legislation took effect over the summer or where political hostility is on the rise. 
Anti-LGBTQ curriculum censorship policies are now in effect in Florida and Alabama; anti-transgender student sports bills have taken effect in every Southern state but North Carolina, Georgia, and Virginia; and students have seen their access to healthcare and affirming literature extensively debated. Additionally, rising levels of anti-LGBTQ rhetoric have a chilling effect for youth across the South.
At the same time, however, there is unprecedented public and community support for LGBTQ+ equality and CSE and partner organizations are working to ensure that youth feel that resoundingly. Here is a look at the new Back-to-School offerings:
Special $45,000 Grant Round Now Open for Southern Organizations Supporting LGBTQ+ Youth, in Partnership with The Ally Coalition
CSE and The Ally Coalition (TAC) opened an application today for a special Back-to-School grant round, totaling $45,000. Organizations or projects in the South that support LGBTQ+ youth are now eligible to apply for up to $2,000 in funding through the Southern Equality Fund. Applicants are not required to be registered 501c3 organizations. Click here to learn more and submit an application. 
New "Know Your Rights" Guide Published to Support LGBTQ+ Students, Parents, Staff and Administrators in Creating Inclusive Climates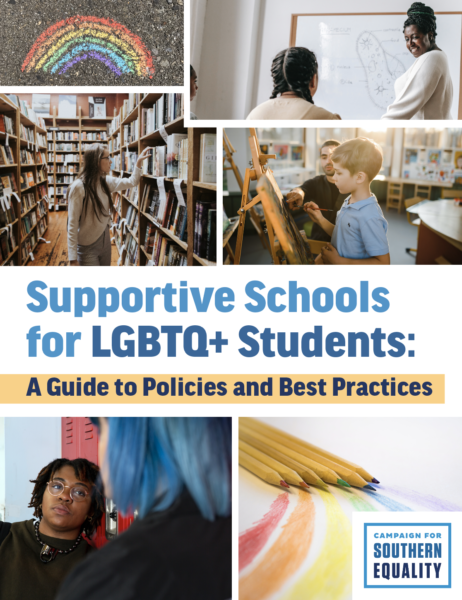 CSE today published Supportive Schools for LGBTQ+ Students: A Guide to Policies and Best Practices, a new 40-page guide with research, analysis, and model policies on many topics related to LGBTQ inclusion and dignity in schools. The guide, a project of our Supportive Schools Program, contains information for students and families, as well as administrators, faculty, and staff. Covered topics range from restrooms and facilities to records and documents to school athletic programs. The resource is available here.
Much of the guide grapples with the Biden Administration's correct interpretation that Title IX of the Education Amendments of 1972 prohibits discrimination based on sex, which is inclusive of sexual orientation and gender identity. The Administration is currently hosting a public comment period, through September 12, where anyone can submit their views on a proposed Title IX rule change granting greater protections for LGBTQ+ young people. The Campaign for Southern Equality submitted a public comment last week applauding the rule change. Read our comment here. 
Back-to-School Care Packages for LGBTQ+ Youth to Be Distributed to Students Across the South, with Support from The Ally Coalition and Community Partners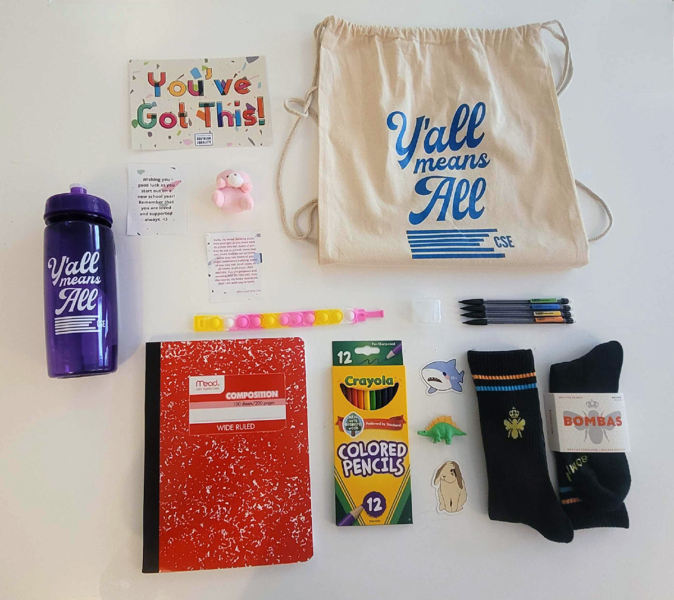 This month CSE has assembled and will distribute 300 "Back-to-School" care packages for youth, partnering on distribution with direct service organizations across the South. The care packages include school supply essentials, the Supportive Schools guide, and messages of solidarity from the CSE community. Special thanks to TAC and Bombas Socks for contributing pairs of socks to the care packages. Distribution partners include the Magic City Acceptance Center and Prism United in Alabama; Time Out Youth, the LGBTQ Center of Durham, and Youth OUTright in North Carolina; the Uplift Outreach Center in South Carolina; and the Oasis Center in Tennessee.
Allison Scott, Director of Impact and Innovation at the Campaign for Southern Equality, said today,
"The disturbing reality is that many LGBTQ students in the South are going back to school amid the most hostile political climate for LGBTQ youth in recent memory.  Southern lawmakers have pushed an endless stream of toxic, discriminatory bills that stigmatize LGBTQ+ youth and explicitly exclude trans students, and the 2023 legislative session could be even worse. We wanted to illustrate for these young people that there is a huge community out there that affirms and loves them for who they are – and that will always have their backs. More Southerners than ever publicly support LGBTQ equality, but that support is often drowned out by awful political attacks. It's time for all of us to raise our voices, declare that LGBTQ+ youth belong, and ensure that students feel solidarity all year long."
Jeb Gutelius, Executive Director of TAC, spoke about the $45,000 grant round that opened today:
"There is a robust and inspirational network of grassroots and direct service organizations in the South who show up every day to make the world brighter and better for LGBTQ+ young people. TAC and the Campaign for Southern Equality are proud to sustain the vital work of these organizations through this $45,000  Back-to-School grant round. We are eager to hear from advocates about how they're working alongside and on behalf of courageous LGBTQ+ youth, even in the face of tremendous state-sponsored hostility and discrimination."
These Back-to-School offerings are a part of CSE's "Meeting the Moment in the LGBTQ South" campaign, announced in July in response to a brutal anti-LGBTQ legislative session and the U.S. Supreme Court's Dobbs ruling. Meeting the Moment is a new effort to respond to new attacks of LGBTQ rights, continue to advance LGBTQ rights, help people protect their rights and access care, and ensure that LGBTQ Southerners feel connected, loved, and supported.