Today Mississippi Governor Tate Reeves signed into law Senate Bill 2536, a bill that would restrict transgender students from participating in school athletics. It is the first anti-LGBTQ bill to pass in 2021, during a legislative session that has seen a wave of bills specifically attacking transgender young people.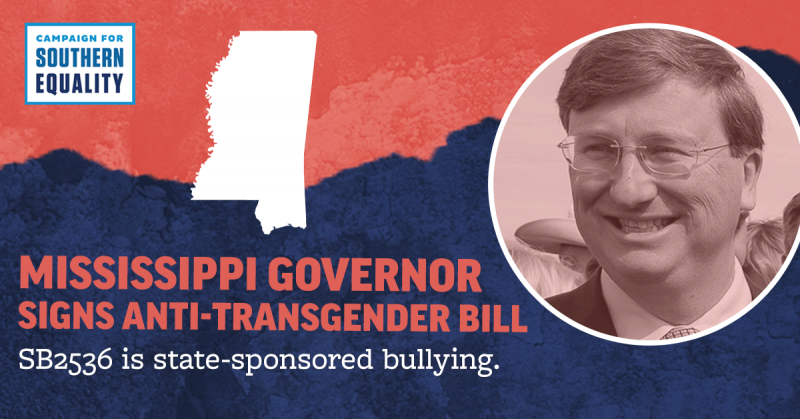 Ivy Hill, Community Health Program Director for the Campaign for Southern Equality, said today:
"Gov. Reeves' decision to sign this bill will undoubtedly harm transgender youth in Mississippi. Transgender young people deserve every opportunity that their non-transgender peers have – including a school environment where they're able to focus on their education, and where they can learn sportsmanship and leadership by being a part of a sports team."
"We send a strong message to the many transgender youth who will feel the impacts of this bill. I say to them: Your identity is valid. There is nothing wrong with you. We see you. We'll never stop fighting alongside you."
"Transgender students already face disproportionately high rates of bullying and rejection – not because there is something inherently dark about being trans, but partly because of exclusionary legislation like this. Gov. Reeves and Mississippi lawmakers are attacking trans young people with this state-sponsored bullying."
"We're also grateful to the ACLU of Mississippi, HRC Mississippi and grassroots groups in the state who fought this bill day in and day out and will continue working against anti-LGBTQ discrimination. " 
Similar bills have advanced this year in other Southern states, from South Carolina to Tennessee to Alabama. This type of bill has only become law in one other state – Idaho, in 2020 – and was quickly halted by a federal judge who was appointed by President Trump. The Idaho law remains enjoined as litigation proceeds.  
Mississippi is home to 19,000 LGBTQ people ages 13-17, including 1,600 transgender youth, according to 2020 data from the Williams Institute at the UCLA School of Law.