Today the Campaign for Southern Equality is honored and humbled to join with other LGBTQ community organizations that serve members in the Charlotte area in an initiative to support and defend the lives of Black transgender women in the Charlotte area.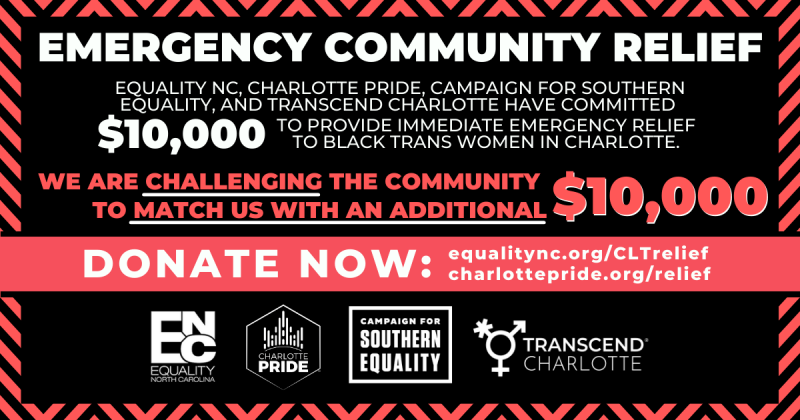 At a press conference today ,a collective effort to immediately support the emergency relief needs of Black trans women in Charlotte was announced. The new effort comes on the heels of two local murders of Black trans women, Jaida Peterson and Remy Fennell, further highlighting Charlotte's status as one of the nation's deadliest cities for transgender and gender-nonconforming people.
Campaign for Southern Equality, Charlotte Pride, Equality NC, and Transcend Charlotte have immediately committed $10,000 to support housing, food, and other emergency needs. The organizations are challenging community members to match their commitment with an additional $10,000. All funds raised will be directed to the grassroots organizations Charlotte Uprising, Feed the Movement, and House of Kanautica, which are providing on-the-ground direct services to Black trans women in Charlotte. Donations can be made through Equality NC by clicking here and Charlotte Pride by clicking here. 
"This city is not safe for trans folk and Charlotte has been an epicenter of violence against Black trans people for years," said Nada Merghani (they/them), programs manager for Charlotte Pride and co-founder of Feed The Movement. "This crisis did not start a few days ago with the murder of Jaida and Remy, who should still be here today, and it will not end with the apprehension of two of the many killers and perpetrators of violence against Black trans women and girls. We must acknowledge this crisis of transphobia and begin working collectively to support them and provide true pathways for personal safety, upward mobility, and economic stability."
According to the Human Rights Campaign, Charlotte ranks as the second deadliest city in the nation for transgender and gender-nonconforming people. At least six Black trans women have been murdered in Charlotte since 2016. Nationally, at least 44 transgender people were murdered in 2020. In 2021, the number of anti-trans murder victims has already risen to at least 15. According to the National LGBTQ Task Force, transgender and gender-nonconforming people are also subjected to a wide variety of inequities and discrimination in daily life.
"Being a Black trans woman in America means you're far more likely to experience inequities and prejudice, including extreme poverty and system, state-sanctioned violence and murder," said Rebby Kern (they/them), director of education policy for Equality NC. "The Black transgender and gender-nonconforming community experiences unemployment twice as a high as the rate for non-Black transgender people and four times as high as cisgender people. They experience houselessness at a rate five times higher than cisgender people and experience poverty at a rate eight times higher than cisgender people. We're calling on Charlotte's community to come together to support and protect Black trans women — who deserve joy, celebration, and support to continue living out personal realities which lead them to economic mobility, personal safety, and finally finding home in community."
Organizers also called out the larger systemic changes needed to create truly safe communities for transgender and gender-nonconforming people.
"We call for further action beyond identifying Jaida's and Remy's murderers — true justice does not come with arrests or guilty verdicts," said c. Michale (ze/zim/zir) of the House of Kanautica and Charlotte Uprising. "We ask that misused funding for police be redistributed to pay for safer housing options and access to adequate and affirming healthcare for Black trans women in our community. Lowering barriers to accessing housing, gender-affirming healthcare, and employment is the solution to ending systemic violence against the trans community."
Today's press conference and community call to action was supported by a coalition of local and regional LGBTQ organizations, including Campaign for Southern Equality, Charlotte Black Pride, Charlotte Pride, Charlotte Uprising, Equality NC, Erase Trans Hate Carolinas, Feed The Movement, House of Kanautica, House of Holland, QTIPOC Survival Fund, State of Emergency, Transcend Charlotte.