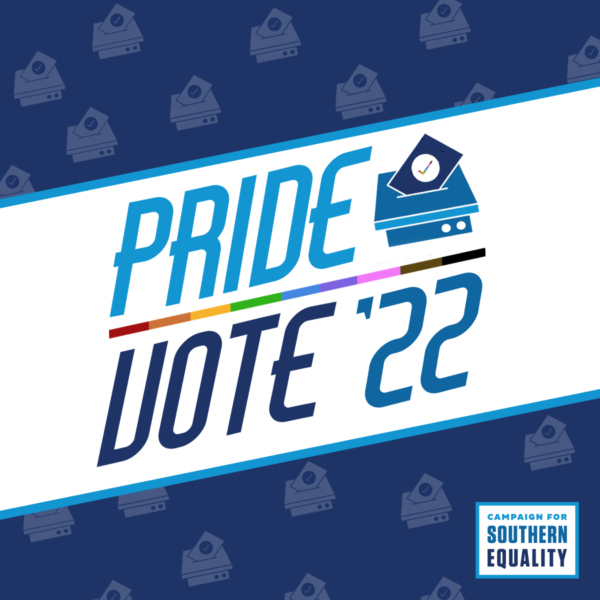 In less than 24 hours, the final ballots will be cast all over the country. It is our job as LGBTQ Southerners to ensure we become an unstoppable force and transform our political landscape – one action at a time, including elections . 
Tomorrow is your chance to make your voice heard in this year's midterm election. Please confirm your polling place here. 
Throughout this #PrideVote22, it's been incredibly inspiring to witness the ways that LGBTQ people in the South have organized their power to the polls – and beyond. Some important truths to keep in mind:
There are over 11 million LGBTQ+ people in the United States – 1 in every 3 LGBTQ+ adults in the country are Southerners.

LGBTQ people appear to vote more than their heterosexual, cisgender peers in the South, according to CSE's recent report,

Political Engagement Among LGBTQ Southerners

(opens as PDF).

80% of Survey respondents described their state's political climate as hostile toward the LGBTQ community, with 35% describing their state as extremely hostile and 45% describing their state as somewhat hostile. 
We must exercise our right to vote, select candidates who will stand up for us in state legislatures and at the federal level, and fight to eradicate anti-LGBTQ bias in our laws and policies. In many states throughout the region, lawmakers have specifically targeted LGBTQ youth, limiting their access to social support, healthcare, education, and recreation. We have the numbers to make an impact this midterm election. 
With Election Day hours away, let's bring our political power to its fullest potential. We ask that you check on your friends, family, and neighbors and encourage them to get out and vote. When we build power with our communities in mind, we make sure we take a step closer towards full lived and legal equality.  
Share this link with your community and let's bring our people to the polls.