We know many of you are upset about the confirmation of Amy Coney Barrett to the U.S. Supreme Court. Our team at the Campaign for Southern Equality is upset, too; last week we signed onto a letter with dozens of LGBTQ organizations opposing her confirmation. We did this not only because we believe Justice Ginsburg's seat should have been filled after the election – but also because what little we know about Judge Barrett's record and worldview indicates that she would not be a fair arbiter in cases that are central to the lived and legal equality of LGBTQ Southerners.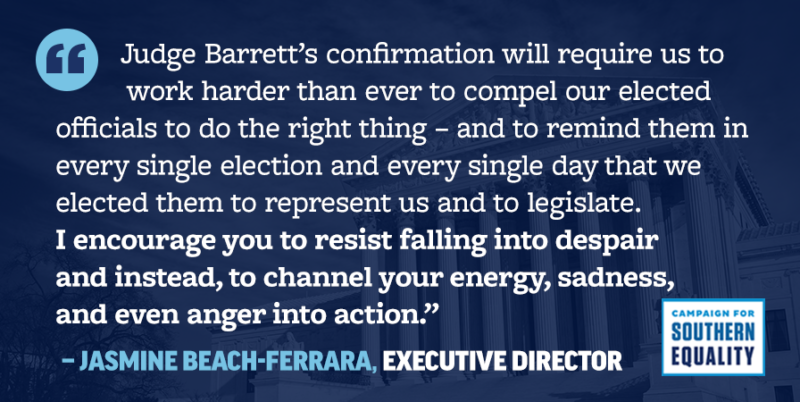 Now, Judge Barrett has been confirmed, and we've received questions about the future of marriage equality under the 2015 Obergefell ruling. Obergefell was not just a victory for the Constitution that guaranteed equal justice for all – it also marked a moment where the Supreme Court caught up to where the American people already were in their support for the freedom to marry. Even now, public support for marriage equality is higher than ever. LGBTQ people have come out, shared their lives with their communities, and many have been met with love. People have changed their minds, journeying to support the freedom to marry, and we feel confident both that the legal question is settled and that the decision is sewn into the fabric of our society.
And remember: A 6-3 majority of the Court only months ago issued the Bostock decision, protecting LGBTQ workers from discrimination and paving the way for protections in housing, education, healthcare, and more.
More troubling for LGBTQ equality, however, are legal challenges seeking religious exemptions from nondiscrimination laws, or challenges to the dignity and humanity of transgender people. One case about religious exemptions, Fulton v. Philadelphia, will be heard by the justice next week, and that type of lawsuit poses a threat to the lived equality of LGBTQ people. We must continue to be vigilant in these types of cases, and cases about the many other issues that LGBTQ Southerners care about, including immigration, voting rights, and healthcare.
The new makeup of the Supreme Court will surely require lawmakers to step up. We must elect leaders at the federal, state, and local levels to protect marginalized communities, address inequities, and create systems that work for everyone.
Judge Barrett's confirmation will also require us to stop viewing the U.S. Supreme Court as the only stop-gap for correcting injustice. It will require us to work harder than ever to compel our elected officials to do the right thing – and to remind them in every single election and every single day that we elected them to represent us and to legislate.
By that measure, I encourage you to resist falling into despair and instead, to channel your energy, sadness, and even anger into action. VOTE. And contact your friends and family members to remind them to vote or help them get the information they need to make their voice heard.
The Campaign for Southern Equality is here for you.  We'll never stop working for LGBTQ Southerners – and we'll never stop leading with hope, empathy, and a deep optimism in what we can do when we come together to build communities where we can all thrive.
If you're able to donate to CSE today and fuel the work that we surely have ahead of us, please click here to give.
Thank you,
Rev. Jasmine Beach-Ferrara
Campaign for Southern Equality