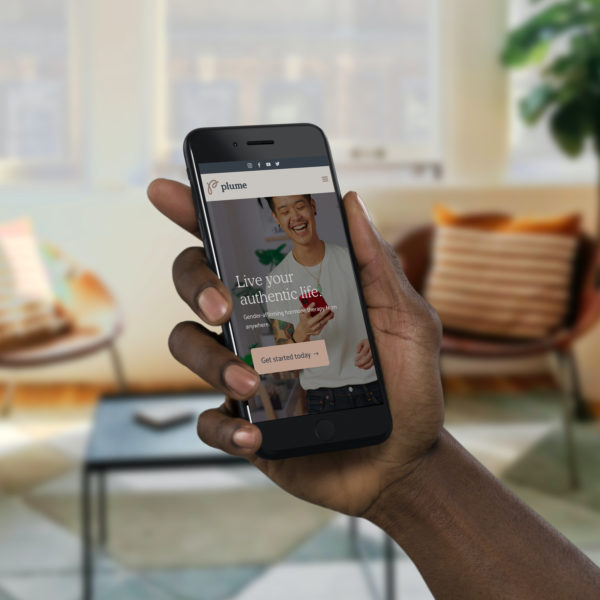 Gender-affirming healthcare for trans people can be a lifesaving resource. Unfortunately, access to gender-affirming care continues to remain an uphill battle for many who seek treatments such as gender-affirming hormone therapy (GAHT), or hormone replacement therapy (HRT). Variable insurance plans, fear of transphobic medical staff, and lack of access to labs can drastically decrease access to care. The effects of this deficit are multifaceted and can lead to other health problems such as depression and anxiety.
Fortunately, an app-based medical service called Plume is facing this problem head-on. They offer consultations with trans-affirming physicians, collect labs, provide letters for legal name change, and prescribe GAHT for trans individuals seeking care. Many of Plume's team are trans themselves, so they are uniquely equipped to meet the medical needs of trans people seeking gender-affirming care.
To learn more about Plume, we spoke with Soltan Bryce, Plume's Head of Growth, about what Plume currently offers, how and where they plan to expand, and why trans-affirming care needs to expand dramatically.
ELI BUNDY: Tell us a bit about Plume! What services do you offer, and to whom do you offer them?
SOLTAN BRYCE: Plume is the first health technology company built for the transgender community. We provide safe, expert, and affirming gender-affirming hormone therapy (GAHT) through the convenience of a smartphone guided by a team that is mostly trans themselves. We are for anybody 18 years or older who desires medical hormone therapy to feel more in line with their gender identity. We are currently available to nearly 80% of the trans population across Arkansas, California, Colorado, Florida, Georgia, Maine, Massachusetts, Michigan, Minnesota, Missouri, New Jersey, New York, North Carolina, Illinois, Ohio, Oklahoma, Oregon, Pennsylvania, Texas, and Virginia.
In this work, we see ourselves as part of a larger movement. We see trans identity as celebratory, and when we started Plume, we wanted to answer the question of what it would look like to design services that are for trans people and built by trans people.
We really started in earnest at the beginning of this year. We're founded by two physicians, Dr. Matthew Wetschler, whose career has focused on new models of care, and Dr. Jerrica Kirkley, who is trans herself and has been providing gender-affirming care for nearly a decade.
Fun fact: we all happened to be at UNC at the same time. I was an undergrad when they were in med school, though we didn't meet until years later! Our founders saw a system that was broken for both patients and doctors. Plume is a solution to that. By leveraging amazing technology, we're able to address access issues head on.
ELI BUNDY: Can you talk to us a bit about how Plume has grown since you launched?
SOLTAN: When I joined Plume on the growth front, we had a small pilot program in our home state of Colorado. Now, we are adding hundreds of patients a month and available in 16 states which represent over 60% of the trans population in the US. Many of our states are in the South, and we were thrilled to bring gender-affirming care home to North Carolina over the summer. People are finding value in this life-affirming service, and we're looking to expand access in all states.
We are a telehealth service where you can text providers and have video visits through the convenience of a smartphone app. The goal is to break through traditional barriers to care that the trans community faces and offer safe, quality and convenient care.
We are increasing access through a community-first growth approach. We believe our work honors a long legacy of amazing LGBTQ+ advocates and care providers who have been focused on trans health for decades. We are part of the trans community and we're committed to ensuring continuity of care, linking arms with other organizations to ensure folks get the resources and care they need.
In this work, we see ourselves as part of a larger movement. We see trans identity as celebratory, and when we started Plume, we wanted to answer the question of what it would look like to design services that are for trans people and built by trans people." – Soltan Bryce
In my view, growth success means that we are wherever people are seeking information about GAHT and that they know they have options when it comes to care. Right now, a lot of the way that information about GAHT is transacted is in Facebook groups and online. Between 30-60% of trans people report getting hormones off the grey market. On top of all of that, 33% of trans people report being harassed in medical settings and, 25% of trans people say they have been denied care. That's unacceptable, and so we're trying to provide safe, easy access. We want to be wherever folks are seeking information about GAHT, which we see as potentially life-saving for those who seek it.
One really cool thing — the heart of our community-first approach — is building a program called Community Collaborators. Our CCs are members of the community who share their trans-authentic experiences and by doing so, increase awareness of the importance of GAHT and safe access to care. We work with folks to share their experiences, and through that we're putting resources in the hands of trans people. It's amazing to see celebratory stories and experiences. If you ever need a trans magic pick-me-up, check out our Instagram.
ELI BUNDY: As you mentioned, transgender people, especially trans Southerners, report disproportionate rates of being turned away from care or having anxieties about being turned away from care. Tell us about expanding PLUME services into other states and the impact that could have.
SOLTAN: Right now in the South, we're in Georgia, North Carolina, Virginia, Oklahoma, Texas, and Florida.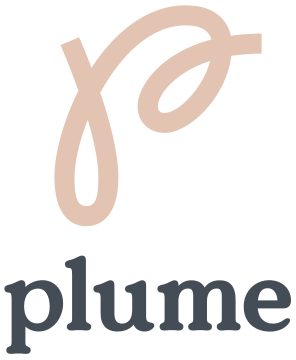 Expansion into new states is key to ensuring we maximize access to care. We practice in states where we're licensed. We started out with our amazing co-founder, Dr. Jerrica Kirkley, providing care in our first states and now we have an ever-increasing, awe-inspiring team of clinicians across the country.
I love that we've been able to expand into Southern states more recently, because there's a lot of need in the South. There are some people in the South or in other states who have been needing to access GAHT for years. We've heard stories of changes in employment, location, or legal status disrupting access to care. People are sometimes afraid of being hurt. Some don't have a car, or they can't get to urban areas easily to see an affirming provider, or there are no providers they feel safe going to. There's less public transportation, insurance may not cover trans-affirming care, the list goes on. Everything varies from state to state. There are so many real barriers to care that the platform addresses, and they're particularly pronounced in the South.
All of our members are over 18 years old, and some of our younger members use the service after losing access to coverage due to changing parental relationships. Some people are in small towns, and they're not able to be out or can't see their local medical provider about transitioning.
All of this is to say that regional elements of the South can sometimes make it harder for trans folks to access the care they need. It is why we do what we do at Plume.
Our co-founders, Jerrica and Matthew, and I are from North Carolina. We know that across the state and throughout the South, the spectre of HB2, the Pulse shooting in Orlando, and so many other reminders of bias cast a long shadow. We're honored that we've been able to provide safe access care through this work.
ELI BUNDY: At the Campaign for Southern Equality one of our most popular resources is the Trans in the South guide, which compiles listings of quality, trans-affirming medical professionals. Can you share more about the research you've done in terms of the demand for this type of service?
SOLTAN: Yes! We've sought out as many resource guides where folks share information about which medical professionals are trans-affirming as possible. The Trans in the South guide is such a great one of those! We're thrilled to be speaking with you all today.
In terms of research, there are more than 1.4 million trans-identified people in the US, yet it is still one of the most underserved communities when it comes to safe, accessible and reliable healthcare. We've read every study and conducted several surveys, interviews, and service quality tests. Speaking at a very high level, what we've learned is that it really comes down to the idea that systems design impacts systems output. For trans people, mainstream health care system design has led to poor outcomes, some figures cited above. The care delivery system is just not designed with trans people in mind. In many cases, the system actually breaks when it comes to trans people.
We're taking a long-term view with Plume. By working to grow overall awareness of the trans experience and providing world-class care, we imagine that Plume can help usher in a world where gender-affirming care is understood widely. In a perfect world, any and every provider incorporates gender-affirming care into their area of practice. It just becomes part of the canon.
To get to this vision, we need to partner with grassroots groups, resource providers, individuals, community leaders, the clinical community, and more. But there also hasn't been a system designed for trans people, and we need that, too.
And so that's what we're doing at Plume. We're saying, "What would it look like if we designed around the trans experience?" And we know that within the trans community, there are as many ways to be trans as there are trans people. And not all trans people seek GAHT — and this does not make them any less valid in their trans identity. We're aiming to build holding these truths. We're starting with GAHT, because for many folks, that can be the difference between life and death. Access to GAHT can change lives. And it really adapts well to the telehealth model.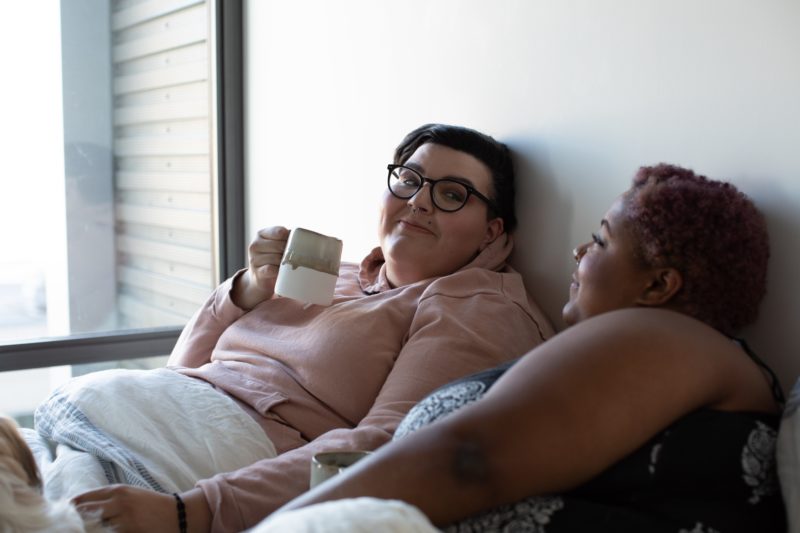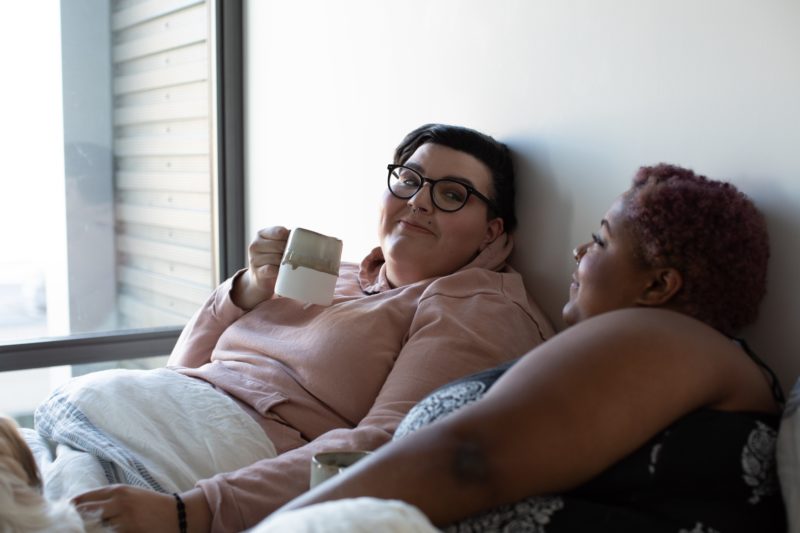 ELI BUNDY: Can you speak to the importance of trans-led organizing? The Campaign for Southern Equality team is majority trans – can you tell us about yourself and your staff?
SOLTAN: First, thank you. Thank you to every trans organizer out there who is working to create the world we hope to live in. It's not easy work.
I am nearly a decade into my career, and before Plume, I've never had a trans colleague. Trans people are often the "only" or the "first" wherever they are.
So then, coming to a company and building a company where we are predominantly trans, and working alongside allies and accomplices, too, it really is an incredible thing. It has a meaning beyond what we understand day-to-day.
The vision is to improve the healthcare of every trans life. And so to do that, we are thinking as creatively and collaboratively as we can with deep respect and listening to our community." – Soltan Bryce
What we are doing hopefully will create an inflection point – in this market-creation moment, emergent movement moment, it's a very important thing. There's a power-building piece here for the trans community.
And for me personally, I have to say, every time I talk to a trans person or a trans-serving organization, I am filled with inspiration. I still can't believe I get to talk to trans people all day. I used to hide my trans identity — more accurately, I would actively not talk about it. The conversations about trans identity are often thought of as this liability and scary thing with others. So to now be adding to the conversation and be this celebratory voice for the community… to add to that, it's really powerful, and it creates a source of inspiration and strength.
ELI BUNDY: What's next for Plume?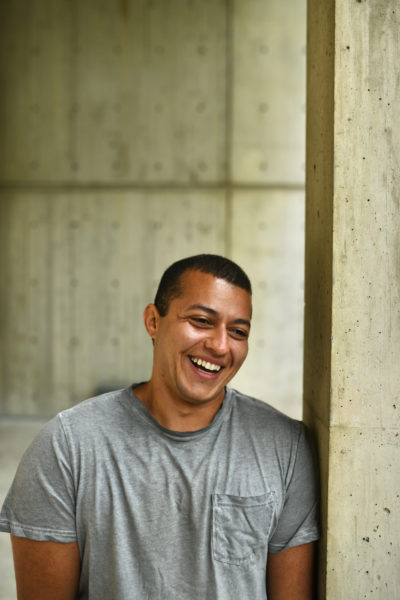 SOLTAN: Well, we're going to expand into other states, and we're going to expand into other services. With GAHT, we're looking to blow people's minds with how awesome our service will get.
Holistically, we're looking at other barriers to care – and what we want to do is recognize where there are gates and to open them up.
For example, one thing we've done recently is around surgery letters of support. We saw a need and an opportunity to provide a standalone surgery letter of support offering, and we launched that a few months ago. GAHT and letter writing – it can be really complex, and there is a lot of thought that goes into that care process, but it shouldn't be overly onerous for a patient.
The sky's the limit, really. The vision is to improve the healthcare of every trans life. And so to do that, we are thinking as creatively and collaboratively as we can with deep respect and listening to our community.