At the Campaign for Southern Equality, we know that creating legal and lived equality in the South requires sustained organizing in every community, not just large metro areas. We also know that building grassroots leadership is essential to the longterm vision of building LGBTQ political power in the South.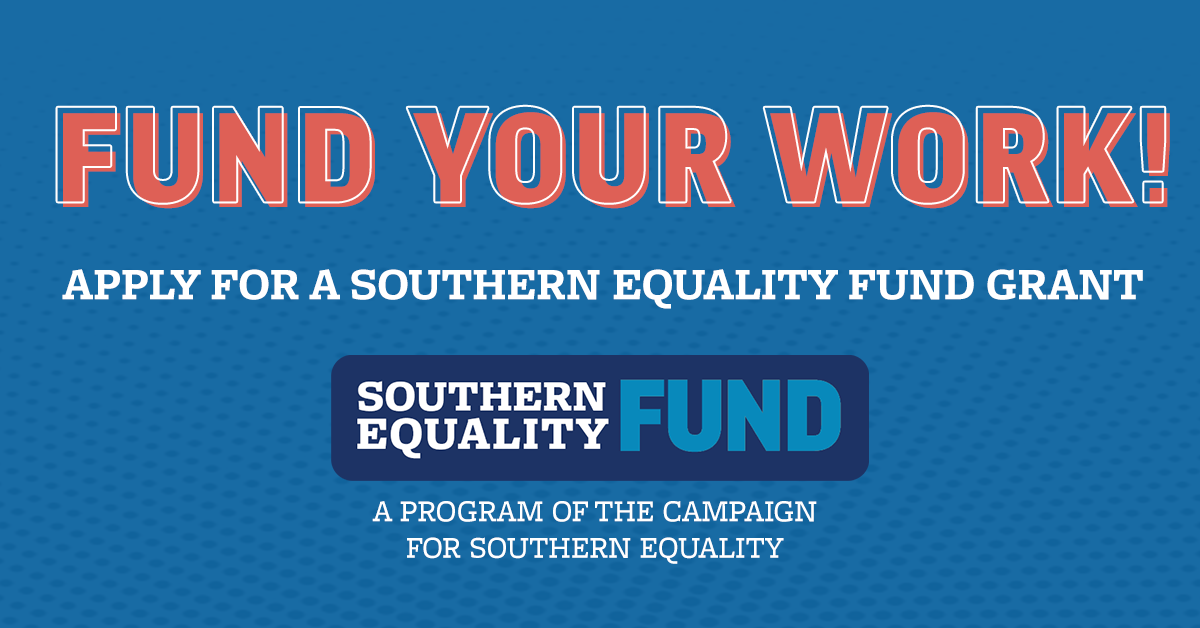 That's why I'm proud of our work with the Southern Equality Fund, which is dedicated to funding and training Southern LGBTQ people doing heroic organizing in their hometowns. Organizers on the frontlines of the Southern LGBTQ movement can transform our region – but they need the funding and support to do so.
In the past few years, I've seen a Southern Equality Fund grant help get a project off the ground or fill a gap, and now, we want to hear from you about the projects you're working on! If you're doing work to promote safety, equality, and visibility for LGBTQ people across the South, consider applying for a Southern Equality Fund grant. Just click here to learn more.
Here are the details:
Organizations with budgets under $50,000 are eligible (even if you're not a 501c3), and so are individual or groups doing grassroots organizing, anywhere in a Southern state. However, if your group's budget is more than $50,000, please go ahead and submit your request, explaining in the funding request form why your work is a fit.
Applications are accepted on a rolling basis, and we try to review proposals and get back to you within a month.
We award grants of up to $500.
The application is available in English and Spanish.
We accept applications online, through the mail, and even over the phone or a video call.
The grants come alongside training and support from the CSE team.
What questions do you have? Email us at lgbtsouth@southernequality.org or call us at 843-242-1559 and let us know how we can assist.
Don't have a project but want to help others do great work? Help fund amazing work happening across the South by donating $10 here today. Help us reach our $7,500 goal, which will be matched by a generous donor.
I know there's a lot of work coming up in the summer months – whether it's a Trans pride event, a pageant or a community dinner or anything that builds LGBTQ community where you live, we want to help fund it. Get started on your application here today.