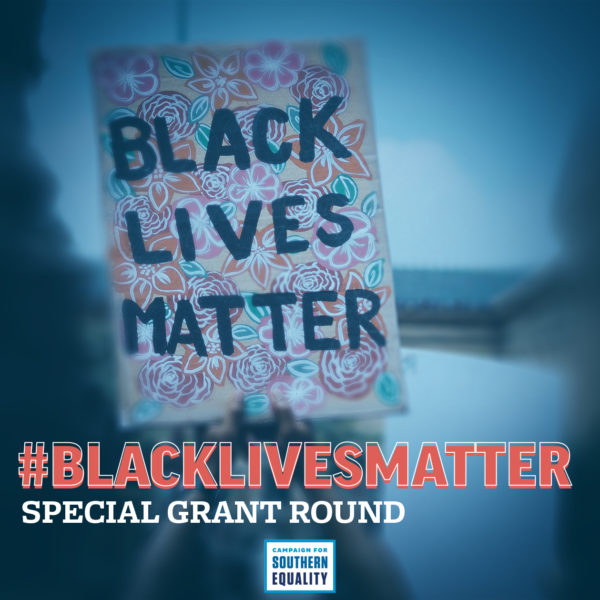 Jump to Nomination Form
This summer, our #BlackLivesMatter special grant round is dedicated to resourcing and celebrating the Black-led organizing across the LGBTQ South. Grants of up to $1,000 will support Black LGBTQ organizers leading projects such as direct action, resilience and healing efforts, direct service, artistic endeavors, and bail-out funds, across the South. 
These new grant rounds are part of CSE's Southern Equality Fund, which has been making grassroots grants across the LGBTQ South since 2015. Since its inception, the Southern Equality Fund has prioritized supporting work led by BIPOC, transgender, and rural organizers. 
Have you seen an inspiring project or organizing effort in your community, or are you working on something yourself that could use grant support? Whether the project that needs support is an art installation, a protest or advocacy effort, a healing project or something else, we want to hear about it!
Submit a nomination for an organization or project that should receive a #BlackLivesMatter Southern Equality Fund grant below – click here to submit!
Criteria for #BlackLivesMatter Special Grant Round Projects
We are specifically seeking nominations for projects or organizing efforts that are:
Based in the South.

Supporting people who are Black and LGBTQ.

Led by Black, LGBTQ organizers.
Funds can be used to support artistic endeavors, organizing efforts, protests, discussion circles, resilience and healing efforts, bail-out funds, and more.
You do not have to have 501c3 status to receive a grant; however, all activities that funding is used for do need to comply to 501c3 guidelines.

Anyone is welcome and encouraged to nominate a Black-led project for a grant and organizers may also nominate themselves.
Ready to Submit Your Nomination?
Take a few minutes to submit your nomination for the #BlackLivesMatter grant round using this form. Questions? Email us at sef@southernequality.org.
June 2020 #BlackLivesMatter Round Grantees
In June we distributed $6,000 through 11 grants for our first #BlackLivesMatter special grant round. Funded projects in the first round included:

The Box Breakers
House of Pentacles
Louisville Community Bail Fund
Make Lemonade Doulas Services
My Sistah's House
One Mic, One Voice
The PAIGE Inc.
S.O.U.L. Sisters Leadership Collective
The Strilite Foundation Inc.
Strive Till I Rise
Trans(forming) 
Grantee Meet-and-Greet on Instagram Live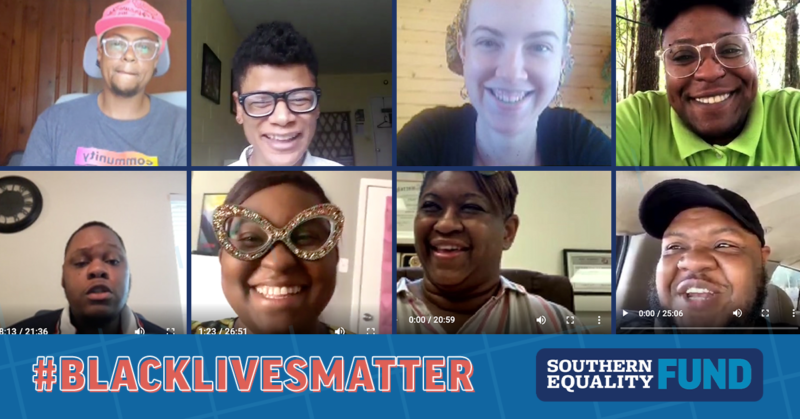 In August 2020, CSE staffers interviewed a few of the grantees from the #BlackLivesMatter special grant round! Watch their interviews – see all of them here, or check out individual videos:
Special Thanks to East Fork Pottery
This Southern Equality Fund grant round is supported by a generous donation from East Fork Pottery. In summer 2020 East Fork Pottery donated a portion of sales from their new Lapis glaze to CSE, and in June the company hosted an online auction featuring artists, chefs, and makers who donated their time, talents, and art. CSE will put East Fork's entire donation to work to support BIPOC-led organizing and people across the LGBTQ South. 

Connie Matisse, Chief Marketing Officer and Co-Founder of East Fork Pottery, said of this grant round:
"As a founding team, Alex, John, and I see our business as the most readily available platform from which we can contribute to a liberated future. As our company's reach has grown, so too has our ability to communicate emergent strategies for more equitable ways of doing business. So too has our ability to put money in the hands of educators, leaders, and organizers for justice."
"It has been a true privilege to be in ever-deepening community with Campaign for Southern Equality. To join their leadership team on panels, to walk alongside them in protest, host parties together, share ideas, cry, laugh, scream—all of it. To be anchored by the belief in a shared vision for the future. We see with our own eyes the impact of CSE's fight for legal and lived equality for LGBTQA+, BIPOC Southerners. We are so grateful to be able to support this work and we know that there's so much more to be done. We trust that our friends at CSE are heels down, hearts open, and in it for the long haul."
Nominate a Project for a #BlackLivesMatter SEF Grant
Update 8/31/2020:
THE #BlackLivesMatter SEF GRANT NOMINATIONS HAVE CLOSED. TO STAY INFORMED FOR FUTURE UPDATES PLEASE VISIT OUR SOUTHERN EQUALITY FUND WEB PAGE AND SIGN UP TO RECEIVE OUR EMAILS BELOW.