This month you've heard from many of my Campaign for Southern Equality colleagues about specific programs and policy work. Today I want to share a bit about our commitment to Healing & Resilience strategies, which we are weaving into the elements of the work that we do each day as we strive toward lived and legal equality for LGBTQ Southerners.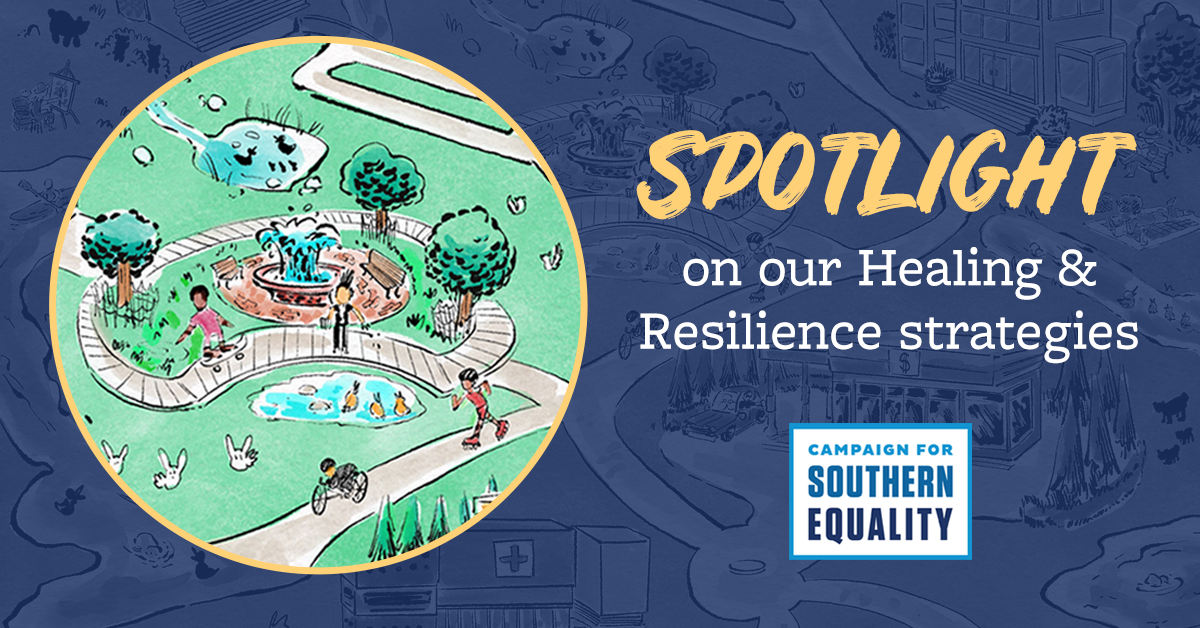 Our Healing & Resilience program focuses on equipping the CSE community – including staff, partners, and advocates – with the necessary tools to care for ourselves and one another, while doing the work to secure justice and equality for LGBTQ Southerners. 
The program operates in three ways:
Staff Support – including quarterly group somatics workshops, 1:1 coaching, and socioemotional support

Activist, Advocate, and Practitioner Support – including in-person and virtual support groups and space holding

Healing and Resilience Apprentice
Financial support from the CSE community helps ensure that our team can focus so deeply on Healing & Resilience strategies and apply this lens to as many areas of our organizing and programmatic work as possible. Can you help sustain these efforts? Click here to donate $15, $10, or whatever you can to the Campaign for Southern Equality. A generous donor has pledged to match everything donated in December (up to $50,000), so your gift will be automatically doubled.
I'm proud of how we've ramped up our commitment to Healing & Resilience in 2021. We brought on our first-ever Healing & Resilience Apprentice, the wonderful Asha Leong, which allowed CSE to launch and facilitate a monthly Southern LGBTQ Wellness Practitioner Group (modeled after our Queer Artist Meet-Up), as well as create a special Southern Equality Fund grant round for wellness practitioners and healers in the LGBTQ South. 
Organizing for equality and justice across the South can be deeply trying labor and cause a significant drain and pull on the brains, bodies, and souls of activists and advocates. I'm glad that we can offer Healing & Resilience resources to folks in our network, and to the CSE staff.
Please support this work today with your donation of $15, $10, or what you're able to give. Every donation made by December 31 at midnight will be doubled by a generous donor.