We're just a few days away from the annual Blue Ridge Pride Festival on Saturday, September 28, and this year there are so many ways to celebrate alongside our team at the Campaign for Southern Equality.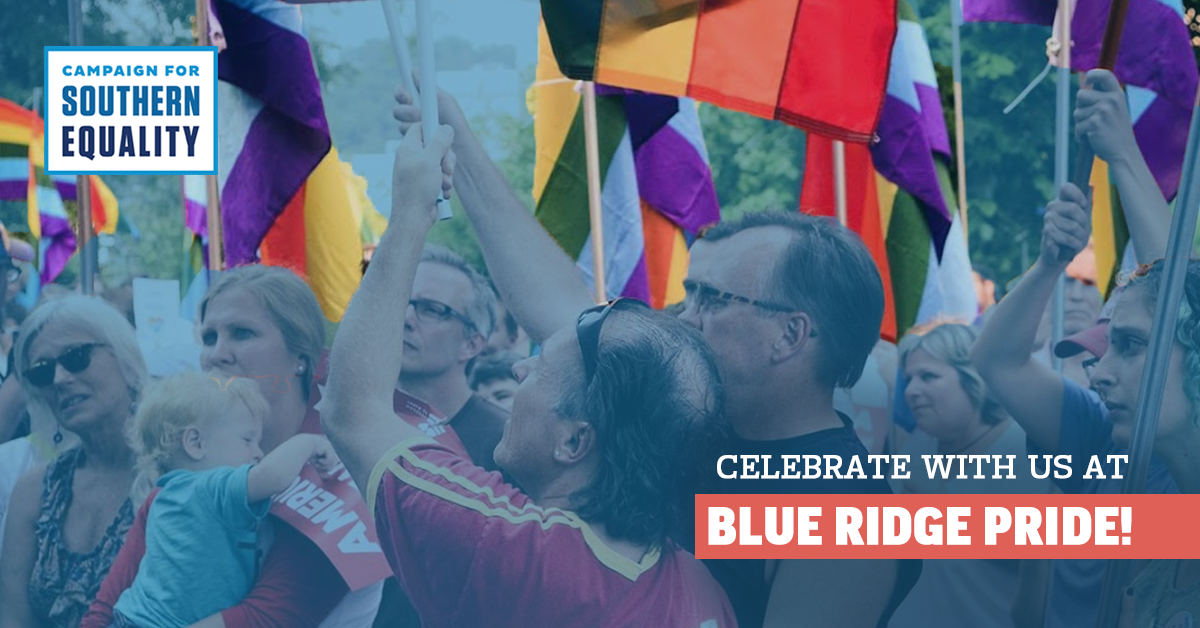 Here are a few ways you can get engaged!
Sign Up for a Volunteer Shift
We're looking for volunteers to register folks at Pride on Saturday 9/28. We will offer a quick training before you go out. There are two shifts for you to jump into, 12-2pm & 2-4pm. Just click here and let us know you want to volunteer, whether it's for these shifts or for a future event. 
March With Us in the Procession
The Campaign for Southern Equality will be marching in the Blue Ridge Pride Procession, and we'd love for you to join us! Click here to let us know you're interested in marching with us, and we'll get in touch with all of the details.
Attend Our Name Change Clinic at 3pm on 9/28
Dizy Walton from the CSE Legal Team will offer a name change clinic starting at 3pm to walk you through the legal process of how to change your name. Meet at the CSE booth at 3pm on Saturday 9/28 – we'll have a notary on site so you'll be able to complete the paperwork you need right on site. Here's some info on name changes in North Carolina. 
Stop by Our Booth and Say Hello
The Campaign for Southern Equality staff will be posted up at Booths 40 and 41 all day on Saturday for the Blue Ridge Pride Festival! Come swing by, say hello, learn how you can get involved in the work to win legal and lived equality for LGBTQ Southerners, and check out some fun Pride swag and merchandise. You can also register to vote! Register to vote for the first time or update your current address. We'll also have important info about the new voter ID laws that will be put in place starting in 2020. Get a head-start by checking if you're registered here.
Try Y'all Means Ale at Wicked Weed's Pridetoberfest Celebration!
All day on Pride, from 12:00-9:00pm, Wicked Weed will also be hosting Pridetoberfest. The brewery will host traditional German music, drag performances, and more. They'll also be pouring Y'all Means Ale, and $1 of each pour benefits the Campaign for Southern Equality's work. Learn more here.
Check Out Other Great Booths – Including One Staffed by WNCCHS!
Be sure to stop by the table that our partners at Western North Carolina Community Health Services is staffing! WNCCHS staff will be on hand to take people's blood pressure, offer condoms and dental starter kits (toothbrushes, floss), and share information about their Trans Health Program and our collaborative Southern LGBTQ Health Initiative. 
We're looking forward to seeing you on Saturday!