Transgender and nonbinary Southerners have long felt a disparity in adequate and safe health care. But right now, a proposed new regulation from the Trump administration is seeking to underline that disparity by removing language explicitly protecting transgender people from discrimination in healthcare programs and activities.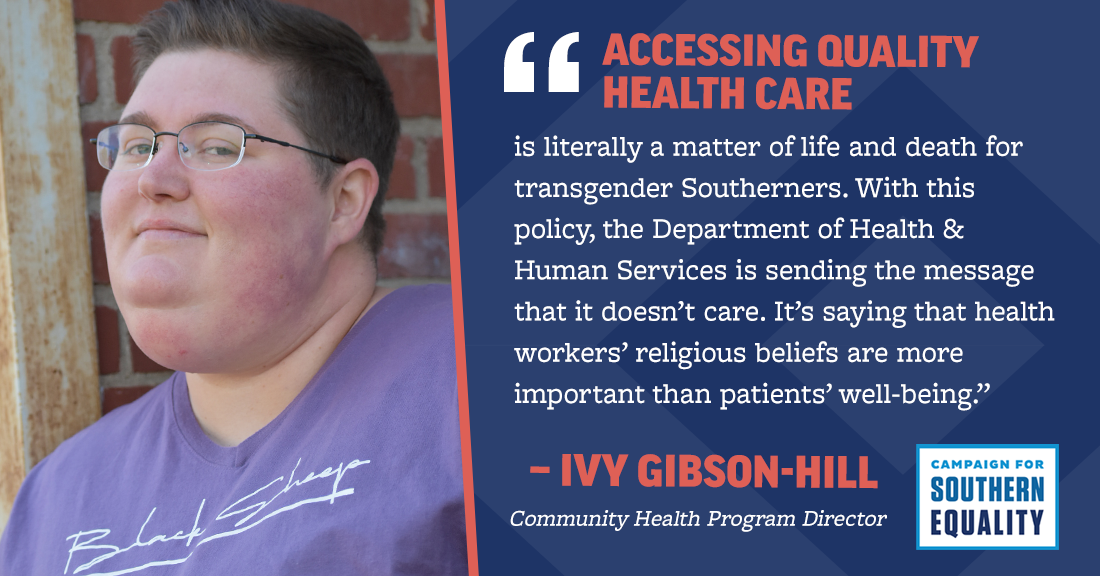 Before a regulation goes into effect, the Administration is required to accept and read comments from the public about the regulation. For weeks, thousands of folks have submitted their comments – and now, we have just a few hours left. The open comment period closes on August 13. 
Campaign for Southern Equality's Director of Community Health Programs, Ivy Gibson-Hill, submitted a comment on behalf of the Campaign for Southern Equality this week, and now we're asking you to do the same. CSE is proud to be a part of the ProtectTrans Health coalition – and they've made it easy for you to submit. Click here to submit your comment. It takes 3 minutes. 
Below is Ivy's full comment:
* * *
My name is Ivy Gibson-Hill, and I am writing on behalf of the Campaign for Southern Equality. We stand firmly against this proposed rule. 
Across the American South every year, transgender and nonbinary people face discrimination, harassment, and hostility when seeking health care, often struggling to find health service providers that will competently treat them with dignity and respect. This disparity in adequate and safe health care has long been the reality for trans Southerners. But this proposed rule change to the Health Care Rights Law will underline that disparity in bold black paint and give discrimination a blanket thumbs-up.
In my role at the Campaign for Southern Equality, I am laser-focused on ensuring that LGBTQ people – especially trans and nonbinary people – are treated with respect and dignity in health care settings. Throughout 2018 I traveled the South with CSE talking to dozens of trans folks about the barriers we face in accessing health care for the 2018 Trans Health Focus Group Project. Throughout, we heard stories that broke our hearts in small and large towns alike.
We heard from one participant whose doctor of over a decade told them that she would no longer provide care for them, simply because they are transgender. The person had to sacrifice the quality of care that comes with having a long-standing relationship with a provider when they came out.
We heard from a young trans person whose pronouns were dismissed repeatedly and intentionally. They were passed from provider to provider within the practice they were referred to because the doctors didn't want to work with them—just because they were trans. As a result, the injury they were being seen for never healed correctly, and today, they deal with chronic pain.
We heard a story from another participant who hurt their back so badly they could not physically move and had to go to the hospital. Once they arrived, they were left in the hallway while other people came and went from the rooms around them. Doctors and staff passed them by and completely ignored them while speaking to surrounding patients. They were consistently misgendered by staff and were discharged without being treated for their injury.
We heard from a trans woman whose friend—their relationship so close she referred to her as her sister—was left unattended in the waiting area of an emergency room. Doctors and clinical staff were uneducated and uncomfortable treating trans people. She died in the waiting room that night.
Accessing quality health care is literally a matter of life and death for transgender Southerners. With this policy, the Department of Health & Human Services is sending the message that it doesn't care. It's saying that health workers' religious beliefs are more important than patients' well-being.
I urge you to reconsider this proposed rule change. We need to be bringing policies that bring MORE protections to trans and nonbinary Southerners, not less. We need to build a country where all people can access their basic human rights, including their right to health care without leaving their hometowns, no matter where they live.