This week the North Carolina Department of Public Instruction announced an upcoming update to its student information system that will better protect the safety and privacy of transgender students in North Carolina. In North Carolina, schools are required to use the database PowerSchool, and this new update will ensure that students' preferred names are shown by default for all public purposes. For years, the version that the state has used was set up in a way that left transgender young people vulnerable to having their gender identity revealed without their consent.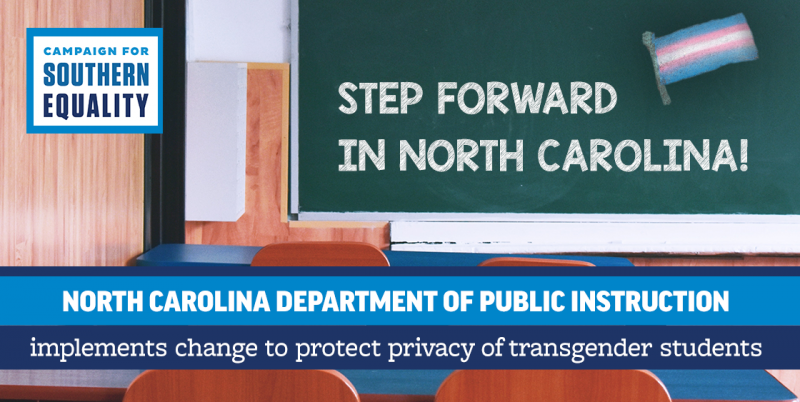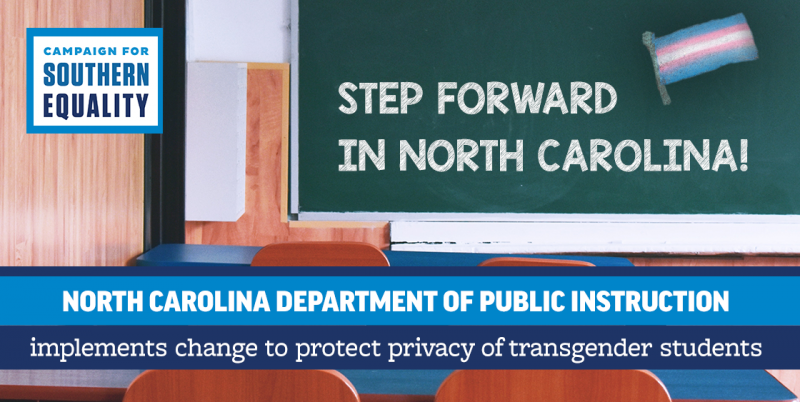 The victory comes about a year after 300 educators, administrators, parents, and students in North Carolina submitted a letter to State Superintendent Mark Johnson urging him to direct the NC Department of Public Instruction to make the change. Click here to read the full letter.  The update this month, which will be universal for every school and district, incorporates all of the recommendations related to name fields made in the letter. The instructions directly state that the 'Name' field refers to Preferred Name, and Legal Name is a separate field that only applies to the transcript and certain state reporting. All students, including those who are not transgender, will have the ability to record their name and legal name in the system. 
Craig White, Supportive Schools Coordinator at the Campaign for Southern Equality, said today:
"The new update to North Carolina's PowerSchool system is about extending respect to every student who uses a name different than their legal one – not just transgender students, but also students whose names are often mispronounced by English speakers, and who choose to use a different name at school, or even students who prefer to go by their middle name." 
"It's a particular relief for transgender students, who have faced unique challenges with virtual learning through the COVID-19 pandemic: For the past year, the learning platforms that schools have used to navigate virtual learning have all relied on naming students with the legal name recorded in PowerSchool, and that's often resulted in the misgendering or 'deadnaming' of transgender students. The preferred name policy will go a long way toward creating a school climate that is welcoming and inclusive for all students. We'll keep pushing for supportive schools that prioritize dignity and respect for all students, no matter who they are."
The update to PowerSchool comes as the NC is Ready campaign, led by Equality NC and the Campaign for Southern Equality, continues to drive a statewide conversation about the importance of protecting all LGBTQ North Carolinians from discrimination. Six NC communities have enacted LGBTQ nondiscrimination protections in the past two months. 
The North Carolina development also comes as many state legislatures, including many across the South, are considering invasive bills that discriminate against transgender young people. Anti-transgender bills are expected to be signed this week in Mississippi and South Dakota. 
Allison Scott, Director of Impact & Innovation at the Campaign for Southern Equality, said today:
"At a time when so many state lawmakers are forcing through legislative attacks against transgender students, it's reassuring to see North Carolina leaders taking action to protect and respect transgender students. Five years ago, North Carolina became synonymous with anti-transgender discrimination as a result of the hostile passage of HB2 – but through steady organizing, the state has shown progress toward inclusion. Other states should reject these anti-transgender attacks and turn toward tangible actions like this to show transgender young people that their safety, privacy, and identity are valued. 
Data show that transgender students are significantly more likely to experience bullying and harassment both online and when they go back to school. According to a 2017 GLSEN survey of LGBTQ students in North Carolina, 90% regularly hear anti-LGBTQ language in schools. Nearly 3 out 4 have experienced verbal harassment, 1 out of 3 have experienced physical harassment, and 14% have experienced a physical assault at school.