The attack on dignity and freedom for LGBTQ Southerners continued this week, as anti-LGBTQ bills moved quickly in several states. Proposed bills include those that would criminalize medical professionals who provide trans-affirming medical care to minors and those that would restrict transgender students from playing middle and high school sports. The reality is that many of these bills are dangerous and cruel to an already marginalized community. 
Despite how quickly some of these bills are moving in statehouses, the Campaign for Southern Equality team encourages LGBTQ folks and accomplices to not lose hope in the face of these attacks. There is an entire movement of individuals and groups across the region who are here to fight these bills and protect our youth. This is an admittedly scary time, especially for trans and non-binary youth, but please know that you are not alone and that you are loved, supported, and affirmed by so many across the South.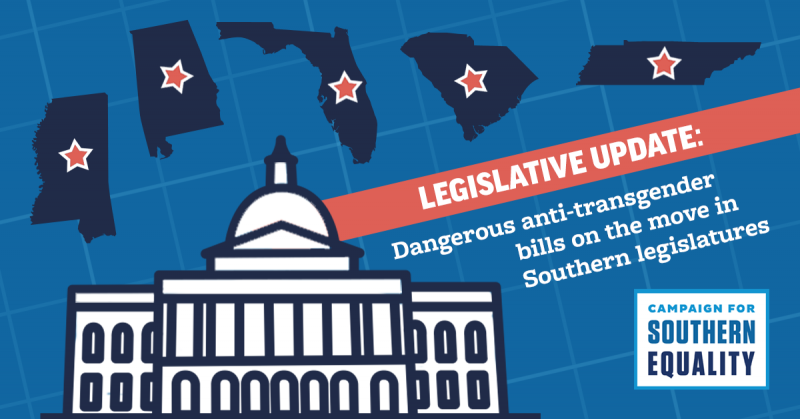 Here's a look at movement on LGBTQ-related bills in Southern states: 
Alabama
On March 2, the Alabama Senate passed SB10, the "Vulnerable Child Compassion and Protection Act," a bill that would make it a Class C felony for medical professionals to provide transition-related care to transgender patients under the age of 19. A Class C felony could result in a 10-year prison sentence or a $15,000 fine in Alabama.
The bill also requires teachers and staff at schools in Alabama to share with students' parents if they learn that "a minor's perception that his or her gender is inconsistent with his or her sex." In effect, the bill essentially requires teachers to "out" transgender students to their parents, potentially before they are ready to share.
Related legislation will soon be considered by the full Alabama House, and we must keep the pressure on to encourage Governor Kay Ivey to do the right thing by vetoing the bill.
Allison Scott, Director of Impact and Innovation for the Campaign for Southern Equality, said this week, "This bill in Alabama – and other legislation like it across the country – isn't just cruelly targeting transgender youth and their doctors, it also lacks a fundamental understanding of transgender young people. Lawmakers are insisting that they know what's best for transgender young people and ignoring the recommendations of medical experts, including the American Academy of Pediatrics, the American Medical Association, and more. Patients along with their health care providers, not politicians, should decide what medical care is in the best interest of a patient – and a preponderance of research shows that affirming and supporting trans youth is essential to their well-being."
Florida
Florida's HB935 would enact a similar anti-transgender medical care ban in Florida – but in addition, it would also effectively exclude transgender students from participating in school sports. HB935 is one of three bills in Florida trying to exclude or restrict trans youth from participating in sports. HB935 is currently in committee and had its first reading on March 2. Another House bill, HB1475, is a trans exclusionary sports bill that would require students to undergo invasive medical screening to defend their gender to participate in sports. HB1475 was read for the first time on March 2nd. Florida also introduced Senate bill 2012 on March 2nd and assigned it to committee on March 4th. SB2012 would designate sports participation according to biological sex while setting restrictions for trans girls who want to participate. 
Mississippi
Mississippi's bill prohibiting transgender students from participating in school sports, SB2536, passed the Senate on Feb. 11th and passed the House on March 3rd. The bill now goes to Governor Reeves, who has said he will sign it. We send love and support to every trans young person feeling victimized by your state government this week. 
South Carolina
South Carolina's bill prohibiting transgender students from participating in school sports, HB3477, passed subcommittee on March 3rd and now goes to the full committee. After hours of testimony, primarily from opponents of the bill, the subcommittee voted 3-1 to advance H3477 to the full committee with a favorable ruling. Powerful testimony was heard from supporters of transgender equality from all walks of life – including parents, medical providers, advocates, and transgender students directly impacted. Dozens of opponents of H3477 also submitted written testimony.
South Carolina Superintendent of Education Molly Spearman, a Republican, spoke at the end of the hearing to oppose the bill. She said:  "My responsibility as State Superintendent is to make sure that every child – every child – feels protected when they are in school and when they are on the athletic field. And I believe that this bill does damage to that. The High School League has handled this situation. It's a very sensitive, personal situation that needs to be handled individually. And this is not something that we need to legislate from Columbia. I ask you to please not pass this legislation."
The Campaign for Southern Equality and 30+ organizations are working to defeat H3477 and other anti-transgender bills in South Carolina through SC United for Justice & Equality. Learn more here. The Senate bill, SB531, is still awaiting a hearing in the Education committee.
Tennessee
Tennessee's Criminal Justice Subcommittee was scheduled to hear HB578, the bill that would ban medical transition for minors, on March 3rd but rescheduled the hearing for March 10th at 9:00 am. The Senate version of the bill prohibiting transgender students from participating in school sports, SB228, passed the Senate on March 1st. The House version, HB3, passed committee on Feb. 24th and is awaiting a vote from the full chamber
Texas
Both chambers of the Texas legislature have been active recently in assigning LGBTQ+ related bills to committee. HB68 is especially egregious: It would classify adults, including parents and medical professionals, who help transgender minors transition as "child abuse" and has been referred to Public Health committee.
While HB68 is dangerous and overtly transphobic, there are some helpful bills starting to move in Texas. HB188 and SB233 would prohibit discrimination based on sexual orientation and gender identity, and both bills have have been assigned to their chamber's respective State Affairs committees. HB191 would prohibit housing discrimination based on sexual orientation and gender identity and was referred to Urban Affairs committee. SB210 and HB338 would allow for name and gender marker change on birth certificate. Both chambers have assigned their versions of the bill to committee.