Note: Dr. Randy Fair, who wrote this article, is the author of Southern. Gay. Teacher. https://southerngayteacher.com.
As a graduate of JSU in the 1980s, I can attest to the pervasiveness of homophobia that permeated the campus. Jacksonville, Alabama, home to Jacksonville State University, is located in the foothills of the Appalachian Mountains.  Few would consider the area to be a hotbed of progressive activism. In fact, the county where JSU is located was named after the notorious racist and defender of slavery, John. C. Calhoun and was the site of the infamous 1961 attack on the Freedom Riders.
These facts made it all the more astonishing when I read that the current student body president, Jerod Sharp, is an openly gay man.  My amazement only increased when I discovered that Sharp belongs to the same fraternity that I was a member of, Sigma Nu. When I was a student at the university and a member of Sigma Nu, an openly gay brother would have been unheard of.  In fact, the brothers refused to accept a very popular pledge because he came out to one of the members just prior to the vote.
Through an interview with Sharp, I discovered just how much things have changed at JSU.  Despite my memories of the climate of the campus, Sharp says that he didn't really encounter any homophobia on the campaign trail during his presidential run, "I know without a doubt that 90% or more of students did not vote for or against me because of my sexuality."  Even more affirming to Sharp was the support he got from the president of the Interfraternity Council, "he told me he knew I was gay but wanted to endorse me because he knew I'd support all of campus life and not just my fraternity or the Greek community."
While Sharp didn't see any anti-gay sentiment during his campaign, there have been the occasional missteps on the part of some of his fraternity brothers, "Have there been times when I have felt as if things were said when they shouldn't have been? Yes. Did those people immediately apologize for those words? Yes," Sharp reflected. "That's why I love Sigma Nu – because they want to learn how to be more cognizant about others and their stories."  It is this openness on the part of the the other members of Sigma Nu that led him to become a member, "One of the main reasons I rushed for Sigma Nu was for the fact that they were so accepting of me. It didn't matter to them that i was gay. It only mattered that I was hard working and loyal."
This "one step forward, one step back" progress that Sharp describes on a small scale has played out on a larger scale as well.  There have been several advances: LGBTQ people being added to the university's nondiscrimination policy; the formation of the JSU Students for Equality; the JSU Democrats issuing a statement of support for Pride; recognition of the first out faculty member, Freddy Clements; and even more eye-catching, the lighting of the Houston Cole Library in Pride Colors in memory of the anniversary of the Pulse shooting and later for Pride month.
However, these steps forward have sometimes motivated anti-LGBTQ opponents.  After people from the town complained about the lighting of the Houston Cole Library, the university retreated from the ceremony altogether.  In 2017, the campus Republicans invited Roy Moore, a former Alabama Supreme Court justice who vilified LGBTQ people and has been accused of sexual assault, to speak at the university.  More recently, when the JSU Facebook page featured a post about the formation of the JSU LGBTQ Alumni Group by Matt Morgan, some of the comments on the post became so offensive that the administrator had to remove them.  Some of the people commenting on the post threatened to withhold future donations to JSU if the university continued to support LGBTQ rights.
Morgan dismisses the offensive posts. "It was shocking for a split second, but I quickly got over it and addressed each one as matter-of-fact as I could." Focusing on the positive aspects of the post, Morgan said, "the majority of the comments/interactions from the feature were very positive. I can't say that I've (the group) have experienced many homophobic incidences overall."
In fact, the support that the LGBTQ students have received from the university gave Morgan a chance to march in the first JSU Pride Parade. "It was one of the most moving moments of my life," he said. "Walking side by side around Trustees Circle with current AND prospective JSU students, community members, religious leaders, and JSU administration while rainbow flags blew in the wind was an experience I will never forget. I was honored to represent JSU LGBTQ+ alumni. I'm not entirely sure who organized the event, but I believe it was one of the LGBTQ+ student groups. From what I understand, it wasn't going to be allowed at first, but administrators got involved and it went ahead without a hitch."
Beyond the Pride Parade, Morgan says that the three accomplishments of the Alumni Group that he is proudest of are the creation of a space for the JSU LGBTQ+ community to connect,  the continued work with the JSU Safe Zone Program to educate JSU faculty about LGBTQ concerns, and the awarding of the first LGBTQ Alumni Scholarship.
Eric McCulley, the co-founder of the group, concurs with Morgan's list of achievements, but when speaking of the group's Facebook page, he adds, "What makes me most proud is that people have been able to reconnect with other alumni. I love seeing people post about what they're doing now, their families, their coming-out stories, etc.  From Day 1, I wanted the group to belong to the members.  We encourage people to post without feeling the need to seek permission. I'm also proud of the participation in the birthday calendar. I LOVE sending out happy birthday messages to our folks; it might be the only birthday post they get that day. That's become incredibly important to me. It's a simple gesture, but I think people like it and appreciate it."
Another contribution that McCulley has made is his birthday fundraiser for the alumni scholarship. As McCulley approached his 47th birthday, he decided, "I'm turning 47, we're closing on our house soon, and I don't need anything. Then it hit me: We had just finished selecting the very first recipient of the LGBTQ scholarship, and I knew we would need to raise more funds in order to award more scholarships in the future. I decided to raise funds for my birthday. I posted on my Facebook page and Twitter that I wanted to do a scholarship fundraiser for my birthday, and my goal was to raise at least $1995 (the year I graduated) in increments of $47 (how old I was turning). I was blown away at the response – people were so supportive and generous.  My goal is to make it an annual fundraiser for my birthday."
The first recipient of the scholarship, Kevin Barjas, is originally from Bogotá, Colombia and moved to Alabama while he was in ninth grade, during which time he spoke very little English. "Transitioning to this country was very challenging," Barjas said. "I struggled getting over the language barrier and adapting to this new environment."  To add to these challenges, Barajas began to come to terms with his sexuality: "I was terrified of not being accepted for who I am," he said.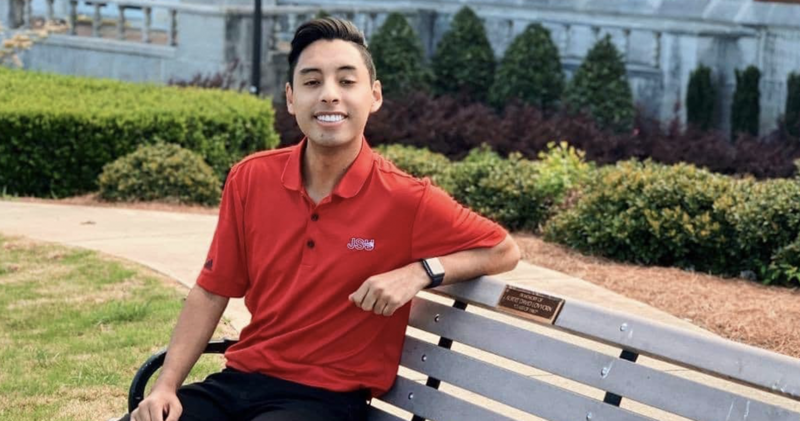 Adding to the difficulties of learning the language and coming out was the situation of doing all of this in Alabama,  "As you must know, being part of the LGBTQ+ community in Alabama can be very challenging, and at times scary," Barjas said. "I was very fortunate to have wonderful friends and a very supporting family all through high school and college who have helped me accept and be confident about who I am.  Nevertheless, there is always a fear that lives within me – The fear that one day we might be rejected from a society that does not tolerate what is different."
Barajas hopes to use the challenges he faced to help others. "This fear should be our reminder of the importance of continuing to work toward change and progress, not only for us, but for future generations to come," he said. "It is this desire to make things better that makes Barajas thankful to be the first scholarship winner. He said, "When I found out that I was selected to be the first recipient of the LGBTQ+ Alumni Scholarship, I was thrilled.  I felt relieved knowing that I had some financial support to help me pay for my education, but I felt more excited to see the progress happening for the LGBTQ+ community at JSU.  This scholarship is a symbol of acceptance and support for current and future students."
I felt relieved knowing that I had some financial support to help me pay for my education, but I felt more excited to see the progress happening for the LGBTQ+ community at JSU.  This scholarship is a symbol of acceptance and support for current and future students."  – Kevin Barajas
Barajas, McCulley, Morgan, and Sharp – who represent a span of 40 years of student experience at JSU – showcase in one community how the conversation around LGBTQ folks in the South is changing. They all agree that JSU is becoming a safer place for LGBTQ students – and their experiences highlight the ways that LGBTQ folks from generation to generation are making it a little easier with each passing year for LGBTQ folks to thrive. We're hopeful that this story of Jacksonville State University – one institution in Alabama – illustrates what can be possible when folks work toward dignity, respect and equality – and pave the way for future progress.