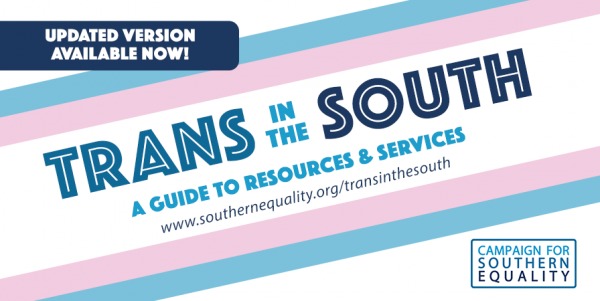 We're living in a dynamic moment across the South. Trans and Gender Non-Conforming folks are stepping up and speaking out in incredible ways in the Southern equality movement. At the same time, we're seeing a new wave of legislation, litigation and rhetoric that targets transgender individuals for simply being for who they are and living their authentic lives.
New data from the Williams Institute shows that more than 500,000 trans folks call the South home. Too often, they face a lack of resources and support. We often hear stories of people going without medical care or traveling hours to reach a doctor who will treat them with respect. That's got to change. 
To respond to that need, the Campaign for Southern Equality is releasing Trans in the South: A Guide to Resources and Services.
In the pages of this edition of Trans in the South you'll find lists of trans-friendly service providers – from doctors to attorneys to counselors – across the South as well as resources to assist with funding medical transition. This information has been collected and vetted by Ivy Gibson-Hill, our LGBT Rights Toolkit Coordinator. We hope this resource guide helps people access the services they need to survive and to thrive.
You can download a PDF of Trans in the South: A Guide to Resources by clicking here. We also ask you to share this guide with your networks.
We're grateful to the many providers and agencies listed in this guide and to partner groups in the South and nationally that also put out resource guides. We've done our best to curate this updated guide to be as thorough and accurate as possible about trans-friendly services across the South.
Moving forward we'll be updating Trans in the South with new resources yearly.
If you know of additional resources, or have questions or feedback, please submit them here.